Last week we presented 1100 Berkshire, the former residence of Leonard B. Willeke – noted Grosse Pointe architect. Leonard Willeke had a long association with Grosse Pointe, aside from the stunning home he created for himself he designed multiple residences throughout the community. He and his wife, Leona, resided in GP Park for over fifty years. This week we explore the work of a firm we haven't covered before – welcome to the projects of Walker and Weeks, an extremely prominent architectural firm in Cleveland with over 600 buildings to its name. Here in Grosse Pointe the firm completed just two residences in 1923 and 1935.
1040 Devonshire
Walker and Weeks first project in Grosse Pointe was a remarkable 5,442 sq ft Italian Renaissance style home located at 1040 Devonshire completed in 1923 for prominent Detroit realtor Hugo J. Hesse. The property is constructed from stone with a hollow red tile roof and copper gutters. The front elevation is particularly impactful with three tall narrow windows in varying heights, along with an ornate carved stone entranceway. The interior elements were handled just as tastefully – the house is filled with an abundance of light and arched doorways, along with a tiled foyer. The first floor includes a 27' x 18' sq ft living room (with a natural stone fireplace), a 14' x 15' sq ft library, along with a 15' x 22' sq ft dining room. The second floor once contained 5 main bedrooms, including a huge 27' x 14' sq ft master bedroom, along with three smaller bedrooms for maids. The basement contains a spacious 27' x 17' sq ft recreation room.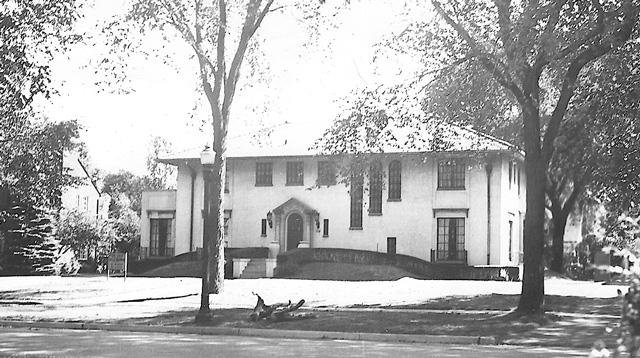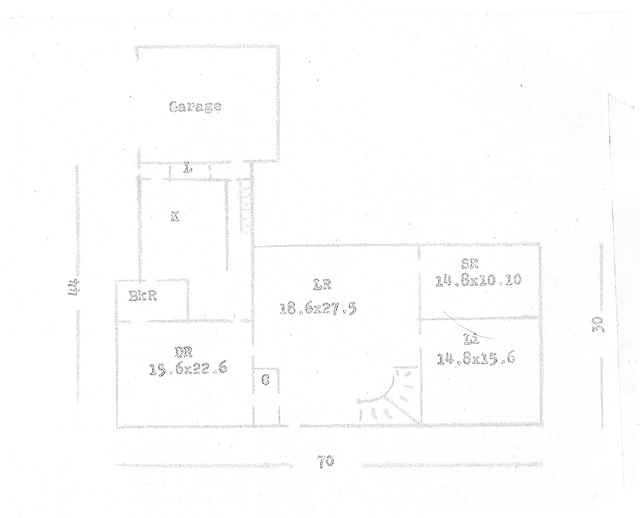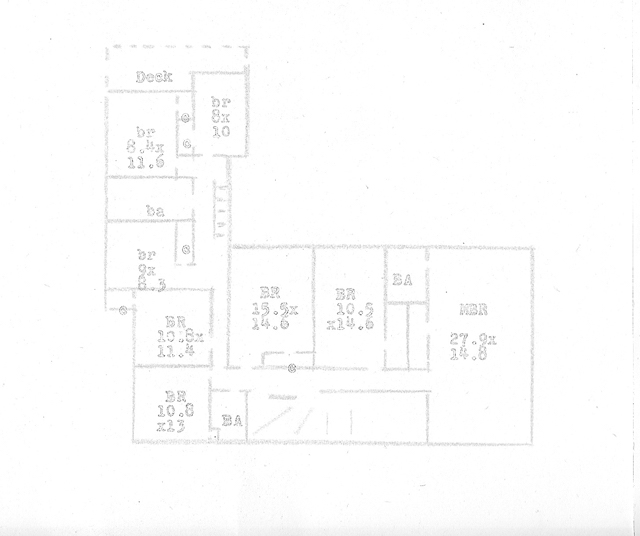 The Italian Renaissance Revival style was a popular architectural trend throughout the United States. The style was introduced in the US towards the end of the nineteenth century, peaking in popularity during the 1920s and 1930s. The most predominant feature of this style is its classical details such as carved columns, pilasters, and round arches. This style can take several distinct forms, but most residences in this approach are almost always constructed from masonry (usually stone) with a smooth finish. The front entranceway often features a decorative portico, incorporating intricate stone detailing. Another common feature of this style is a hipped roof, often clad in red clay tiles. Several magnificent examples of Italian Renaissance Revival homes can be found throughout the Grosse Pointe communities. The style is very similar to Spanish Colonial Revival residences that were also on trend during this era. Italian Renaissance architecture was common with many leading architects during this period includer Louis Kamper, Albert Kahn, and Charles Platt.
The original owner of 1040 Devonshire was Hugo J. Hesse, born in Michigan in 1886. Hesse became a prominent realtor in Warren during the early twentieth century. He and his real estate business partner Walter C. Piper formed the firm Piper-Hesse. The two platted many of the streets in Warren and named them after automobiles. Source: historydetroit.com. Hugo Hesse married Sara Marie Mathews (Hesse) and together they had two children. It appears Hugo passed in 1954, and his wife passed one year later. Based on information on historydetroit.com, it is suggested 'Hesse Street in Detroit is most likely named after Hugo J. Hesse'.
From our files we can confirm the Hesse family owned 1040 Devonshire until the mid 1950's. After the death of their parents, the Hesse children listed the property for sale in 1955, for $45,000 (around $470,000 today). It sold in January 1958, for $30,000.
717 Westchester
The second project Walker and Weeks completed in Grosse Pointe was 717 Westchester, built in 1935. The 3,185 sq ft property is a center entrance Colonial home, which at the time was one of the most popular architectural styles throughout Grosse Pointe. Colonial Revival architecture has been described as one of the most widespread and well-known residential architectural trends in America's history. The approach was particularly popular from 1910–1930, 'during this period the Colonial Revival movement was ascendant, with about 40% of U.S. homes built during this period in the Colonial Revival style'. Source: Wikipedia. Color photo courtesy of: Google.com.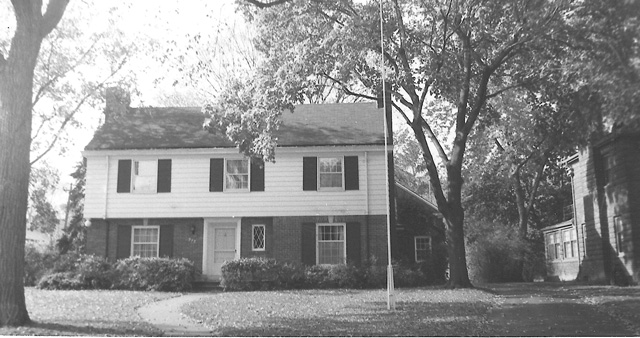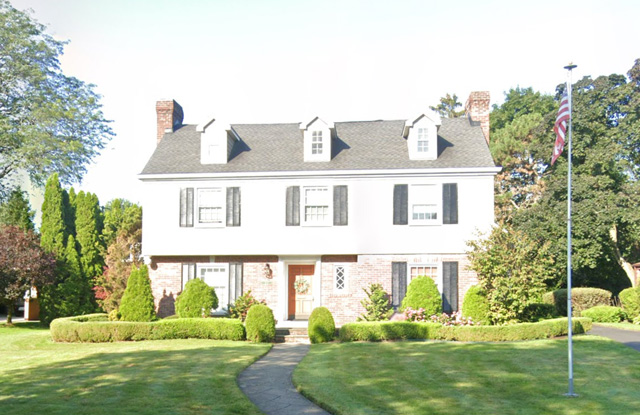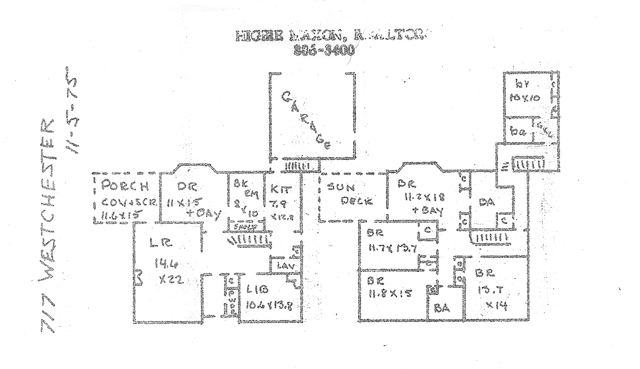 717 Westchester includes a 14' x 22' sq ft living room which was remodeled by Hans Stuhldreer in 1978. The updated room features notched oak beams with oak cabinets and bookshelves. The 10' x 13' sq ft library has a fireplace and a pegged oak floor. Architectural details inside the property include 6 panel wood doors, hardwood floors and three natural fireplaces. It appears the house has been expanded with the addition of three dormers in the roof (date of addition is unknown) along with an extension on the side.
The firm of Walker and Weeks was founded by Frank R. Walker and Harry F. Weeks. Both men studied at MIT, where they received training in the Beaux-Arts tradition of classical design. After graduating, in 1900, it appears Weeks continued his education at the University of Michigan and was then employed by the prestigious firm of Smith, Hinchman, and Grylls. Walker meanwhile moved to Paris, to continue his studies, and then lived in Italy for a year. Upon his return to the U.S he worked for architectural firms in Boston, New York, and Pittsburgh. In 1905, the duo moved to Cleveland to work for the prominent Cleveland architect J. Milton Dyer. In 1911, Walker and Weeks opened their own practice. The firm was known as a specialist firm in financial buildings, completing 60 banks throughout Ohio. Arguably their best-known project was the Federal Reserve Bank of Cleveland, built in 1923. The duo also worked on a wide variety of projects – in Ohio, Indianapolis, and Michigan – including major commercial, public, and residential buildings, along with churches, bridges, and the Indiana World War Memorial Plaza in Indianapolis. The work produced by Walker and Weeks covered a broad spectrum of architectural styles – Neoclassical and Italian Renaissance, this was followed in the 1930's with Moderne and Art Deco styled projects. Source: en-academic.com. Image courtesy of: federalreservehistory.org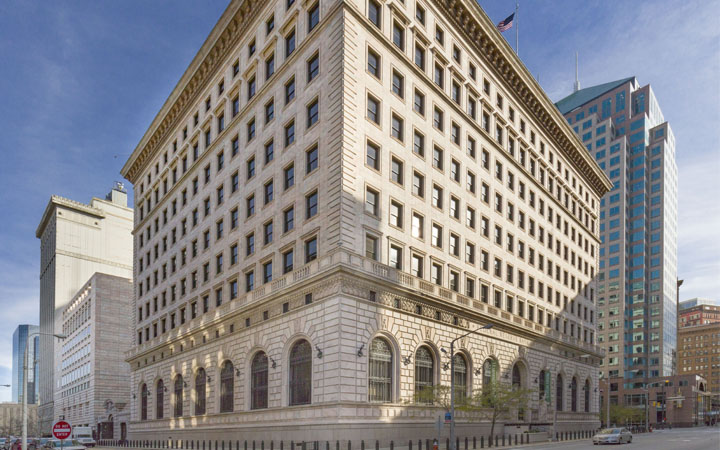 In 1935, Harry F. Weeks passed. After his death the firm of Walker and Weeks continued to produce work until the early 1950's (Frank R. Walker passed in 1949). Grosse Pointe is very lucky to have two homes by this talented and respected duo.
*Photos courtesy of the Higbie Maxon Agney archives unless stated.
** Research, information, and data sources are deemed reliable, but accuracy cannot be fully guaranteed.
Written by Katie Doelle
Copyright © 2022 Katie Doelle
https://katiedoelle.com/wp-content/uploads/2022/02/1040-Devonshire_Sm.jpg
358
640
Katie Doelle
https://katiedoelle.com/wp-content/uploads/2022/04/KatieDoelle_Logo_NEW1-Sm.jpg
Katie Doelle
2022-02-25 19:56:51
2022-02-25 19:56:51
Historical Architecture of Grosse Pointe – Walker and Weeks