59 Lakeshore is an exceptional home. Not only is it one of the few remaining 19th century homes in Grosse Pointe it may also be one of Albert Kahn's earliest residential designs.
The home was commissioned in 1892 by Joseph Berry for his daughter Charlotte and her new husband Henry Sherrard. Berry was a prominent figure in Detroit, forging a successful career as a businessman, industrialist and real estate speculator. In 1881 he commissioned a new home for his family. One of the first year-round homes to be built in Grosse Pointe, Edgemere was located at 50 Lake Shore (now demolished) and was designed by the prominent architectural firm of Mason and Rice (George Mason and Zachariah Rice). The house was situated on a colossal 15 acres of land, running from McKinley Road to Sunset Lane, and stretching from Lake St. Clair to Kercheval.
Berry and his wife Charlotte had three daughters. Research from GP Heritage Magazine states when each daughter married, Berry would offer, as a wedding present, to build a home for them on part of his estate.*
His first daughter to marry was his eldest, Charlotte, in 1892. Charlotte married Henry Sherrard, a respected teacher who would go on to establish the Detroit University School (now University Liggett) at the beginning of the 20th Century. Image courtesy of: Grosse Pointe Historical Society.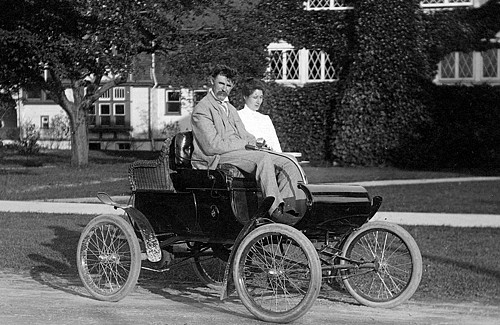 When Berry commissioned the new home for his daughter and his first son-in-law, he returned to the same firm who had designed Edgemere, Mason & Rice. A young Albert Kahn had just returned from studying in Europe and was said to be working for the duo, learning his trade under Mason. It is believed, courtesy of research from GP Heritage Magazine, Kahn was responsible for creating many residential designs, one of which could have possible been the design for 59 Lakeshore, however there is no concrete evidence to prove who the architect is. Images are courtesy of: AiA – The American Institute of Architects Guide to Detroit Architecture, and the Grosse Pointe Historical Society.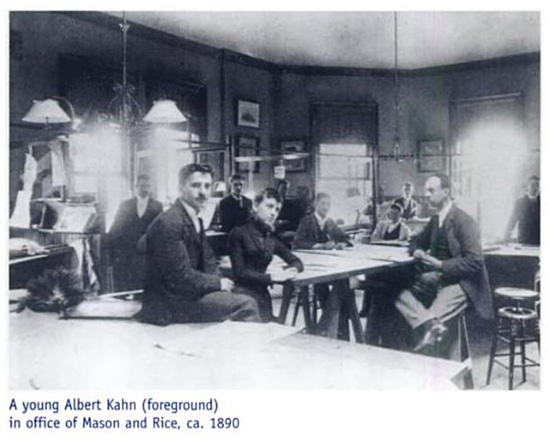 The style of 59 Lakeshore is asymmetrical, a very popular style at the time. The house has been described as having a mix of architectural styles including 19th Century Shingle style, Romanesque Revival, with Gothic touches and a trace of Victorian in the form of the tower(s) with the conical roofs.
The distinctive 4,400 sq ft home is constructed from red-brown sandstone with cedar shingles on various portions of the house. A veranda wraps around two sides of the home while its outstanding feature is arguably the red-brown sandstone circular tower(s) with the conical roofs. Despite the exterior of the home having very few decorative features; it is a remarkably interesting home to look at.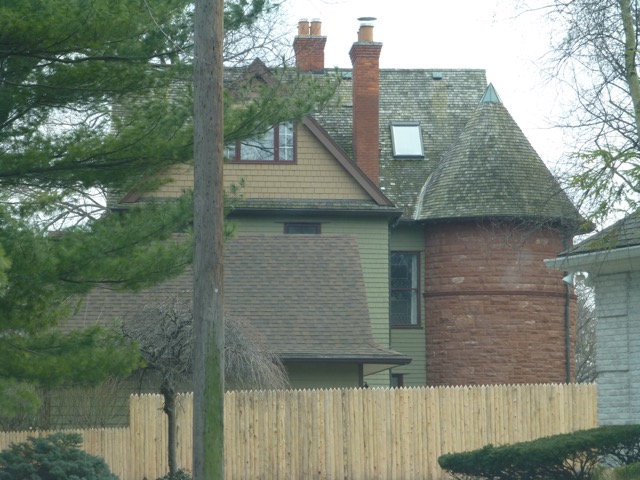 The home has three floors, containing four bedrooms, three fireplaces, a formal sitting room 14' x 13', living room 19' x 14' (with fireplace), parlor 16' x 16' (with fireplace), dining room 17' x 14', library 14' x 13', kitchen, and a breakfast room.
The interior is said to contain a fine selection of materials with wonderful craftsmanship throughout. Many of the formal living areas feature wood-paneled walls, while each of the fireplaces were carved from stone. From research by GP Heritage Magazine there is a sculptured sandstone lion on the wall over the mantel in the living room. The dining room also features wonderful hardwood floors and wainscoted walls. At the top of the landing is a stunning glass window featuring a detailed design in leaded panes.
The master bedroom 19' x 18', which includes a scaled down fireplace, faces east over Lakeshore Drive also features an alcove with eight rectangular windows with leaded panes. The second floor is home to a further three bedrooms along with two bedrooms for maids and service stairs to the first floor.
The Sherrard family owned the house until the early 1980's, it is listed on both the Michigan and the National Register of Historic Places.
The design of 59 Lakeshore is a suburb collection of styles that perfectly characterizes the changing architectural scene at the turn of the century. It is truly unique. Whether 59 Lakeshore is a Kahn or is not a Kahn design, no matter who the architect was, a very talented man designed it.
* Joseph Berry's middle daughter Alice was married in 1901, she too had a home built on her father's estate, known as the Dr. Edwin Lodge (now demolished). His youngest daughter, Lottie, also married but moved to the East Coast with her husband.
Written by Katie Doelle
© 2016 Katie Doelle
https://katiedoelle.com/wp-content/uploads/2016/03/59-Lakeshore_a.jpg
480
640
Katie Doelle
https://katiedoelle.com/wp-content/uploads/2022/04/KatieDoelle_Logo_NEW1-Sm.jpg
Katie Doelle
2016-03-08 10:37:31
2020-04-28 17:52:57
Historical Architecture of Grosse Pointe – A Kahn or not a Kahn that is the Question – 59 Lakeshore