Last week we presented some of the homes that were owned by the well-known DuCharme family, focusing on 365 University in particular. This classically styled brick built Georgian Colonial home was completed, in 1919, for Charles Bagley DuCharme, by the distinguished firm of William B. Stratton, and Dalton V. Snyder.
This week we head to 17845 E. Jefferson (now 25 Fisher Road), the beautifully designed International style home completed, in 1937, by Hugh T. Keyes, for Herbert B. Trix.
We have discussed, on several occasions, the rich and varied repertoire of Hugh T. Keyes, who was one of the most productive, and talented architects to grace Metro Detroit in the first half of the 20th century. But we have yet to focus, in depth, on one of his existing International styled projects.
Prior to 1930, Keyes tended to specialize in creating large formal style homes, primarily large Georgian, and Tudor Revival inspired properties. Post 1930, his work had become heavily influenced by the Regency Modern style, and by International/Functionalism (popular in Scandinavia during the 1930s) – a favored style of internationally acclaimed Franco-Swiss architect Le Corbusier. Keyes modern creations were poles apart from his earlier work, and were dominated by curves, glass walls, and clean white brick façades that would become his 'signature feature' during the latter stages of his career. With his growing influence on the architectural scene, Keyes played a significant part in popularizing Art Deco, and the mid-century modern movement in Metro Detroit.
Early on in his career Keyes spent time in Europe, traveling in England, France, Italy, and Switzerland, gathering inspiration, which is evident in much of his work. Many of his designs were known for being 'built for the ages'; and as the architectural world around him evolved, so did his approach, adapted to his own personal style. 
Prior to receiving the commission for the Trix home, Keyes had completed his first International styled project in Grosse Pointe, 41 Lochmoor (1936 – now demolished), for Lloyd H. Buhs. Based on research from Wikipedia we understand the Buhs House was when 'Keyes first experimented with a large, clean white brick façade and strict functionalistic themes of cubic volumes, flat-rolled sheet roofs, large windows, and rounded walls and balconies, that he would gradually morph into his own Regency Moderne style'. Source https://en.wikipedia.org/wiki/Hugh_T._Keyes
The Trix residence was designed right after the Buhs House. Keyes continued with his International/Functionalism approach for 17845 E. Jefferson. The 4,828 sq ft home is constructed from white brick with a simple flat roof, large windows and rounded walls. The distinctive curved entranceway leads to a side garage wing with an attached greenhouse. Inside, the long, narrow 23' x 8' sq ft hallway/foyer features a striking circular staircase.  The main floor also contains an 18' x 18' sq ft living room (with parquet flooring), a 16' x 24' sq ft morning room, a 16' x 16' sq ft library, with a fireplace (pictured below), along with a 14' x 18' sq ft dining room (also with parquet flooring). Upstairs, there are three main bedrooms, two dressing rooms, along with two smaller bedrooms for maids. The basement features a 28' x 17' sq ft games room. In total there are five fireplaces located throughout the home, along with a sunroom. The photos below are courtesy of the Digital Collections, Detroit Public Library.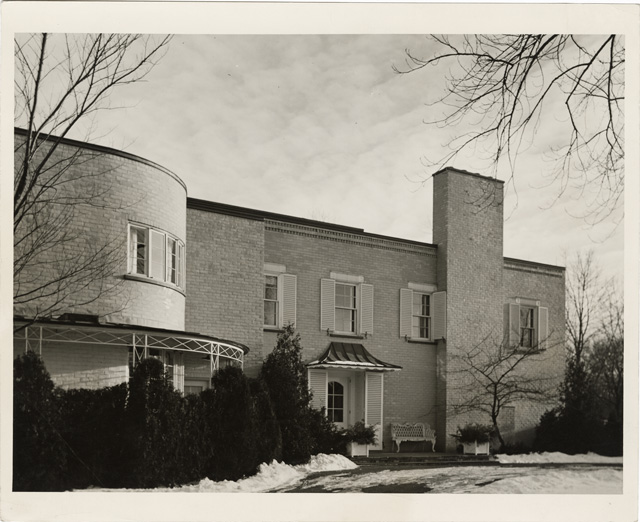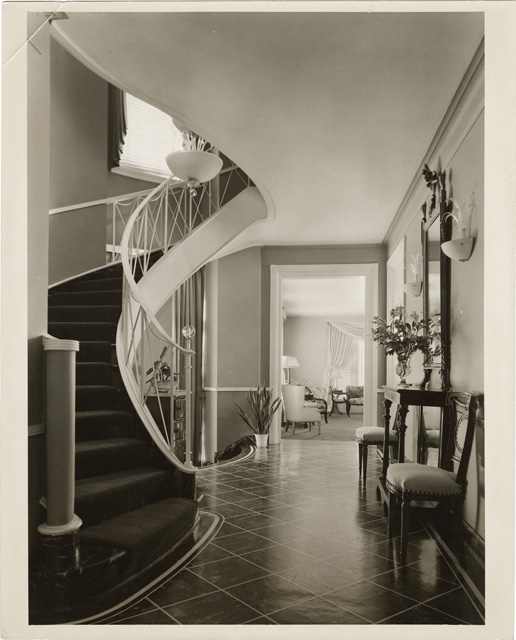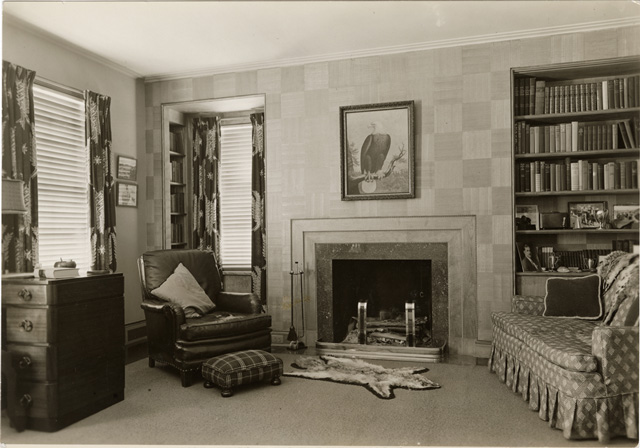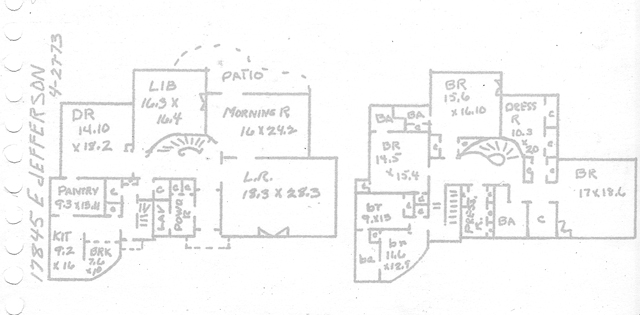 The originally address of the estate was 17845 E. Jefferson. However, when the large lot was subdivided the entrance to the house faced the road that ran next to it, and the property received its new address – 25 Fisher Road. It appears part of the original lot was listed for sale, in 1996, for $250,000 (around $410,000 today). A new residence, 21 Fisher, a 3,946 sq ft house, was subsequently constructed in 1997.
The original owner of 17845 E. Jefferson, was Herbert B. Trix, a respected figure in Detroit, and Grosse Pointe. Mr. Trix was the youngest son of John Trix, an inventor, and president of the American Injector Company of Detroit. Herbert Trix attended University of Michigan, and graduated with a degree in engineering. During World War I he was a representative of the infantry. After he was commissioned as captain he then won promotion to the rank of major. During the war he served overseas', in charge of ordinance plants in France. Source: The City of Detroit, Michigan, 1701-1922, Volume 3, by Clarence Monroe Burton.
On his return to the U.S he resumed his position as president of his fathers company, the American Injector Company, and also held the position of president at the W. M. Chace Co. He was the director of several banks, and a member of the Council of the Village of Grosse Pointe from 1928 to 1933, just before it was incorporated as a city, in 1934. At this point he became one-time mayor of Grosse Pointe, and, at forty, the youngest president of the Detroit Athletic Club.
Herbert Trix married Dorothy Stoneman. Prior to moving to 17845 E. Jefferson the couple resided at 470 Washington. After selling 17845 E. Jefferson the couple moved to 32 Elm Court, Grosse Pointe Farms.
After completing the Trix residence Hugh T. Keyes went on to complete several other Regency Modern and International styled homes, including: 60 Renaud (1938), 707 Lakeshore (1938 – now demolished), 22 Lee Gate Lane (1947), and 665 Lake Shore (1951).
*Photos courtesy of the Higbie Maxon Agney archives unless stated.
Written by Katie Doelle
Copyright © 2019 Katie Doelle
https://katiedoelle.com/wp-content/uploads/2019/12/17845-E.-Jefferson_Sm.jpg
402
640
Katie Doelle
https://katiedoelle.com/wp-content/uploads/2022/04/KatieDoelle_Logo_NEW1-Sm.jpg
Katie Doelle
2019-12-17 14:27:01
2019-12-17 14:27:01
Historical Architecture of Grosse Pointe – Welcome to 17845 E. Jefferson