Last week we presented the work of Minoru Yamasaki, one of the most prominent architects of the 20th century. In a career spanning three decades, he created over 250 buildings throughout the world, including the World Trade Center, and at least five projects in Grosse Pointe.
This week we are going to explore one of his residential projects in greater depth – 664 Shoreham, Grosse Pointe Woods.
What makes the architectural heritage of Grosse Pointe so unique is how the varying architectural styles from different eras are represented and characterized. Many of the older homes that were designed by nationally recognized designers shout, "I am by Albert Kahn", or "of course I was designed by George D. Mason". However, there are others, the hidden gems that are quite happy to merge into the background without calling attention to them, and yet were designed by world famous designers. One such example is 664 Shoreham Road.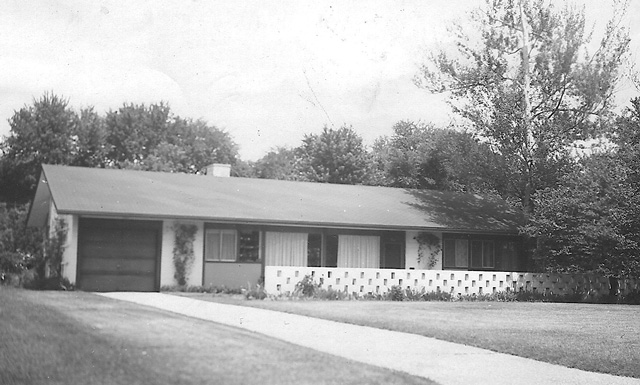 Located in Grosse Pointe Woods, 664 Shoreham was built in 1952. It was the second project completed in the community by the nationally recognized firm of Leinweber, Yamasaki & Hellmuth. Mrs. Grace Robinson commissioned the 1,536 sq ft ranch style home, which is located on an 80' x 190' sq ft lot. It was built by Maurice V. Rogers, and cost $22,000 to build (around $215,000 today). In July 1953, the house was featured in an edition of House and Home.
Constructed of cinder block, the two-bedroom single-story home, with attached garage, is a large rectangle zoned into three large squares for service, living and sleeping. This includes the 20' x 22' sq ft living room, the 9' x 12' sq ft kitchen, a 6' x 9' sq ft utility room, and two bedrooms measuring 11' x 12' sq ft and 9' x 11' sq ft respectively. The living room features a raised fireplace, along with a floor to ceiling glass wall and a door that opens to the patio at the rear of the house. An extensive use of glass is also present in the kitchen and the bedroom that is located at the rear of the home. Images courtesy of: House + Home.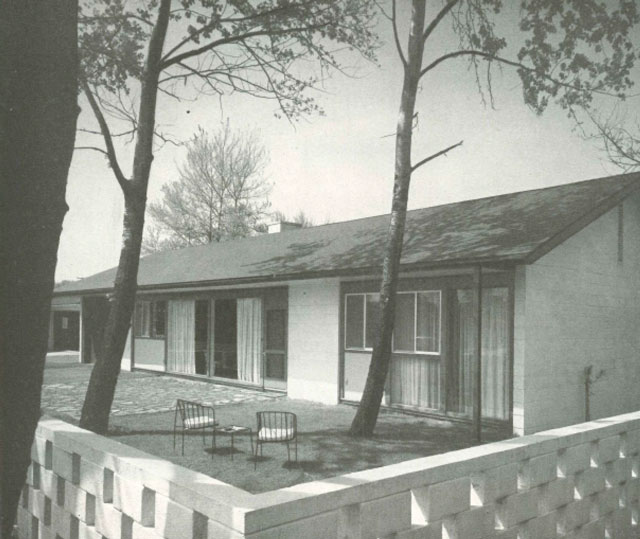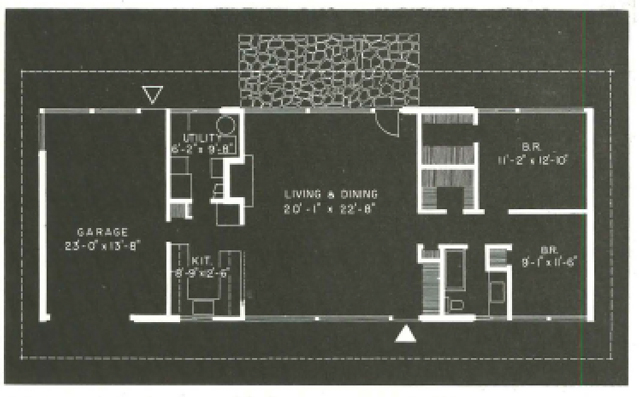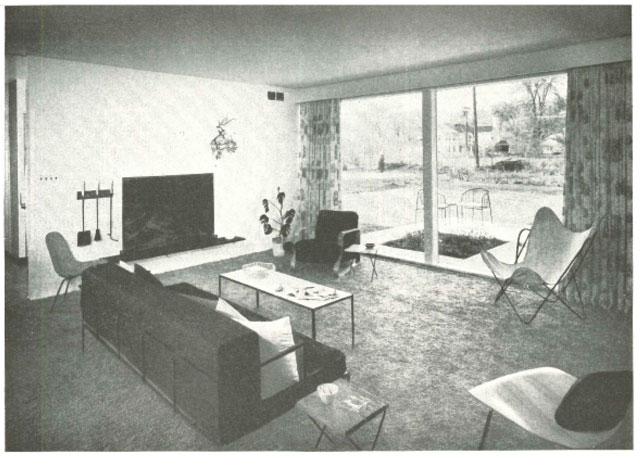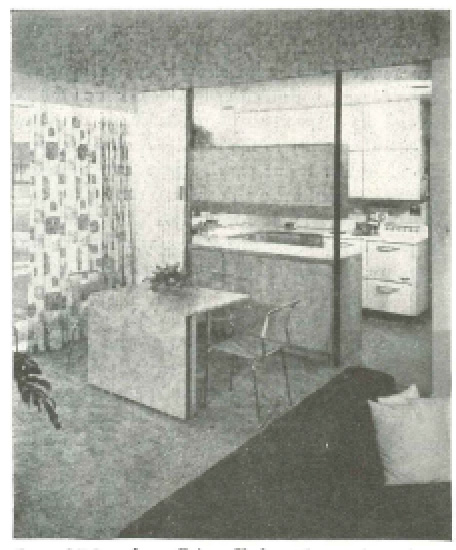 Yamasaki considered both form and function when he created 664 Shoreham. As with similar modern ranch style homes built in the Mid-west during this era the house was designed for ease of living with several specific goals in mind. The shape of the house shields the rear of the home from the street, while the kitchen has a view of the driveway, and easy access to the garage and laundry room. Given this house is built on a concrete slab, with no basement, bulk storage spaces and multiple hidden closets have been carefully considered. The property has no side windows, while the windows in the corners of the main rooms provide 'much uninterrupted wall space as possible for placing furniture out of circulation paths'. Courtesy of: House + Home.
The owner of the home, Mrs. Grace Robinson (Briggs) was the daughter of Walter Owen Briggs, manufacturing mogul and owner of the Detroit Tigers. In 1925 Grace Briggs married William Dean Robinson, an heir of the Fred J. Robinson Lumber Company. For their wedding gift Mr. Walter Briggs had a house built for the couple – 138 Kenwood Road. The huge 7,700 Tudor style home was designed by prominent Detroit based architect Raymond Carey. It is arguably one of the most prominent houses in Grosse Pointe Farms.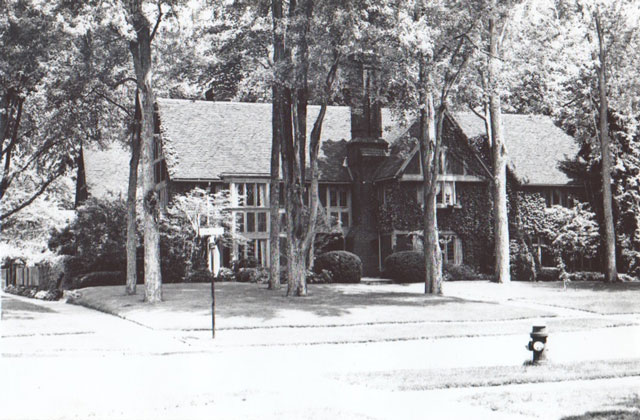 In 1933, William Robinson went to work for his father in law, at Briggs Manufacturing. By 1937 he had been fast tracked to asst. general manager and vice president, in 1945, he was named president and later chairman of the board. William Dean Robinson passed in 1957.
We can assume Grace Robinson commissioned Minoru Yamasaki to build 664 Shoreham in order to downsize from the home on Kenwood. The property is vastly different to the Robinson's marital home, as was the architect. Raymond Carey was known for magnificent grand Georgian and Tudor residences, whilst Yamasaki was one of the world's leading contemporary designers.
It appears Grace Robinson first listed 664 Shoreham for sale in 1965; the asking price was $26,900 (around $221,000 today). From our files, we understand the property sold in 1972, for $36,000 (around $223,000 today). At that time Grace Robinson had remarried. She and her second husband, Harry B. Howenstein resided at 105 Lake Shore. She passed in 1978.
664 Shoreham is a hidden gem, designed by one of the nations all time greats. It will never draw attention to itself, but its beauty, and rarity will be forever on display.
*Photos courtesy of the Higbie Maxon Agney archives unless stated.
Written by Katie Doelle
Copyright © 2020 Katie Doelle
https://katiedoelle.com/wp-content/uploads/2020/03/664-Shoreham_Sm-1.jpg
385
640
Katie Doelle
https://katiedoelle.com/wp-content/uploads/2022/04/KatieDoelle_Logo_NEW1-Sm.jpg
Katie Doelle
2020-03-31 17:24:54
2020-03-31 17:24:54
Historical Architecture of Grosse Pointe – Welcome to 664 Shoreham Road