Last week we presented the story of 251 Lincoln – another superb property by Louis Kamper from his Italian Renaissance period. As previously mentioned, some of Kamper's work, during the early twentieth century, was heavily influenced by Italian Renaissance architecture. He created at least three significant properties in Grosse Pointe in this style – 285 Washington (1912), 1 Rathbone Place (1917) and 251 Lincoln (1918).
This week we head to 30 Beverly Road, a distinctive English Cottage style residence, completed in 1913, by Marcus Burrowes & Dalton R. Wells for Florence L. Pond, daughter of a distinguished lawyer in Detroit. Beverly Road is the only street in the Grosse Pointe communities that is listed on the National Register of Historic Places.
30 Beverly Road (the original address was 6 Beverly Road) is an asymmetrical 7,371 sq ft two and one-half story residence, finished in white stucco, featuring a range of roof shapes, peaks and projecting chimneys. The house has six bedrooms, a 30' x 20' sq ft living room, a 20' x 16' sq ft dining room, a 17' x 15' sq ft garden room, along with high ceilings, exquisite detailing, tall sash windows, and four fireplaces. The property displays many characteristics associated with the English Cottage style – a steeply pitched roof, a large chimney on the front facade, decorative half-timbering, multiple small windows, and an asymmetric configuration. The design of the three-car garage also reflects the style of the home – with a matching one and one-half story stucco exterior, and a high hipped roof with a projecting dormer. The design, in terms of look and architectural style, was in keeping with the approach of its next-door neighbor, the Sidney T. Miller home (number 34), also designed by Burrowes and Wells in 1913.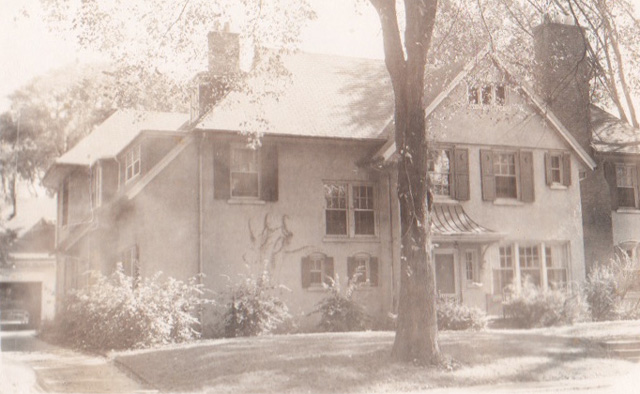 \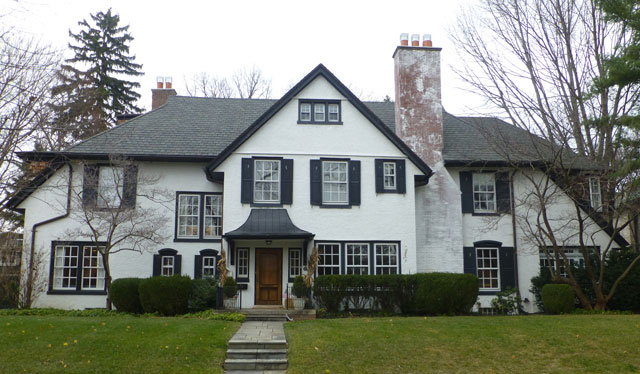 It appears Miss Florence Pond only resided at the property for around one year. In 1914, 30 Beverly was purchased by Roy D. Chapin president of the Hudson Motor Company. That same year Mr. Chapin married Inez Tiedeman of Savannah, Georgia. After they were married, they moved to the house on Beverly Road. They had six children. Roy Dikeman Chapin was an American industrialist and a co-founder of the Hudson Motor Company. He also served as the United States Secretary of Commerce from August, 1932, through March, 1933.
Roy Chapin was born in Lansing in 1880. Having attended the University of Michigan, Chapin headed the consortium of businessmen and engineers that founded the Hudson Motor Car Company in 1908. The company was named after Joseph L. Hudson, who provided much of the capital for the operation's start-up. Source: Wikipedia. In 1918, Chapin was behind the foundation of the Essex Motors Company, a subsidiary of Hudson. In 1922, the company was noted for developing the first affordable mass-produced enclosed automobile. In 1927, Roy D. Chapin, commissioned nationally noted New York architect John Russell Pope to design a grand estate on Lake Shore – the Chapin's moved in to 457 Lake Shore in 1928. Four years later, in 1932, Chapin left Hudson to join the Hoover administration as the United States Secretary of Commerce. In March 1933, Chapin returned to work for the Hudson Motor Car Company, his final three years were spent trying to save the company from the effects of the Great Depression. He passed in 1936. Source: Wikipedia.
After the Chapin's moved to their new home on Lake Shore 30 Beverly was purchased, in 1928, by Charles Wright Jr., an attorney who resided at the property with his wife Adena (Miles) and three children, until 1953. In 1960, 30 Beverly Rd was owned by Ellwood W. Hill, the Director of Music at Christ Church. He resided at the property until 1965.
The architects, Marcus Burrowes and Dalton R. Wells were respected designers in the state of Michigan and Ontario. During their association, from 1910 through to 1915, it is reported 'Dalton Wells was most active in the construction and building supervision activities of the firm, which allowed Burrowes to contribute his considerable talents to designing buildings in Detroit and in Windsor'. Their most significant commission in Canada was the magnificent Tudor Revival mansion for Hiram Walker. Source: dictionaryofarchitectsincanada.org. At the time Burrowes was also known for his English Revival style residences in southeastern Michigan. The duo were also responsible for the design of several libraries and municipal buildings.
Marcus Burrowes was born in Tonawanda, N.Y near Buffalo in 1874. He attended the Denver Art Academy, studying with architects of note, followed by an apprenticeship at a prominent architectural firm in Denver. In 1892, Burrowes moved to Ottawa, Canada to work in the chief architect's office, specializing in post office buildings. During his time there he also created several public buildings in Sarnia. It wasn't long before Burrowes ambitions prompted his move across the river to Detroit. Around 1905, Burrowes got the opportunity to work in the office of Albert Kahn. In 1907, he joined noted architectural firm of Stratton and Baldwin (already prominent designers in Grosse Pointe) where he stayed for two years. During his time with the firm he would become associated with many leading figures in the Arts and Crafts movement in Detroit, including Albert Kahn, William Stratton, Frank C. Baldwin and George Booth. Dalton R. Wells, was born in New York, 1878. He was educated in New York and trained in Michigan with Smith, Hinchman & Grylls, one of the leading architectural firms in Detroit at the time.
It appears Burrowes and Wells worked together until 1915. In 1920, Burrowes became associated with Frank Eurich (a graduate from Cornell University). Arguably their most noted project in Grosse Pointe is 315 Washington, the Ralph Harmon Booth Mansion completed in 1924.
Over the years 30 Beverly has undergone a series of extensive alterations. It has however, retained its original charm associated with English Cottage style homes.
*Photos courtesy of the Higbie Maxon Agney archives unless stated.
Written by Katie Doelle
Copyright © 2021 Katie Doelle
https://katiedoelle.com/wp-content/uploads/2021/08/30-Beverly.jpg
394
640
Katie Doelle
https://katiedoelle.com/wp-content/uploads/2022/04/KatieDoelle_Logo_NEW1-Sm.jpg
Katie Doelle
2021-08-20 17:22:07
2021-08-20 17:22:07
Historical Architecture of Grosse Pointe – 30 Beverly Road