Last week we explored a rather distinctive home that many Grosse Pointers drive past everyday – 58 Moross. Completed in 1915, the property was designed by Stahl, Kinsey & Chapman for Louis A. Moran, a cement contractor.
This week we stay on Moross to visit 50 Moross, located next door to number 58. The property was designed for William E. Moran, in 1914, by Louis Kamper – one of the most noted architects to grace Metro Detroit.
The 3,500 sq ft home was created in the Bungalow architectural style, an unusual approach for Kamper during this era given his reputation for producing more formal, large-scale brick-built homes. Nonetheless, 50 Moross has all the charm and grace one comes to expect with the work by the famed Detroit architect.
50 Moross is situated on a park like lot, over half an acre in size. The property is surrounded by many large trees, along with an English Garden at the rear of the home.  The exterior of the home is brick. The front elevation is dominated by a large front porch that runs across the front of the home, supported by five oversize columns situated under the extension of the main roof. The huge dormer in the roof is finished in stucco. As you would expect with a home designed by Kamper the design features many extraordinary architectural details inside and out.
The interior of the home (as described in a listing, 1973) contains an impressive 15' x 12.5 ft foyer, along with a 15' x 18' sq ft dining room (with a built-in china cabinet) a 21' x 14' sq ft living room (with a Pewabic tile fireplace) along with two 12' x 9' sq ft bedrooms. The second floor contains two additional bedrooms, including the 15' x 20' sq ft master suite along with service stairs and an additional bedroom for the maid. The property has hardwood floors throughout along with 9ft high ceilings. Currently the residence has a huge 4 car garage, however, it is not known when this was added.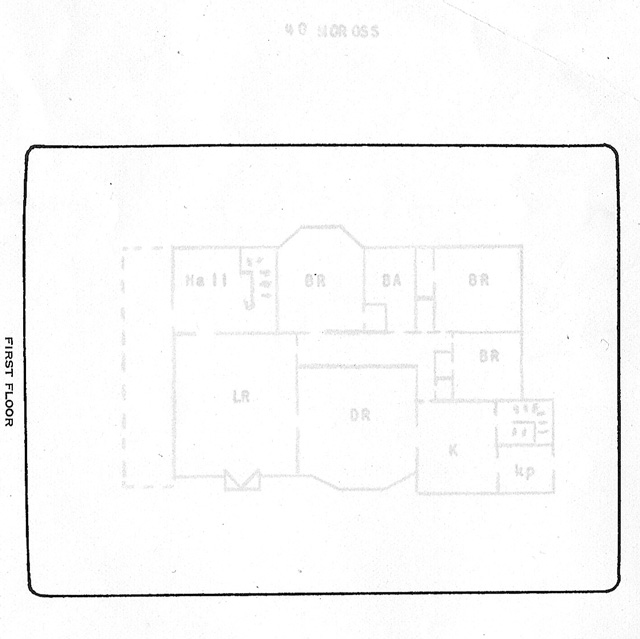 William E. Moran was a member of one of the first families in Detroit and Grosse Pointe. Moran Road was named in honor of the family. William Moran was born in 1858, and married Fannie Lancashire in 1891. Together they had one son, Lawrence. It appears William E. Moran passed a couple of years after 50 Moross was completed (Fannie had passed in 1900). The property was then purchased by Mr. Neil B. McMillan. and his wife Juliana – they were the registered occupants in 1922, when the address of the residence was 40 Moross. Neil "Shorty" McMillan was born in Detroit, 1890. He enrolled at the University of Michigan in 1909. In 1909, and 1910, he led the freshman football team to two undefeated seasons. In his first year of college football McMillan developed a reputation as an "exceptional quarter back". His accomplishments were considered even more impressive when it was discovered that he had played the hardest home games of the 1910 season with a broken shoulder. In 1911, his promising career was ended by a knee injury – McMillan only started ten games at quarterback, but never lost a game he started. Source and image: Wikipedia.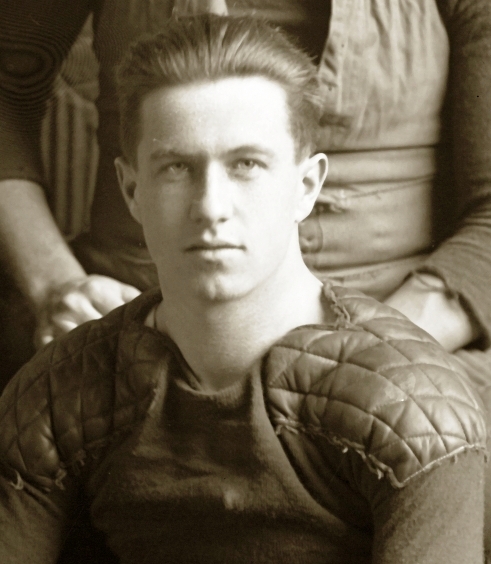 In 1939, Mr. McMillan listed 50 Moross for sale. From our files we understand Mr. McMillan was interested in selling the entire property but preferred to sell the house with the front half of the lot (100' x 120') and build a smaller house for himself on the rear half. The house, and the full lot, was sold in 1940, for $11,500 (around $225,000 today). The property was purchased by Frederick Abbott Leisen, an automotive designer, who owned the house for 33 years. In 1973, Mr. Leisen sold the residence to another designer Fred William House, a former designer for General Motors and head of design at the College for Creative Studies. Mr. House was also a renowned artist and a talented musician.
The architectural approach of 50 Moross is Bungalow. This style was popular during the first half of the 20th century, influenced by the Craftsman style. The Bungalow is 'often seen as a generic descendent of the American Arts and Crafts movement's most prominent designers'. Source: http://www.antiquehome.org/. The Bungalow style began in California and quickly spread to other parts of the country, where it was adapted to a multitude of different styles. Many Bungalow style homes are informal in plan, elevation and detail. Typical characteristics of the Bungalow approach are simple and low lines with a gently pitched overhanging roof, large covered front porches with massive columns under the extension of main roof, and deep eaves with exposed rafters. The low-pitched roof generally has enough of a pitch to allow for a partial second floor, with a dormer. The Bungalow style is often given credit for introducing the front stoop to the American House, in part due to the large porches associated with this style. Source: American Shelter by Lester Walker. There are many wonderful examples of Bungalow style homes around the Grosse Pointe communities.
The architect behind 50 Moross, Louis Kamper, could be described as one of the most impactful designers to have ever graced Detroit, along with Albert Kahn, and George D. Mason. During his career he received many prestigious commissions from some of Detroit's wealthiest families. He is credited with designing over 100 commercial and residential structures in and around the city – The Book Tower and The Book Cadillac Hotel. During his career he worked with several prominent families within Metro Detroit, including the Bagley, Merrill, Tuller and the Book families. Louis Kamper created at several homes in Grosse Pointe, including:
285 Washington (1910)
50 Moross (1914)
16761 E. Jefferson (1917)
251 Lincoln (1917)
1 Rathbone Place (1918)
836 Edgemont Park (1918)
1008 Buckingham (1922)
175 Merriweather Road (1931)
50 Moross comes with all the charm and grace associated with homes designed by Louis Kamper. The property has had several noted owners including several designers who obviously understood its individual uniqueness and relevance.
*Photos courtesy of the Higbie Maxon Agney archives unless stated.
Written by Katie Doelle
Copyright © 2021 Katie Doelle
https://katiedoelle.com/wp-content/uploads/2021/07/50-Moross_Sm.jpg
316
640
Katie Doelle
https://katiedoelle.com/wp-content/uploads/2019/03/KatieDoelle_Logo2-300x300.jpg
Katie Doelle
2021-07-27 14:30:53
2021-07-27 14:32:35
Historical Architecture of Grosse Pointe – 50 Moross