Last week we presented the story of 22 Oxford Road. Completed in 1941, the property was built for respected businessmen and acclaimed powerboat owner and racer Herbert (Herb) A. Mendelsohn. It is not known who designed the house, but it appears it was built by prolific builder Walter Mast. It was razed in 2006.
This week we would like to introduce you to 665 Lake Shore, another lost home that was located on the corner of Oxford Road and Lake Shore. The Regency Moderne style property was completed for prolific inventor, Robert Pauli Scherer, in 1951. It was designed by prominent architect Hugh T. Keyes who considered the property to be one of his more significant works.
665 Lake Shore was a 7,050 sq ft home, situated on 3 lots. The picturesque extensive grounds were elevated and tiered down to the lake. Despite the residence having a Lake Shore address, the footprint of the home had the front door, driveway and the four-car heated garage facing Oxford Road. The modern residence was a white brick construction that formed a crescent shape – a common trait of many Regency Moderne style properties – with walls of glass facing Lake St. Clair. The open floor plan included a magnificent sweeping staircase in the center of the house, and a soaring two-story window that also faced onto Oxford Rd. The first floor contained a large number of rooms including: a 30' x 17' sq ft living room, a 19' x 22' sq ft dining room, a huge 23' x 15' sq ft kitchen, a 21' x 22' sq ft family room, a 16' x 15' sq ft library, a large 18' x 19' sq ft sun room, along with two bedrooms (one of the bedrooms measured 16' x 18' sq ft, it also included a his and her bathroom and dressing rooms). The second floor featured three further bedrooms, and a sitting room. The property had a heated in ground pool, and a fully equipped metalworking and woodworking shop in the basement. Color image courtesy of: Wikipedia.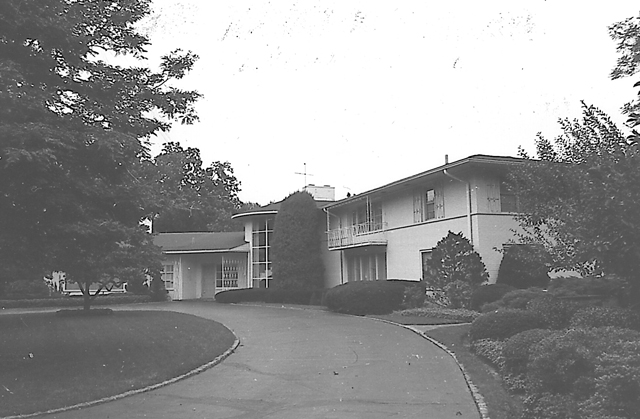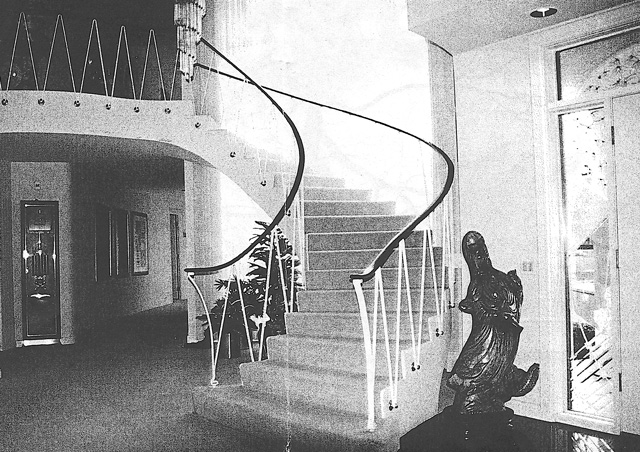 The original owner of 665 Lake Shore was Robert Pauli Scherer, who invented the rotary die press used to create soft gelatin capsules for medications and dietary supplements – this ultimately lead to commercializing the production of gelatin capsules. His invention revolutionized the pharmaceutical world and helped raise worldwide health and nutritional standards. Robert Scherer was born in Detroit, in 1906. Having been raised and educated in the city Scherer attended the University of Michigan to study chemical engineering. After graduation, in 1930, Scherer began working in the pharmaceutical field. Based on an article on detroithistorical.org we understand 'in a workshop in the basement of his parents' Detroit home (located at 67 Kirby Street), Scherer invented the rotary die encapsulation machine'. The article explains 'Scherer applied for a patent for his invention in 1931, and in 1933 he founded the Gelatin Products Company, which became the R.P. Scherer Corporation in 1947. The firm was the world's largest manufacturer of soft gelatin capsules by 1984, with 18 plants located across 12 different countries'. 'During his life, Scherer was granted 52 patents'. Source: detroithistorical.org. He was married to Margaret (Lindsey) and they had two children. Prior to moving to Grosse Pointe, the Scherer family resided at an historic Tudor home, 19410 Lucerne Drive in Palmer Woods. Robert Pauli Scherer passed in July 1960.
Hugh T. Keyes, the designer of 665 Lake Shore, was a phenomenal architect; we have featured his work on many occasions. His work centered on creating grand estates for the industrialists of Metropolitan Detroit (clients included Ford, Hudson-Tannahill, Bugas and Mennen) and he is considered to be one of the most versatile architects of his generation. During the early 1930's Keyes began to move away from his traditional Georgian/Palladian work to focus more on modern style homes, centered on functionalism – a favored style of acclaimed Franco-Swiss architect Le Corbusier. Keyes would subsequently create his own interpretation of this style with his own Regency Moderne approach defined by flat surfaces and distinctive 'white brick'. This approach became an extremely popular feature of much of his work from the late 1930's onwards. Some excellent examples of Keyes modern work in Grosse Pointe are:
41 Lochmoor – International Style, 1936 – razed in the 1990's
25 Fisher – Functionalism/International style, 1937
60 Renaud – Regency Moderne style, 1939
22 Lee Gate Lane – Regency Moderne style, 1947
After her husband's death, in 1960, Margaret Scherer continued to reside at 665 Lake Shore until 1980. The property was then purchased by Mr. M. Ahdab for $410,000 (around $1.4m today). It was sold in 1984, to Ron and Mary Lamparter who resided at the home for 24 years. The property was sold for the final time in November 2008. It was demolished around 2010, and the 3 lots was subsequently divided. It is now the location of two new homes facing Lake. St Clair.
*Photos courtesy of the Higbie Maxon Agney archives unless stated.
** Research, information, and data sources are deemed reliable, but accuracy cannot be fully guaranteed.
Written by Katie Doelle
Copyright © 2022 Katie Doelle
https://katiedoelle.com/wp-content/uploads/2022/02/665-LakeShore_2.jpg
354
640
Katie Doelle
https://katiedoelle.com/wp-content/uploads/2022/04/KatieDoelle_Logo_NEW1-Sm.jpg
Katie Doelle
2022-02-15 15:27:41
2022-02-15 15:27:41
Historical Architecture of Grosse Pointe – 665 Lake Shore Road