Last week we presented the Trial Gardens at The Grosse Pointe War Memorial. The Trial Garden was originally commissioned by the Grosse Pointe Garden Center – an organization founded in 1950 to succeed the Grosse Pointe War Memorial's Garden and Grounds Committee. Eleanor Roche, a noted landscape architect, designed the gardens.
This week we head to Grosse Pointe City, and to one of the largest homes constructed, 355 Lincoln.
Completed in 1923 for Theodore McGraw, Jr., the noted New York firm Alfred Hopkins & Associates designed it. The 8,733 sq ft English manor is a striking property, and particularly prominent in the community. The exterior is stucco, with a slate roof. While the exterior has subtle architectural details, the inside is awash with beautiful woodwork, decorative carved limestone and plaster, and intricate components. The grand 40' x 23' sq ft living room dominates the main floor, along with the family room (35' x 23' sq ft), dining room (24' x 23' sq ft) and the Library (35' x 23' sq ft). Also on the main floor is an enclosed portico with three large archways. This leads to the two-story library with its magnificent 18' barrel ceiling, two-story window, and a choir loft leading to a balcony and a skillfully carved railing. The main floor also features multiple large carved stone fireplaces. The second floor contains five bedrooms, the largest being 34' x 11' sq ft. The residence also features an additional bedroom on the third floor, an elevator, along with a two-bedroom carriage house over the four-car garage. All interior photos are courtesy of: Realtor.com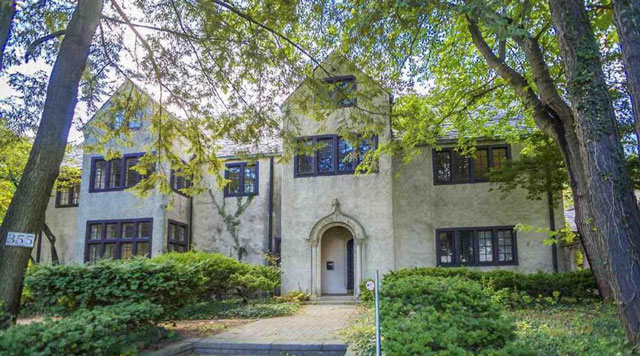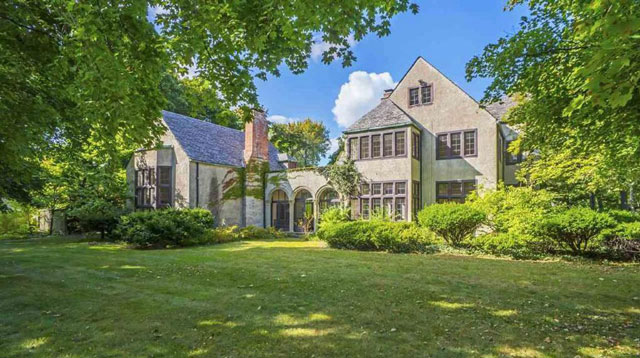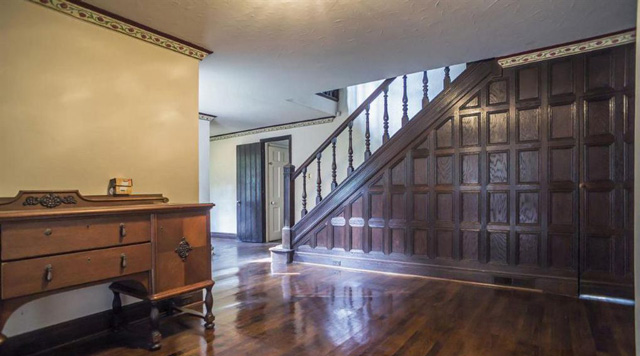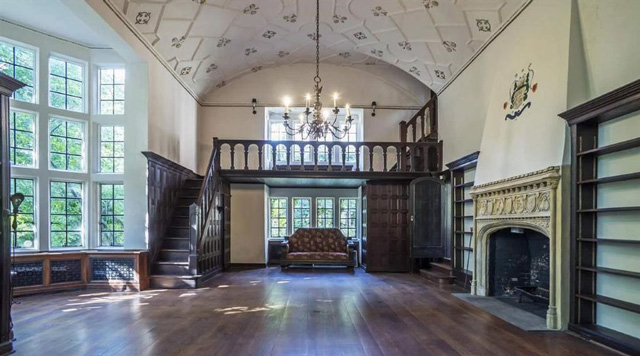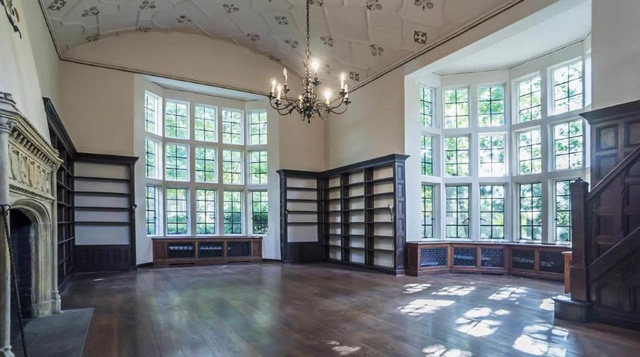 The architect Alfred Hopkins was an "estate architect" who specialized in country houses and in particular model farms in an invented "vernacular" style to suite the American elite. Source: Wikipedia. Hopkins was born in Saratoga Springs, New York, 1870. In the early 1890's he studied at the internationally acclaimed Ecole des Beaux Arts in Paris, which was followed by several years in Rome studying architecture. By 1898 he had returned to New York City as an architect. During the early part of his career Hopkins specialized in the design of farming complexes, during this period he worked in association with Edward Burnett, an agricultural specialist. In 1913 he established Alfred Hopkins & Associates, located at 101 Park Avenue in New York City. Throughout his career he continued to work on a multitude of projects – commercial, agricultural and residential. Here in Grosse Pointe it appears he designed two homes – 355 Lincoln (1913) and 15410 Windmill Pointe Drive (built in 1924), for William P. Harris. Alfred Hopkins passed in 1941, having enjoyed an incredibly successful career.
Mr. Hopkins was not the only recognized designer to work on 355 Lincoln, the garden was designed nationally renowned landscape architect Ellen Biddle Shipman. The American landscape architect was known for her formal gardens and lush planting style. Shipman, throughout her career, created over 650 gardens, including 60 in Grosse Pointe – more than any other community in the United States. Some of her better-known projects in the community include: The John S. Newberry Estate, The gardens at Alger House (now known as the Grosse Pointe War Memorial), 15366 Windmill Pointe Drive, 99 Lothrop, 251 Lincoln, 22 Webber Place, 447 Lake Shore, 109 Kenwood, and Rose Terrace.
The owner of 355 Lincoln, Dr. Theodore McGraw, Jr. was the son of Dr. Theodore McGraw, the founder of the Detroit Medical College, which would later become Wayne State University School of Medicine. Dr. Theodore McGraw, Jr. was born in Detroit, 1875. He graduated from Yale, and the College of Physicians and Surgeons in New York City. In 1904 he returned to Detroit and entered private medical practice as a surgeon. However, due to issues with his health he returned to Harvard Medical School to undertake postgraduate work in internal medicine, specializing in endocrinology. During the World War 1 he spent a year with Base Hospital Unit #36. Following his discharge from the army he had another thyroidectomy. but once again it was only partially successful and he returned to his medical practice and endocrinological research. Source: Walter P. Reuther Library, Wayne State University. In 1924, while on a work related trip, he contracted a severe infection and sadly passed within 48 hours. He was married to Esther Longyear. It is not clear how long Mrs. Ester McGraw continued to reside at 355 Lincoln after her husband's untimely death.
355 Lincoln is a magnificent home. As you drive down Grosse Pointe Blvd take a look at this beautiful estate on the corner of Lincoln. What with Alfred Hopkins, Ellen Biddle Shipman, and Dr. McGraw this house is associated with the elite, the best of the best.
Written by Katie Doelle
Copyright © 2019 Katie Doelle
https://katiedoelle.com/wp-content/uploads/2019/08/355-Lincoln.jpg
379
640
Katie Doelle
https://katiedoelle.com/wp-content/uploads/2022/04/KatieDoelle_Logo_NEW1-Sm.jpg
Katie Doelle
2019-08-21 13:11:53
2019-08-21 13:11:53
Historical Architecture of Grosse Pointe – Welcome to 355 Lincoln