It is always fun to come across an architect whose work crosses a broad spectrum of architectural styles and era's. When one can only wonder how a designer can transition from creating a classically designed French Provincial style home in 1928 to designing a floor plan for an innovative post-war suburban home in 1943.
Welcome to the world of D. Allen Wright, a 'widely known American architect' but with very little information available about his career. Despite the lack of details we have been able to piece together a brief insight into the absorbing work of this versatile designer.
We know that Wright, a Detroit based architect, took a break from his architectural career to serve overseas for 17 months with the 107th Engineers, 32nd Division. On his return he took up his old position at the firm of renowned Detroit architect Alvin E. Harley.
We are not sure how long Wright spent working for Alvin Harley, but we certainly know Mr. Harley was an extremely accomplished architect; himself creating several superb homes in Grosse Pointe, including 1005 Three Mile Drive.
D. Allen Wright designed at least 15 houses (that we know of) in Grosse Pointe. Many of these residences are large French inspired homes, however as we investigate his projects further, it soon becomes apparent over a period of about 14 years his architectural style changed significantly. Wright's designs between 1926 and 1930 were based on French architectural styles, typically French Normandy and Provencal.
The French Normandy country house was the primary inspiration for the American Norman style. It began to become popular shortly after the First World War when French chateaus were a model of inspiration. Typical traits of this approach include a round stone tower toped by a conical cone-shaped roof, a steeply pitched roof, stone façade, an arched opening to the main entrance, tall narrow chimneys along with an asymmetrical configuration to the home.
The French Provencal style is slightly less imposing, and utterly charming. The key features tend to be symmetry and balance. Many of the exteriors are stone and feature long windows on the first floor, a steeply pitched roof, and tall slender chimney's. Many of the doors and windows are arched and adorned by shutters.
French style architecture, particularly Provencal, was extremely popular in Grosse Pointe during the 1920's through to the 1940's. Wright's homes provide us with an excellent example of this architectural approach. His homes in the style include –
79 Kenwood – Grosse Pointe Farms – 1926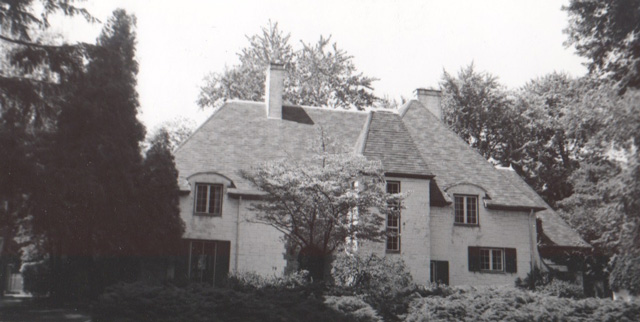 166 Ridge – Grosse Pointe Farms – 1927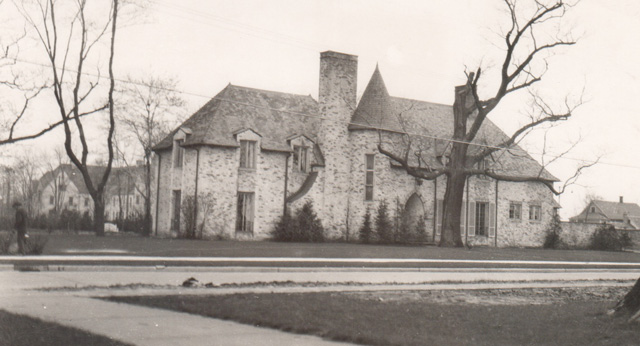 29 Roslyn – Grosse Pointe Shores – 1928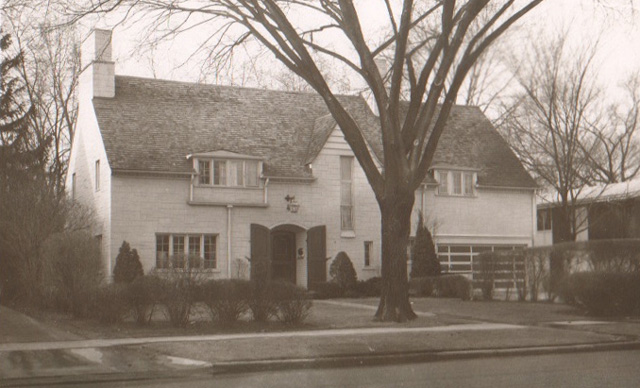 104 Kenwood – Grosse Pointe Farms – 1927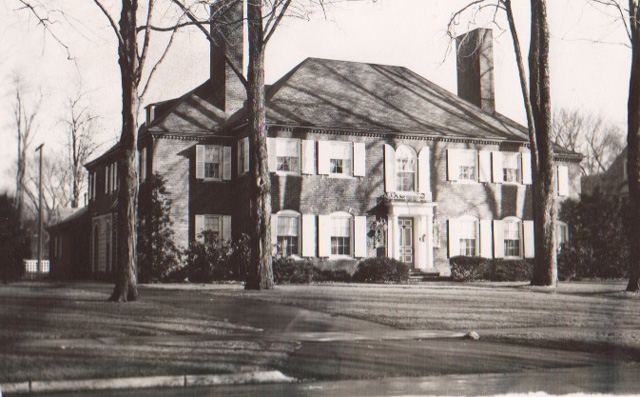 93 Cloverly – Grosse Pointe Farms – 1927
87 Cloverly – Grosse Pointe Farms – 1928
65 Moran – Grosse Pointe Farms – 1929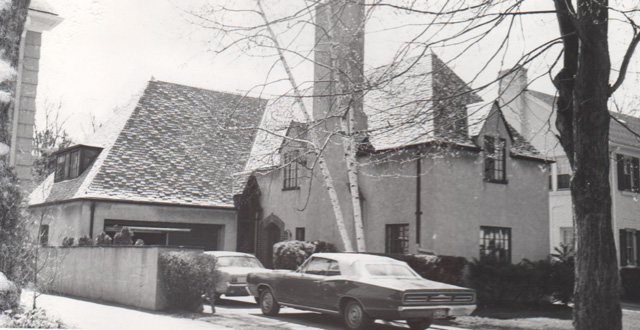 170 Merriweather – Grosse Pointe Farms – 1933
Also in the 1920's Wright designed 15200 Windmill Pointe Drive, along with two handsome brick residences on Touraine, which have a continental influence.
102 Touraine – Grosse Pointe Farms – 1928
94 Touraine – Grosse Pointe Farms – 1930
In 1930 Wright created the second Headmaster's House at Cranbrook School.
Back in Grosse Pointe, during the 1930's Wright's style began to evolve considerably. His homes were starting to display characteristics of modern architecture that was fast gaining popularity throughout Europe and America, thanks to the growing popularity of the Bauhaus in Germany.
This architectural style (in its early stages – during the 1930's) was based on geometric simplicity, a low roof, with windows flush to the wall surface. Two Wright homes in Grosse Pointe that display these traits can be found at:
905 Lakepointe – Grosse Pointe Park – 1937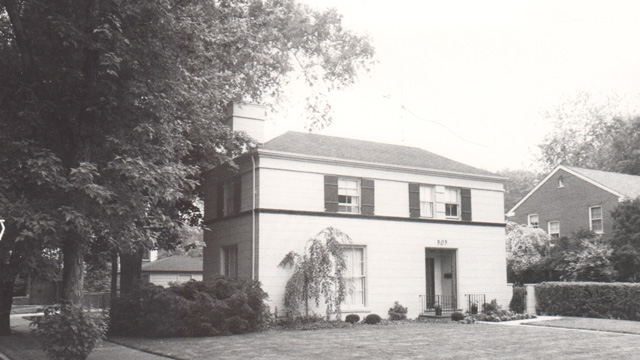 846 Grand Marais – Grosse Pointe Park – 1937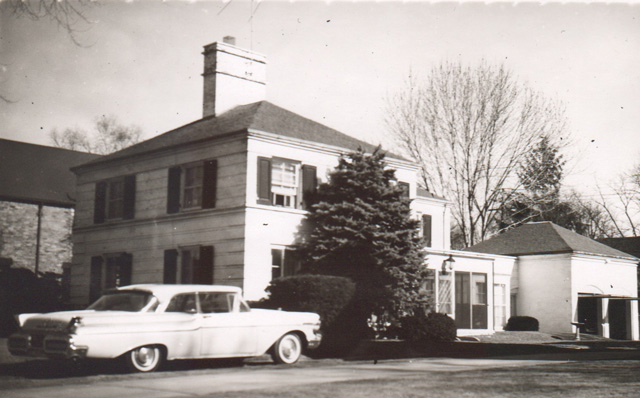 In 1939 Wright designed this rather charming Colonial home:
86 Renaud – Grosse Pointe Shores (external alterations to this home have been made since its completion)
Courtesy of Realtor.com[/caption]
In 1943 Wright's career took yet another turn when he became involved in creating a first-floor plan for an innovative post-war suburban home. In a booklet produced in conjunction with Timken Detroit Axle Company, we believe Wright was instrumental in designing a modern innovative home complete with a semi-circular kitchen, and a living-dining space 'framed by curved walls and windows'. A copy of a print ad from this booklet can be viewed below: courtesy of www.periodpaper.com.
We may not know much about D. Allen Wright, the man, but from what we can tell D. Allen Wright, the designer, was a particularly skilled individual who was not averse to keeping up with the trends that intersected his intriguing career.
*Photos courtesy of the Higbie Maxon Agney archives unless stated.
Written by Katie Doelle
Copyright © 2021 Katie Doelle
https://katiedoelle.com/wp-content/uploads/2017/01/65-Moran-1.jpg
330
640
Katie Doelle
https://katiedoelle.com/wp-content/uploads/2019/03/KatieDoelle_Logo2-300x300.jpg
Katie Doelle
2017-01-24 13:15:22
2021-05-20 19:09:35
Historical Architecture of Grosse Pointe – Architect D. Allen Wright