Last week we presented some of the grand homes, created by Alpheus Chittenden and Charles Kotting, that have been lost over time.
This week we stay with the theme of lost homes as we take a look at 70 Lake Shore. This striking English Tudor inspired home was built in 1908. To date, we have not been able to identify the architect and cannot confirm who commissioned it.
70 Lake Shore was a stately English Tudor style home located on the shores of Lake St. Clair. The exterior construction is partly stucco on concrete block, and partly stucco on metal lath. The rear of the home is particularly fascinating, with a rather unique design. The 2-½-story residence contained 15 rooms. The main floor featured a large 30' x 31' sq foot living room (overlooking the lake), a 14' x 16' sq ft solarium, a 14' x 16' sq ft dining room (with bay window), a dining room for maids along with a flower room. The second floor had five bedrooms (the master was 22' x 14' sq ft with a huge bay window) a 12' x 14' sq ft sitting room, a 13' x 13' sq ft office, four additional bedrooms, along with two bedrooms for maids. It appears the house was enlarged in 1921. The property had a frontage on Lake Shore Drive of approximately 218 feet and a frontage on Lake St. Clair of approximately 297 feet with a substantial sea wall. One can imagine the beautiful gardens. A two-car detached garage was also part of the property.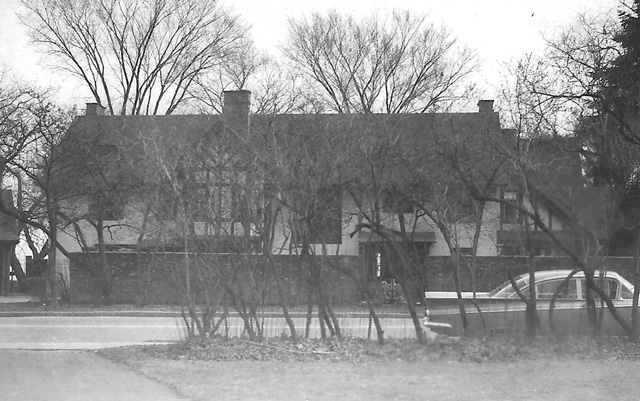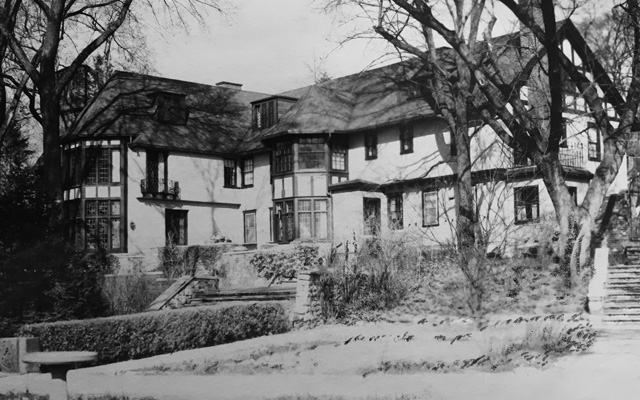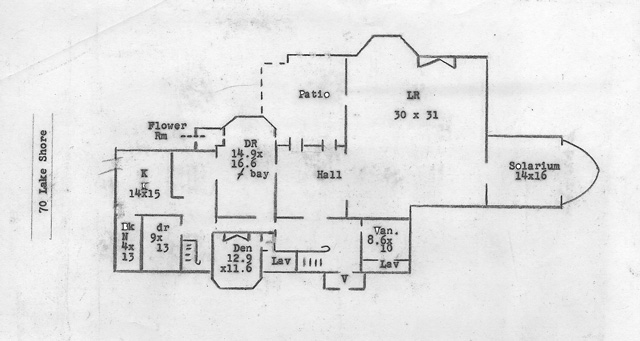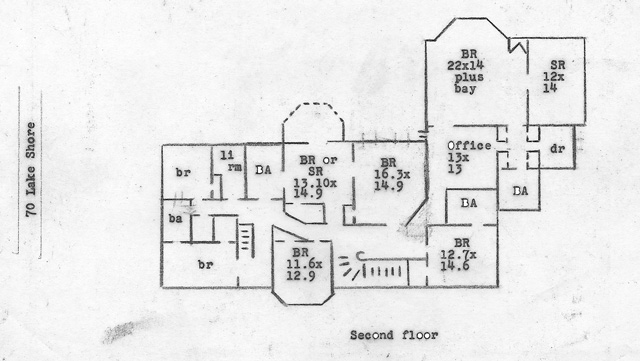 As early as 1948, when the property went on the market (valued at $63,000 – around $675,000 today), there was an option for the purchaser to divide the lot into two parcels, and raze the home. The west parcel would have had 149 feet on the lake while the east parcel would have had 148 ft on the lake.
During the properties 90-year history 70 Lake Shore was owned by several prominent families. Mr. Hugh Chalmers, born in Ohio, in 1873, was one of the earlier owners, possibly the earliest. Mr. Chalmers began his career working for National Cash Register in Dayton, Ohio aged 14. By the time he was 30 he had risen to vice president. In 1907, Mr. Chalmers purchased the 'Thomas' half of the Thomas-Detroit Company. Two years later, in 1909, he had complete control of the company and renamed it the Chalmers Motor Company. The first car that came out was the Chalmers 30. Around 1909, Chalmers built a factory on Jefferson Avenue in Detroit, and located the headquarters in Highland Park. Chalmers increased the company's visibility by hiring professional drivers and entering races. In the first two years, they had recorded 89 first place wins, 32-second-place trophies, and 21 third-place victories – in road races, hill-climbing events, and reliability contests. Between 1919 and 1923, Chalmers merged with the Maxwell Motor Company. After experiencing major financial problems over several years Chalmers and Maxwell were placed into bankruptcy in 1923, by Chrysler, and the Maxwell Motor Corporation was formed from the assets. The last Chalmers branded car was built in January 1924. Source: Wikipedia. In 1922, Hugh Chalmers register address was 1453 Irquois St, Detroit. This huge 10,000 sq ft historic was commissioned by Chalmers in 1909, and designed by Albert Kahn. It is not clear when Mr. Chalmers moved to 70 Lake Shore. He passed in 1932. His wife Frances House Chalmers and his two children Hugh Jr. and Frances survived him. After 70 Lake Shore was sold (in 1948) it appears Mrs. Frances Chalmers moved to 472 Lincoln, while her son Hugh, and his wife Mary Richmond Wheeler, resided at 271 Moross.
In 1948, Mr. Christian H. Haberkorn Jr. purchased the property for $47,500 (around $510,000 today). Despite the option to divide the lot into two parcels and raze the home Mr. Haberkorn kept the house and the property intact. Prior to purchasing 70 Lake Shore C. H. Haberkorn Jr. was already accustomed to gracious living. He had previously resided at 16761 E. Jefferson, a magnificent mansion he commissioned that was completed by one of Detroit's finest architects, Louis Kamper, between 1916-17. You can read the full story of 16761 E. Jefferson by clicking here.
Christian H. Haberkorn, Jr., was a prominent banker in Detroit. He was the son of C. H. Haberkorn, Sr., and Fances H. Ruehle, whose family had been prominent in Detroit for four generations. Born in Detroit, 1889, he graduated from Harvard in 1912, with a degree in Economics. Shortly after leaving Harvard Mr. Haberkorn Jr. began his career with C. H. Haberkorn & Co., manufacturers of furniture, where he held the title of secretary and treasurer. He was also closely associated with several other significant business interests that were held by his father – he held the position(s) of secretary of the Grosse Pointe Corporation, and was secretary and treasurer of the Haberkorn Investment Company.
In 1960, based on our files we understand the value of 70 Lake Shore was assessed at $57,000. However, the valuation noted that considerable decorating and updating was required to bring the property inline with 'present day standards'. In 1963, Edward Frederick Lambrecht Sr., a prominent realtor, purchased the property – it appears it remained in the Lambrecht family until 1982.
In 1988, 70 Lake Shore was sold for the final time. It was demolished in the early 1990's and the land listed for sale.
*Photos courtesy of the Higbie Maxon Agney archives unless stated.
Written by Katie Doelle
Copyright © 2021 Katie Doelle
https://katiedoelle.com/wp-content/uploads/2021/02/70-Lake-Shore_Front.jpg
401
640
Katie Doelle
https://katiedoelle.com/wp-content/uploads/2022/04/KatieDoelle_Logo_NEW1-Sm.jpg
Katie Doelle
2021-02-05 19:56:58
2021-02-05 19:57:15
Historical Architecture of Grosse Pointe – The Lost Home of 70 Lake Shore