Last week we concluded our exploration of the Hill as we presented the story of the Grosse Pointe Central Library. Completed in 1953, the library was designed by Hungarian born, New-York based architect Marcel Breuer – one of the world's most popular architects at the peak of 20th-century design. It is believed the library was one of Breuer's first major public commissions in the United States and his only building in Metro Detroit.
This week we head to 470 Washington. This uniquely styled 2,754 sq ft English Tudor home was completed in 1918, by architect J. Will Wilson for himself and built by the H. A. Jones Construction Company. What makes this property architecturally distinctive is the steep shingle thatched roof. Another feature that makes the property stand out is the half timbering and white stucco finish on the second story. This was particularly prominent on Tudor style homes Grosse Pointe during this era.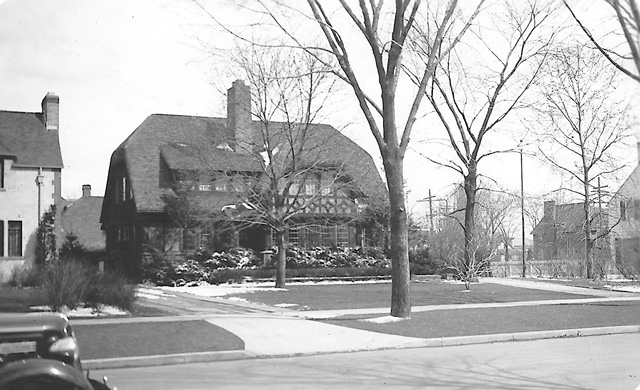 470 Washington was originally located on a double lot. The main floor features a 24' x 15' sq ft living room, with a large bay window, an oversized fireplace with a tile mantel, a fumed oak floor (oak wood flooring which has been treated to change its color) along with an ornamental plaster ceiling. The 12' x 15' sq ft dining room has a similar finish, and provides access to the enclosed, brick-floored pergola. When the property was completed, the main floor also included two bedrooms, a bathroom, and the kitchen with a butler's pantry. The second floor contained four bedrooms and three bathrooms. Color photo courtesy of: Katie Doelle.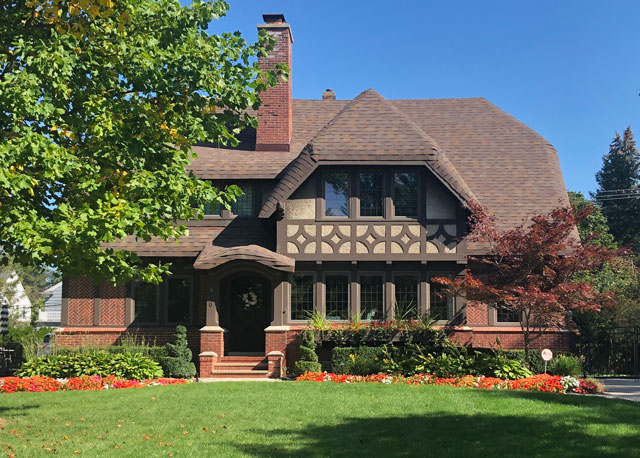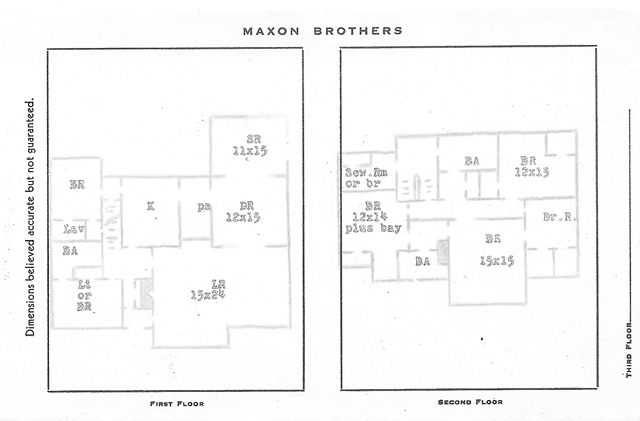 Shingle thatch roofs came into fashion in the early 1900s. The technique was known as shingle thatch, cottage thatch and thatch-effect. It relies on using cedar shingles to recreate the texture and look of a reed-thatched roof, made more realistic by steam-bent shingles along roof edges, curved framing members, and undulating shingle courses. In terms of the technique, finehomebuilding.com explains, 'by bending shingles around eaves and gables and by curving course lines and changing exposures, craftsmen simulated the look of real thatch. Many of these old roofs have eyebrow dormers, with the shingle courses undulating gracefully over the curved framing'. Shingle thatch roofs were pitched steeply to show off the wave coursing. Image courtesy of: finehomebuilding.com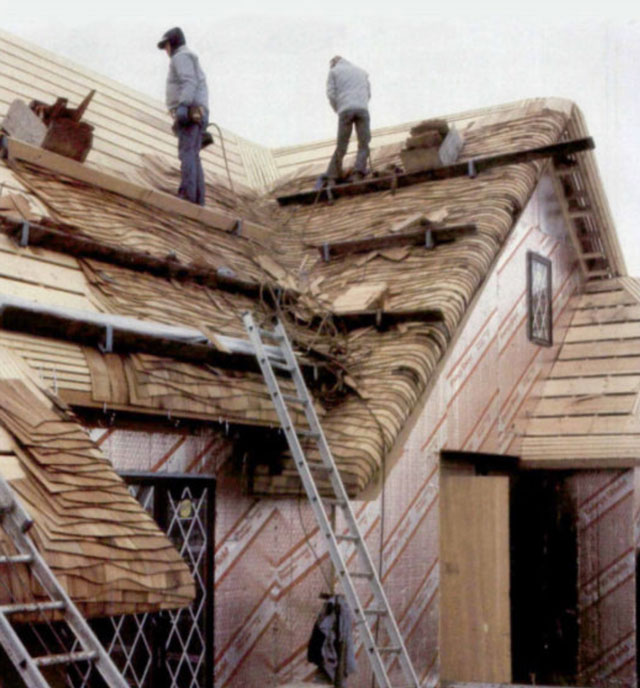 In the 1920's shingle thatch had become so popular across the United States that the Creo-Dipt Co. of Architects and builders in North Tonawanda, N. Y., began selling shingles that were pre-bent and precut for thatch-effect roofs. Many of the cedar shingles were pre-stained, using creosote as a preservative, in five different shades that were matched to various hues of weathered thatch. Source: finehomebuilding.com Shingle thatch roofs are present on numerous homes throughout the Grosse Pointe communities, another fine example of a home with a shingle thatched roof is 1023 Bishop – completed in 1927, by Herman & Simons. Image courtesy of Google.com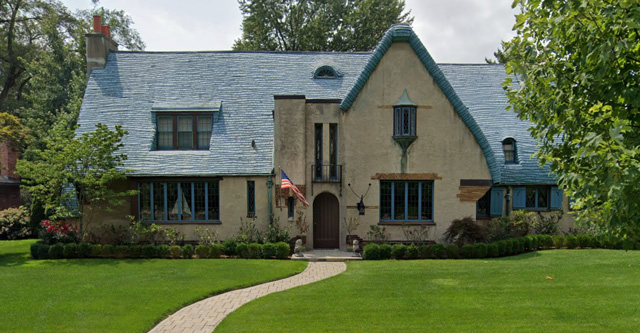 The architect behind 470 Washington, and the original owner, was J. Will Wilson – a partner in the architectural firm of Wilson & Catto. Mr. Wilson was born in Chatham, Ontario in 1881, the son of James L. Wilson, a well-known architect. He graduated with a degree in architecture from the Practical School of Science in Toronto. He remained in Canada, working as an architect, until 1912. He then relocated to Detroit, opening his first office in the United States. Now firmly established as a skilled architect in the city Mr. Wilson was commissioned to design numerous public buildings and several large prestigious apartment buildings. It appears he is best known for designing the King Soloman Baptist Church on 14th Street, Detroit, completed in 1917. Based on an article in Curbed, Detroit we understand 'the striking brick built Tudor Revival Church has stone accents and patterns on its facade. It's the only remaining work in the city by J. Will Wilson, who in 1922, was considered one of the leading architects of Detroit'. Source: the Detroit News. Image courtesy of: www.detroiturbex.com/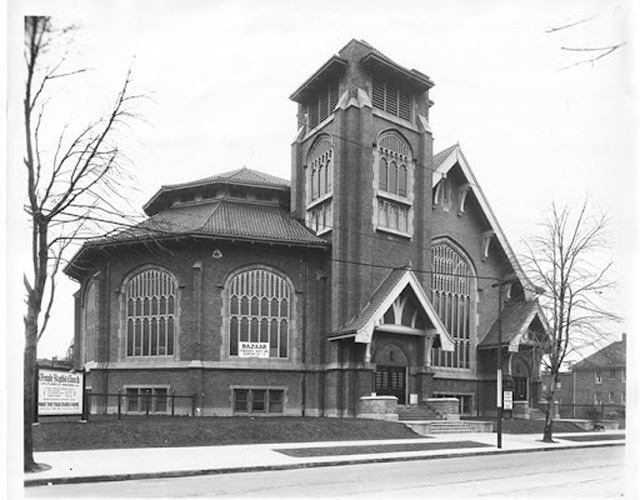 It isn't clear how long J. Will Wilson resided at 470 Washington, however we do know during the early 1930's, the residence was owned by Herbert B. Trix, a respected figure in Detroit, and Grosse Pointe. Mr. Trix was the youngest son of John Trix, an inventor, and president of the American Injector Company of Detroit. Herbert Trix attended University of Michigan and graduated with a degree in engineering. During World War I he was a representative of the infantry. After he was commissioned as captain, he then won promotion to the rank of major. During the war he served overseas', in charge of ordinance plants in France. Source: The City of Detroit, Michigan, 1701-1922, Volume 3, by Clarence Monroe Burton.
On his return to the U.S Mr. Trix resumed his position as president of his father's company, the American Injector Company, and also held the position of president at the W. M. Chace Co. He was the director of several banks, and a member of the Council of the Village of Grosse Pointe from 1928 to 1933 (just before it was incorporated as a city, in 1934). At this point he became one-time mayor of Grosse Pointe, and, at forty, the youngest president of the Detroit Athletic Club. Herbert Trix was married to Dorothy Stoneman.
In 1936, Herbert Trix listed 470 Washington for sale – it was purchased by Mr. Edwin Olney Jones, a vice-president and director of Federal-Mogul Corp, for $18,500 (around $351,000 today). In 1937, Mr. Trix moved to his new home – 17845 E. Jefferson (now 25 Fisher Road) – the beautifully designed International style home that was created for him by the renowned Hugh T. Keyes. You can read the full story of 17845 E. Jefferson by clicking here.
In 1958, the then owner of 470 Washington, Edwin Olney Jones, retired to Bermuda and sold the home to attorney William H. Dance.
470 Washington is an eye-catching home. The shingle thatch roof is a superb example of this unique architectural detail – the next time you walk around Grosse Pointe keep an eye out for this style of roof, they are quite something.
*Photos courtesy of the Higbie Maxon Agney archives unless stated.
Written by Katie Doelle
Copyright © 2021 Katie Doelle
https://katiedoelle.com/wp-content/uploads/2021/10/470-Washington.jpg
390
640
Katie Doelle
https://katiedoelle.com/wp-content/uploads/2019/03/KatieDoelle_Logo2-300x300.jpg
Katie Doelle
2021-10-29 17:24:41
2021-10-29 17:25:30
Historical Architecture of Grosse Pointe – 470 Washington