Last week we introduced you to the work of Hancock & Butler. The firm was particular active in Grosse Pointe during the late 1920's, as both designer's and builders. Between 1928 through 1931 they designed and built around 17 homes, in the Farms and City.
This week we are going to stop by 1 Donovan Place. Completed in 1916, by George D. Mason, for Fremont Woodruff, the original address of the residence was 17160 E. Jefferson.
George Mason first appeared in Grosse Pointe in 1882. The firm of Mason & Rice was commissioned to design 'Edgmere' for Joseph Berry; one of the first grand year-round homes in the community (located at 50 Lake Shore Drive – now demolished).
At the time the predominant style of the firm was heavily influenced by "Richardson Romanesque" – a style that was characterized by low-slung arched entrances, dark masonry and detailed brickwork. This approach was immensely popular though relatively short-lived.
In 1916, Mason, now practicing on his own, created a series of superb homes in Grosse Pointe. One of his earlier projects, during this period, was 1 Donovan Place. The 9,500 sq ft residence is a superb French styled home situated next to the lake. The property currently sits on 1.7 acres, however, at the time it was completed, it was located on a much larger lot, roughly 3.5 acres that encompassed the entire street that is now Donovan Place. Its original E. Jefferson address, also confirms the size of the early property. Images are courtesy of: digitalcollections.detroitpubliclibrary.org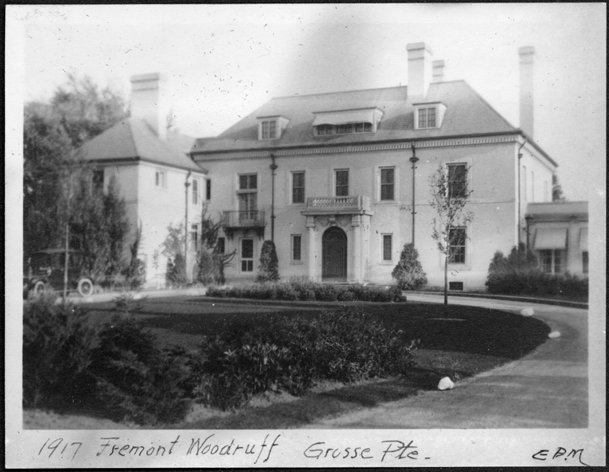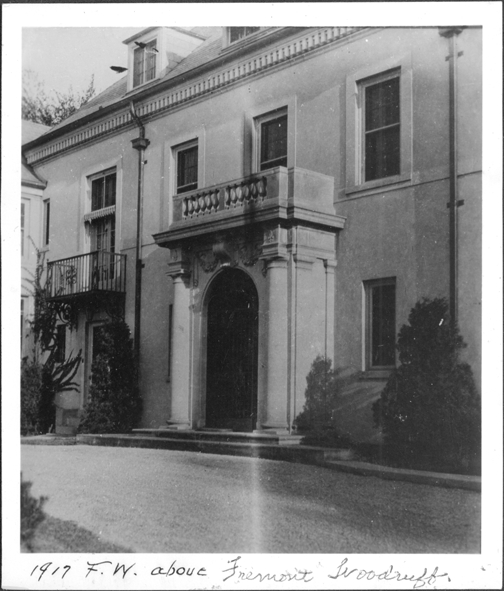 The house was constructed of stone and stucco. The symmetrical configuration of the rear façade includes an abundance of large, tall windows that provides a perfect view of the lake, while the front façade contains a number of neatly placed smaller windows. The main floor features a large 20' x 31' sq ft living room, a 16' x 24' sq ft dining room, a 16' x 13' sq ft library, along with a spacious 15' x 26' sq ft sunroom, which is located on the side of the house. The second floor originally included an elevator, four main bedrooms, a 12' x 15' sq ft sleeping porch, along with three bedrooms, and service stairs for maids.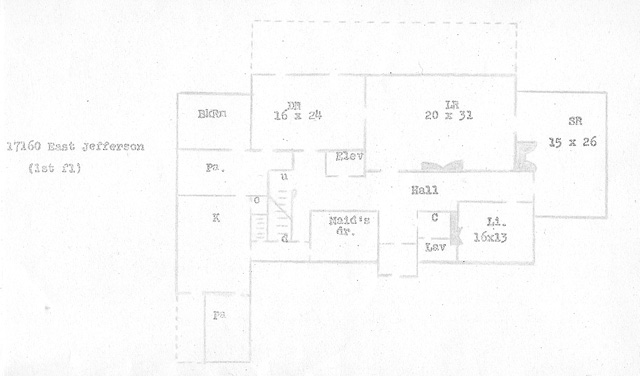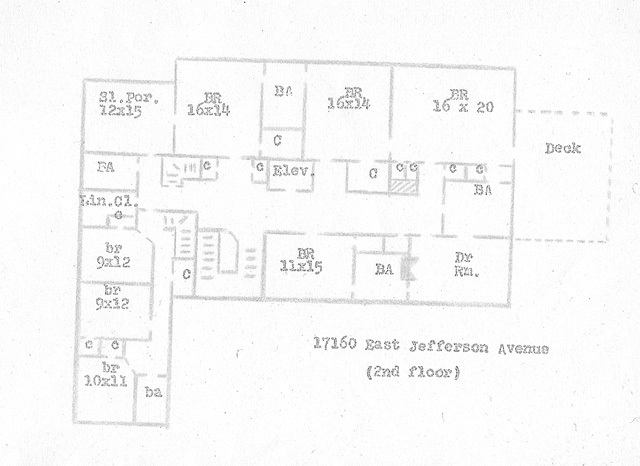 While Mason designed the home, it appears Albert Kahn built it. The talented duo had been associated for many years. During the 1880's, having spent several months in Europe, Mason, on his return to the firm of Mason and Rice, hired a young Albert Kahn who worked for the duo from 1884 until 1896, creating sketches and learning his trade. Prior to 1920 it is reported Mason partnered with Kahn on several projects including the Palms Apartments, in 1903, and the Belle Isle Aquarium, in 1904.
The original owner of 1 Donovan Place was Fremont Woodruff. Mr. Woodruff was born in Detroit, in 1857. Having graduated from high school he took a job in the office of respected lawyer, Frank H. Canfield, and was admitted to practice at the Michigan bar, in 1878. Having worked as a lawyer for several years he turned his attention to his real estate and mining holdings, looking after his own properties. Source: The City of Detroit, Michigan, 1701-1922, Volume 3, By Clarence Monroe Burton. In 1890, he married Annie L. Stevens, and together they had five children. Ms. Stevens was the daughter of Mr. and Mrs. William H. Stevens, who were prominent Detroit residents. Her brother, William P. Stevens, was a real estate developer who once resided at 431 Lake Shore. Fremont Woodruff passed, in 1930. In 1948, his wife Annie passed away at their home (then 17160 E. Jefferson). The following year, Mary Woodruff, the couple's second daughter, listed the house for sale for $90,000 (around $950,000 today). It eventually sold, two years later, for $55,000.
Prior to 1975 it appears, 17160 E. Jefferson was purchased by lawyer, Frank Donovan. It is reported Mr. Donovan added more houses on the property, along with making several significant changes to the original home, including renovating the carriage house, (now 8 Donovan Place) which would become his new residence. Frank Donovan sold 1 Donovan Place to his good friends, John and Mary Beth Jagger. The couple resided at the property for many years and added a significant addition to the back of the house. It is reported John Jagger had the street name changed to 'Donovan Place' to honor his friend Frank.
In total Donovan Place contains six homes. Four out of the six homes (numbers #10, 12, 14, and 16) were constructed between 1959 and 1978, while the other two #8 and #1 were part of the original Woodruff estate.
1 Donovan Place is a beautiful home, steeped in history, and part of the collection of iconic residences that were constructed, in the community, during the early 20th century.
*Photos courtesy of the Higbie Maxon Agney archives unless stated.
Written by Katie Doelle
Copyright © 2019 Katie Doelle
https://katiedoelle.com/wp-content/uploads/2019/11/1-Donovan_Sm.jpg
384
640
Katie Doelle
https://katiedoelle.com/wp-content/uploads/2022/04/KatieDoelle_Logo_NEW1-Sm.jpg
Katie Doelle
2019-11-12 18:50:14
2021-08-20 17:39:02
Historical Architecture of Grosse Pointe – Welcome to 1 Donovan Place