Last week we explored two magnificent homes – 191 Lake Shore and 66 Renaud – designed by George D. Mason & Company that have been lost.
This week we turn to a house that is as grand today as the day it was built – welcome to 270 Voltaire – arguably one of Grosse Pointe's finest estates. Located in the heart of Grosse Pointe Farms, this stunning home was designed by Raymond Carey for Mrs. R. H. Macauley in 1929.
While the majority of the design is distinctly Georgian, the four giant columns that support the intricately decorated portico, rising between the two adjoining wings, draw upon inspiration from the Old South. The 8,435 sq ft mansion is breathtaking inside and out. The front elevation features many beautifully carved elements, and distinctive limestone detailing. Inside, the main floor features a 19' x 18' sq ft foyer (including a fireplace), a 21' x 35' sq ft living room, 17' x 22' sq ft library, a 19' x 28' sq ft games room, along with a 21' x 15' sq ft terrace, and a large 19' x 17' sq ft dinning room. Upstairs, the second floor contains five large bedrooms, and a sitting room. It would appear there are three additional bedrooms for the maids, located in the wing above the three-car garage, with service stairs down to the kitchen. The image (of the house) below is from The Buildings of Detroit, by William Hawkins Ferry.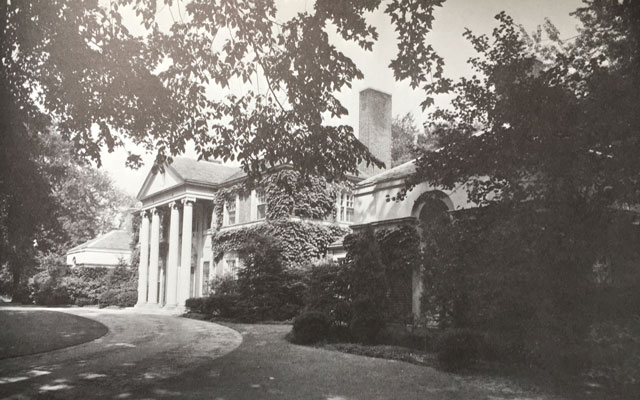 It is apparent; from our files this home cost $160,995.25 to build in 1929 (around $2.4 million today). This included the cost to purchase the lot, architects fee, plus all the additional items as specified by Mrs. Macauley. This fascinating image below is a copy of the total bill, dated December 6th, 1929.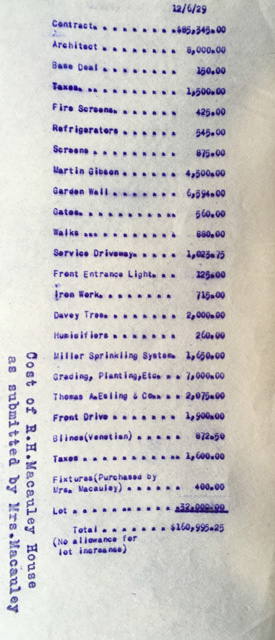 It would also appear from our files that Mrs. Macauley, wife of Mr. Macauley a millinery dealer/wholesaler, resided in the house for less than a year. It was then sold to the family of Paul R. Gray. Mrs. Frances Gray had three children. Her husband Paul, a banker, manufacturer and vice president of the Gray Motor Company, had died in 1929. His father was the president of the Ford Motor Company, from its organization until the time of his death in 1906. The Gray Family contributed large amounts of their wealth to worthy Detroit enterprises and was devoted to the city.
In 1946 Gibert B. Pingree purchased the house, from Mrs. Gray, for a rumored $46,000 (around $600,000 today). Growing up, Gilbert Pingree had resided at 7 Woodland Place. He was the son of Hazen S. Pingree – a four-term mayor of Detroit, a successful businessman, and the 24th Governor of the State of Michigan.
The architect, Raymond Carey, was a prominent architect in Grosse Pointe Farms, designing many luxurious homes during the era of substantial growth in the community. Born in England in 1883, he grew up in Bath surrounded by some of the finest examples of Georgian architecture in the world.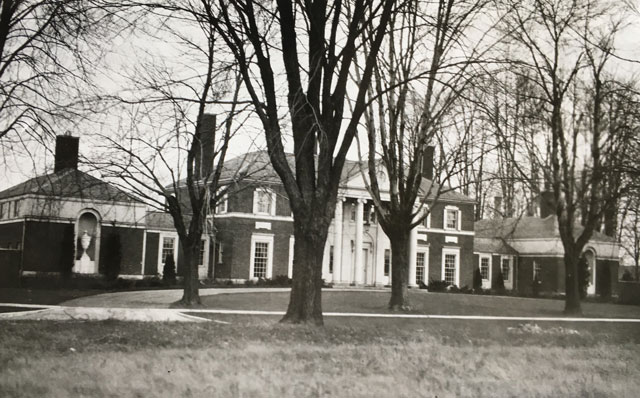 Carey immigrated to Detroit around the beginning of the 20th Century. After spending several years in Winnipeg, Canada he had returned to Detroit during the early 1920's. During this stage of his career his work had become extremely sought after, and he was a key figure in creating luxurious residences, in particular fine Georgian style homes.His work helped transform the architectural scene in Grosse Pointe Farms, during the golden era when grand Georgian inspired residences were incredibly popular. Within 20 years he had created at least 12 homes (that we know of) including several prestigious homes on Provencal, along with the Cottage Hospital Nurses' Residence on Ridge Road – the superb 10,000 sq ft three-story Georgian residence.
270 Voltaire is an outstanding estate, and has been home to a number of prominent residents. Having cost over $2 million to build (in today's money) it was arguably one of the most expensive estates to be built in Grosse Pointe during the 1920's, a period of opulence and grandeur before the dark days of the great depression too hold. As one of Grosse Pointe's finest estates it exudes class, and is a prime example of Georgian architecture at its finest, created by a master of this architectural approach.
*Photos courtesy of the Higbie Maxon Agney archives unless stated.
Written by Katie Doelle
Copyright © 2019 Katie Doelle
https://katiedoelle.com/wp-content/uploads/2019/05/270-Voltaire_1_Sm.jpg
398
640
Katie Doelle
https://katiedoelle.com/wp-content/uploads/2019/03/KatieDoelle_Logo2-300x300.jpg
Katie Doelle
2019-05-07 13:41:20
2019-05-07 13:41:20
Historical Architecture of Grosse Pointe – Welcome to 270 Voltaire Place