Last week we explored 849 Balfour. J. Ivan Dise completed the 4,326 sq ft Tudor revival home, in 1923, for Bertrand C. Spitzley, president of the Houseman-Spitzley Corporation, and one of Detroit's more prominent, and successful realtors.
This week we head to the superb formal residence of 281 University Place, completed in 1918, by Charles Kotting, for Harold Palmer.
281 University is one of the grand manor houses of Grosse Pointe. The formal Georgian property is constructed of brick. The exterior features large arched windows on the first floor, and exquisite limestone detailing – around the windows, the lintels (above the front door), and the quoins on the corners of the home. The walls, in the 8,800 sq ft residence, are believed to be 18" thick, while the interior features an abundance of superb architectural details. The grand main hall is 33' x 50' sq ft, with dual staircases leading to the second floor. The walls in the 20' x 30' sq ft living room, and the 20' x 24' sq ft library are paneled in Italian oak wood. Both the 19' x 9' sq ft sunroom, and the 14' x 13' sq ft morning room feature a bay window, while there is also a huge 53' x 12' sq ft terrace with screen and awning on the side of the property.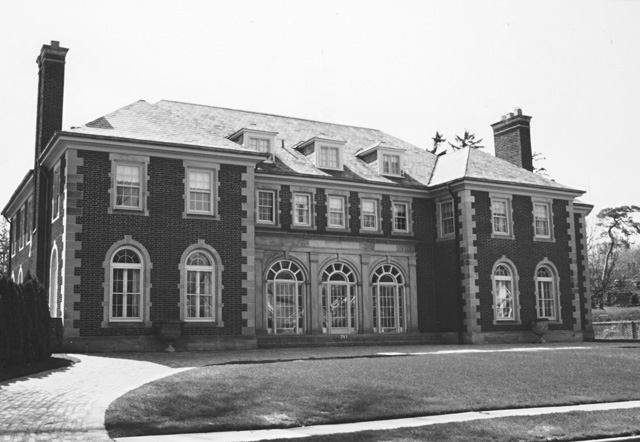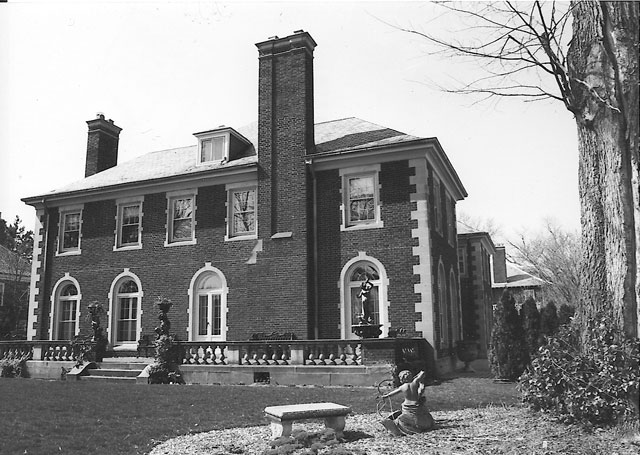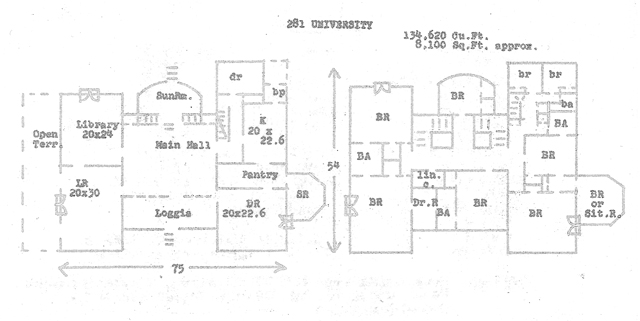 The second floor includes five large bedrooms, along with two additional bedrooms for servants, while the 3rd floor contains four further smaller bedrooms. The basement features a 51' x 19' sq ft recreation room, fruit and workrooms, six storage rooms, and a wine cellar. There was also additional space for the carriage house above the four-car garage.
It appears Harold Palmer listed the house for rent, in 1934. He was considering $400 a month (around $7,600 today), from Emory Ford, for a mostly furnished home. However, Mr. Palmer then listed the house for sale, in 1937, for $85,000 (around $1.5m today). Bertrand Spitzley of the Houseman-Spitzley Corporation is acknowledged as the listing agent – he was one of Detroit's more prominent and successful realtors.
Harold Palmer (formerly Higinio Costellar Poblacion) was born in Spain, in 1887. The Palmer Family, Senator Thomas W. Palmer, and his wife, Mrs. Elizabeth Merrill Palmer, adopted him, in 1890, aged three, while they were in Spain. It appears the Palmers also adopted two girls, Gail and Bertita, who were more wards of the Palmers. Harold Palmer grew up in Detroit, and graduated from Cornell with a degree in law. Upon returning to Detroit he became an attorney, where he handled legal issues in the senators office. Harold Palmer married Winifred Corbett, and together they had two children. In 1937, having sold their home – 281 University – the family moved to Massachusetts. Mr. Palmer passed in 1983. Source: A History of Detroit's Palmer Park By Gregory C. Piazza.
The architect, of 281 University, was Charles Kotting, one of the most prestigious architects in the city of Detroit during the early 20th century. He was born in Holland, in 1865, and worked on both commercial buildings and residential projects throughout Metro Detroit. Having completed his architectural studies in Amsterdam, Kotting moved to Detroit at the age of 24. He joined the noted firm of Mason and Rice, where he stayed for thirteen years. In 1903, he teamed up with fellow architect Alphus Chittenden. During their 13 years together they created several 'landmark' buildings in Detroit including the Detroit Boat Club's building on Belle Isle, the office building at the Detroit Stove Works plant, along with some very grand homes in Grosse Pointe. Including:
Kotting's joint projects with Chittenden:
1014 Bishop – 1915
393 Washington – 1915
35 McKKinley – 1909
43 McKinley – 1915
16096 Essex – 1914
421 Lake Shore – 1914 (demolished)
4 Rathbone – 1917
Kotting's solo projects include:
805 Three Mile Drive – 1917
1022 Bishop – 1920
1032 Bishop – 1922
1017 Kensington – 1924
1012 Bishop – 1926
725 Grand Marais – 1926
After parting with Chittended, in 1916, Mr. Kotting worked alone. It is believed, during his career, having gained the reputation as an incredibly skilled designer, Charles Kotting created over 100 structures in Metro Detroit. From the book 'The City of Detroit, Michigan, 1701-1922, Volume 3' (by Clarence Monroe Burton, William Stocking, and Gordon K. Miller), Charles Kotting is described as 'a recognized architect of pronounced skill and ability, one whose designs combine in most attractive form, utility, convenience and beauty'.
Aside from designing many buildings in the Detroit Metropolitan area Kotting also served as treasurer and president for the Michigan Chapter of the American Institute of Architects.
Charles Kotting had a long and distinguished career, along with the other projects, he created in Grosse Pointe, 281 University is one of the communities more prominent residences.
*Photos courtesy of the Higbie Maxon Agney archives unless stated.
Written by Katie Doelle
Copyright © 2019 Katie Doelle
https://katiedoelle.com/wp-content/uploads/2019/10/281-University_sm.jpg
442
640
Katie Doelle
https://katiedoelle.com/wp-content/uploads/2019/03/KatieDoelle_Logo2-300x300.jpg
Katie Doelle
2019-10-15 16:58:07
2019-10-15 16:58:07
Historical Architecture of Grosse Pointe – Welcome to 281 University