Last week we explored the work of H. Sanborn Brown, an architect we had never covered before. He created at least six homes in Grosse Pointe, including three properties on Touraine.
This week we would like to present the work of Williams & Coughlan, a firm that we have yet to feature. The duo created at least two homes in Grosse Pointe, between 1924 and 1926.
The first project by Williams & Coughlan was 1343 Buckingham, completed in 1924 for Dr. Charles J. Foley. The 3,092 sq ft, four-bedroom residence is created in an English architectural style. The interior features oak floors, and stained gumwood throughout. On the exterior, the triangular sections, a steeply pitched roof, and multiple long narrow windows dominate the front elevation. The property has two large covered porches, one on each floor. The covered porch on the second floor is believed to have once been a sleeping porch, which was a popular addition to many homes in Grosse Pointe during this era. Sleeping porches became desirable at the turn of the 20th Century. Before the advent of air conditioning a sleeping porch provided an ideal space for sleeping in a screened and furnished area during the warmer summer months. Equally as popular is the decorative brickwork, present on so many homes in Grosse Pointe. The focal point is the decorative brick and stone pattern on the arch, over the entranceway, along with the pieces of limestone in the brickwork on the front of the house. It appears the garage was built in 1950.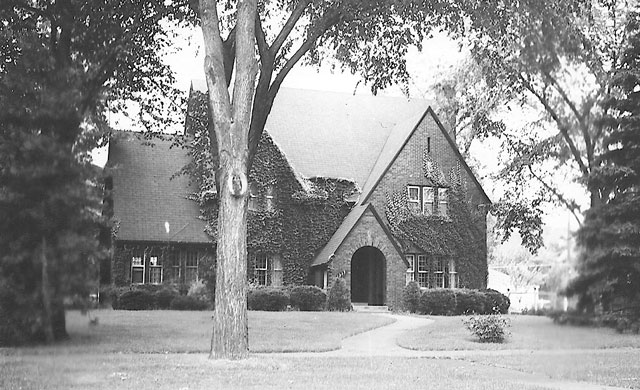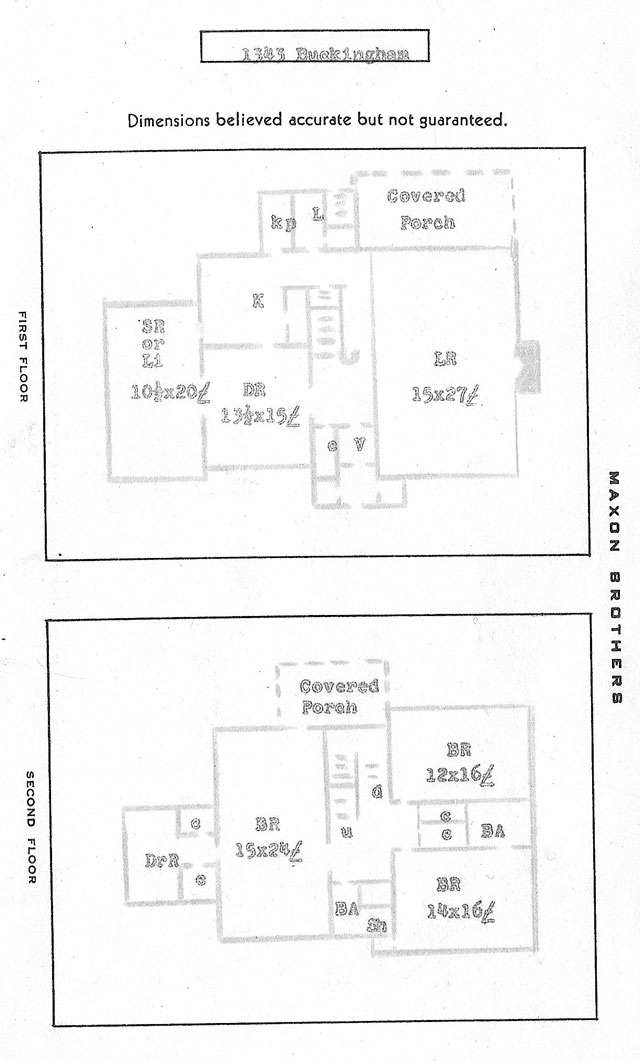 Dr. Charles J. Foley was a respected surgeon in the City of Detroit. He held numerous senior positions, including surgeon for the Michigan Workmen's Compensation. He was also a member of the visiting staff at Harper Hospital, and held the position of secretary of the Medical Society in Detroit. It appears the home was first sold, in 1944, to another Doctor, Dr. Irvine for $15,000 (around $220,000 today).
The second home completed by Williams & Coughlan was a residence we recently featured, but only briefly – 858 Ellair (it is believed the original address of this home was 818 Ellair).  In 1926, 858 Ellair was completed for Lloyd L. Axford. It was a striking English style house with distinctive Arts & Crafts elements, located on a large 100' x 135' sq ft lot. The front elevation is particularly eye catching with a flat façade, a decorative front facing attached two-car garage, and characteristic geometric elements. It is believed the interior of the four bedroom home featured walnut paneling, oak floors, with rice paper on the walls. An additional bedroom, for maids was located above the garage.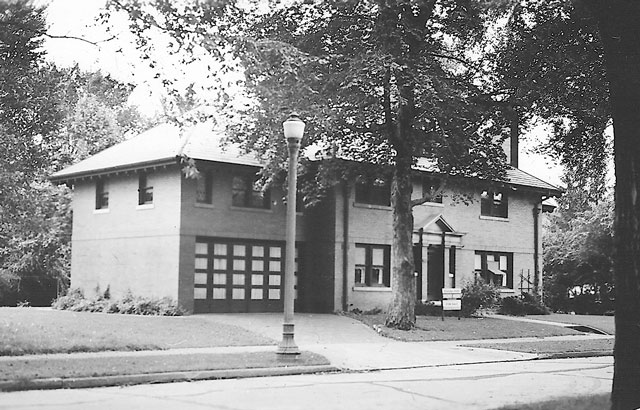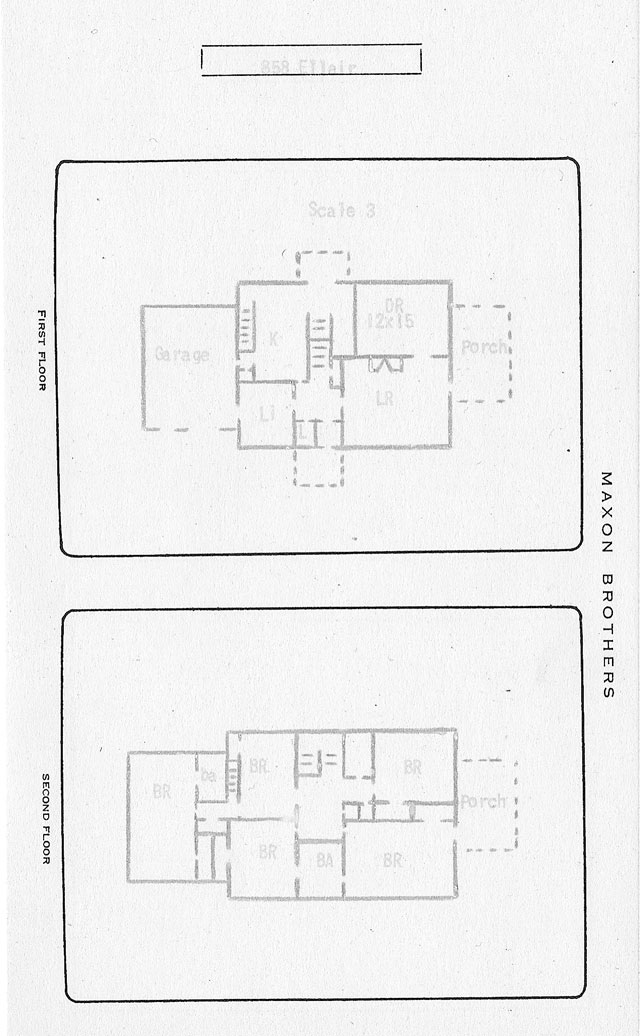 Lloyd L. Axford was a renowned attorney, nationally known as an authority in real estate and probate law. He was born in New Baltimore, MI, in 1871. After graduating from University of Michigan, in 1893, he subsequently became partner in the firm of McDonald & Axford, in 1898. Mr. Axford was also on the law faculty of the University of Detroit. His lectures were published under the title of 'Michigan Conveyancing' and a copy is found in nearly every Michigan law office. Source – https://www.njgsbc.org/.
In 1938, Lloyd Axfod passed. Five years later, in 1943, Mrs. Axford sold the property for $16,800 (around $250,000 today). According to our files Christian Henry Buhl, II, who owned the neighboring property, 820 Ellair, purchased it. We know the Axford house was razed; however the year of demolition remains unknown. Could it be the Buhl's raised the property to increase the size of their lot? This would have allowed their property to stretch all the way to Jefferson, which would explain the change in the address (during the 1950's or 60's)to 16500 E. Jefferson. Or was it purchased for a family member? Either way, we would like to learn more about the history of this home, if anyone has any additional information we would love to hear from you.
The architects of these two stunning English inspired properties was Albert E. Williams & Thomas B. Coughlan. Both men were respected, talented architects in their own right, and had created multiple properties – commercial and residential in some of Metro Detroit's more affluent neighborhoods such as Indian Village, Highland Park, and Arden Park.
1343 Buckingham and 858 Ellair Place are two striking English style homes. Sadly one has been lost over time, but we can still enjoy Williams & Coughlan's last remaining project in Grosse Pointe Park.
*Photos courtesy of the Higbie Maxon Agney archives unless stated.
Written by Katie Doelle
Copyright © 2020 Katie Doelle
https://katiedoelle.com/wp-content/uploads/2020/02/858-Ellair_Sm.jpg
410
640
Katie Doelle
https://katiedoelle.com/wp-content/uploads/2022/04/KatieDoelle_Logo_NEW1-Sm.jpg
Katie Doelle
2020-03-03 15:21:44
2020-03-03 15:21:44
Historical Architecture of Grosse Pointe – Welcome to The Work of Williams & Coughlan