Last week we explored "Rose Terrace I" completed in 1910, by Albert Kahn for Horace Elgin Dodge.
This week we present the story of its successor, "Rose Terrace II" – arguably the most acclaimed residence to be designed, built, and razed, in all of the Grosse Pointe communities. And one of the finest houses of its kind to be built in the United States. Image courtesy of Wikipedia.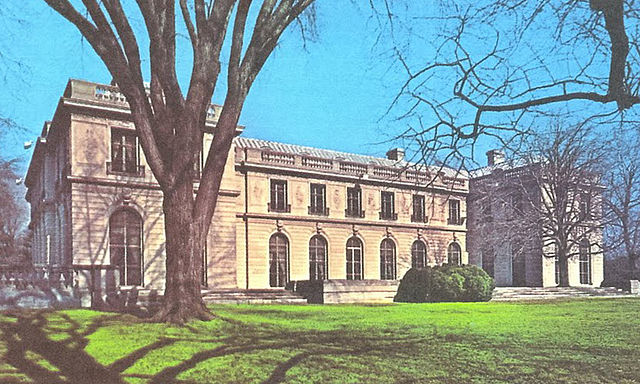 "Rose Terrace II" was located at 12 Lake Shore Drive on an 8.8-acre site where "Rose Terrace I" and the original Country Club of Detroit had once stood. The original home had been razed in 1931, to accommodate the new French-styled Louis XV château for Anna Dodge (widow of Horace E. Dodge) and her second husband, former actor Hugh Dillman.
The palatial palace was the work of Horace Trumbauer, a prominent architect from Philadelphia. Mr. Trumbauer was a noted designer of the Gilded Age known for creating residential manors for the wealthy. For "Rose Terrace II" it is reported Mrs. Dodge asked Trumbauer to design an enlarged version of a home in Newport called "Miramar" – a French-style Louis XV château (see image below) that Trumbauer had completed in 1911, for George Dunton Widener, a prominent businessman in Philadelphia. "Miramar" was a house Mrs. Dodge greatly admired, but she wanted her version to be bigger! Image courtesy of: schoolfieldcountryhouse.com.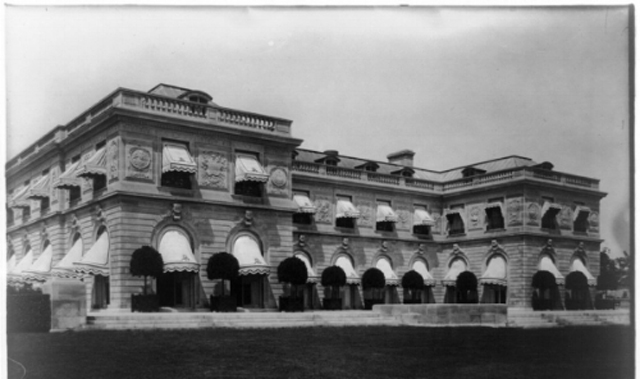 Construction began in 1931 – "Rose Terrace II" was finally fully finished, furnished and decorated four years later in 1935. Costing around $7m (Around $133m today) – it was the costliest house ever built in Metropolitan Detroit. The French Louis XV chateau styled residence was constructed from brick, and surfaced with limestone, its mansard roof was sheathed in copper. Upon completion the mansion was close to 42,000 sq ft, had 75 rooms (including 42 main rooms), 15 fireplaces, 40 French doors, 37 sofas, 615 silk lampshades and more than 100 tables. Much of the décor had come from the imperial palaces of Russia and included many notable pieces including a bureau made for Catherine the Great and a jewel casket that had belonged to Russian Empress Maria Feodornova. A large marble staircase and an elevator connected the main and second floors. Source: Wikipedia, lemacks.com, townandcountrymag.com, and schoolfieldcountryhouse.com.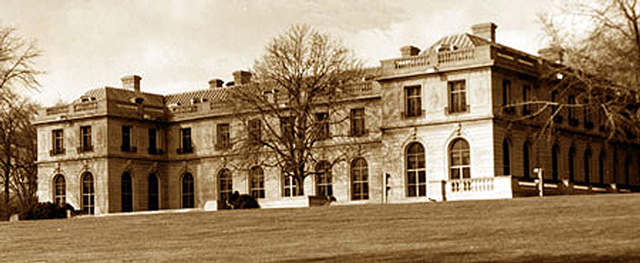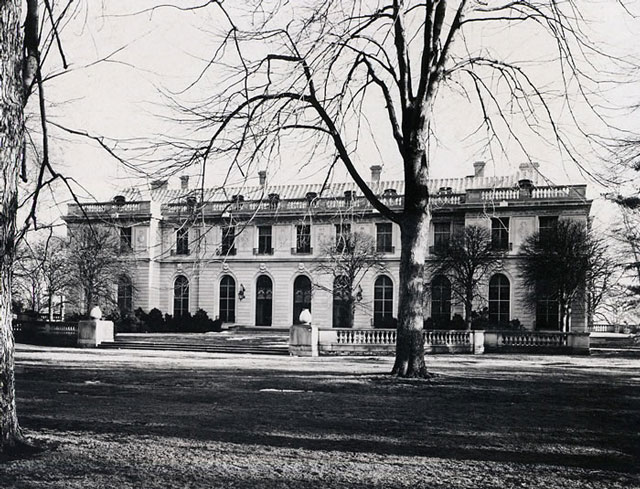 All the rooms on the main floor had 18.5' ceilings with a multitude of spaces for entertaining including two sitting rooms, a music room/ballroom, a card room and a formal dining room. The music room measured 62' x 32' sq ft and contained a bar room, card room, and a pipe organ that was originally purchased by Horace Dodge for "Rose Terrace I". It is reported that 'an entire French Inn was purchased and razed in order to obtain the floorboards for use in the bar area'. Source: Wikipedia. The article on Wikipedia also acknowledges the attic, which held the servant's quarters, including an apartment for the housekeeper, a valet's room, twelve maids' rooms, and six rooms for male servants. The basement of the house was the location of the servants' dining room, an ice cream parlor, a flower room, a wine cellar, a gymnasium and storage vaults for furs, rugs, and silver.
The classic French inspired home-featured stunning wrought iron work inside and out. The interior had an abundance of exquisite architectural detailing including an intricate wrought iron banister on the staircase, parquet flooring, ornately carved marble fireplaces, enormous crystal chandeliers, and carved oak paneling. It is reported that over 900 barns were town down in Greece to obtain the desired wood for the dining room. The paneling was then carved and shaped in France and then shipped to Grosse Pointe. Source: Wikipedia. Images courtesy of: schoolfieldcountryhouse.com. It is alleged Mrs. Dodge spent two years in Europe collecting 18th century French art treasures to fill the home, receiving advice from noted dealer Sir Joseph Duveen who in turn spent over $2.5m on items that included the purchase of paintings by Gainsborough, Boucher and Van Dyck. Source and images: Grosse Pointe News, lemacks.com, townandcountrymag.com, and schoolfieldcountryhouse.com.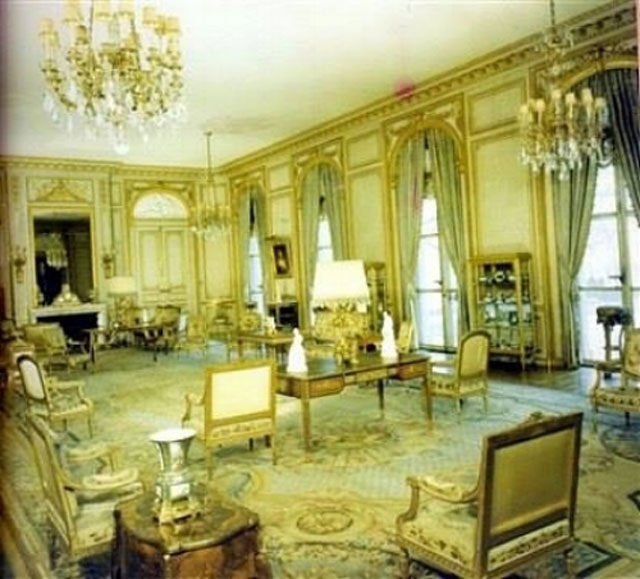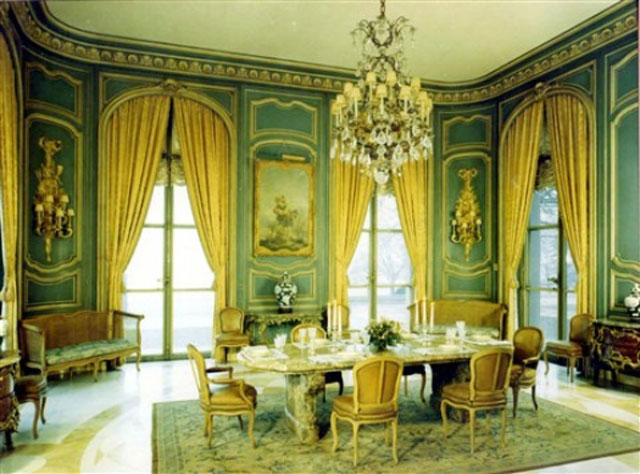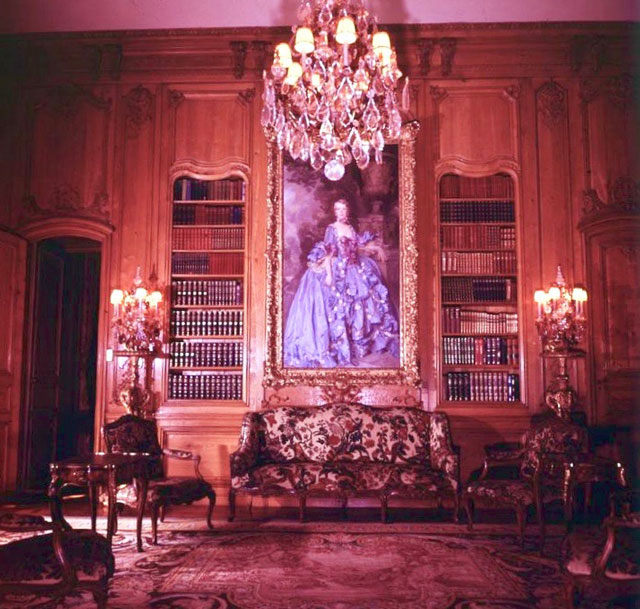 The landscaping was designed by nationally prominent landscape architect Ellen Biddle Shipman, known for her formal gardens and lush planting style. Throughout her career, Ms. Shipman created over 650 gardens, including 60 in Grosse Pointe – more than any other community in the United States. Some of her better-known projects include: (the dates below are approximate).
1913 – 355 Lincoln
1925 – 15366 Windmill Pointe Drive
1928 – 99 Lothrop in conjunction with Charles A. Platt
1917 – 251 Lincoln (Murray Sales House)
1925 – 22 Webber Place (Oscar Webber Mansion)
1927 – 447 Lake Shore (Roy D Chapin Home)
1929 – 109 Kenwood (Lynn McNaughton Home)
Many national magazines featured Shipman's work. In 1933, House and Garden named her the "Dean of Women Landscape Architects". Much of Shipman's work was influenced by the English style and her preferred approach was to view plantings as if she "were painting pictures as an artist" (Source: Wikipedia). One of her more intricate projects was at Rose Terrace where she designed an elaborate floral and sculpture garden, which included 150yr old boxwood hedges imported from England.
At the end of the garden was the 20' x 78' sq ft boat pavilion and a huge pier that was large enough to accommodate what was at the time the largest yacht in the United States – The Delphine II – 257 feet long, and named after Horace and Anna's daughter.
Anna Dodge resided in "Rose Terrace II" until her death at the property in 1970, aged 100. Following her death the contents were sold at auction held by Christie's in 1971, and the property then sat empty for a number of years while a private buyer was found. However, there were no buyers who wanted to maintain the house and despite efforts to save the mansion (for its historical significance) the property was demolished in 1976, and the land subdivided.
Rose Terrace I and II may be gone, but they will never be forgotten.
*Photos courtesy of the Higbie Maxon Agney archives unless stated.
Written by Katie Doelle
Copyright © 2020 Higbie Maxon Agney & Katie Doelle
https://katiedoelle.com/wp-content/uploads/2020/05/RT_10.jpg
489
640
Katie Doelle
https://katiedoelle.com/wp-content/uploads/2022/04/KatieDoelle_Logo_NEW1-Sm.jpg
Katie Doelle
2020-05-26 17:58:30
2020-05-26 17:58:51
Historical Architecture of Grosse Pointe – The Lost Estates – Rose Terrace I and II – Part 2