Last week we explored the history of 277 Lincoln, an iconic Italian Renaissance style home that was once the carriage house on the "Edgeroad" estate, located at 251 Lincoln, designed by Louis Kamper. The carriage house, along with the potting shed and a large, heated greenhouse were located at the rear of the property facing Lincoln Rd.
This week we would like to introduce you to the work of George J. Haas, a noted designer responsible for creating multiple iconic buildings in Metro Detroit and Grosse Pointe, including the Grosse Pointe Park Municipal Building and Grosse Pointe South High School.
George Haas was born in Detroit in 1889, the son of a cigar maker. He trained at the Detroit Technological Institute and resided in St Clair Shores. Haas had a wide and varied career as an architect and as a prominent member of several communities. Early on in his career George Haas was a specification writer in the office of Albert Kahn. Having started his own firm, believed to be around 1916, George Haas then became Mayor of Hamtramck in 1920, president of the Michigan Society of Architects (between 1924-25), and received multiple honors from the American Institute of Architects. Haas specialized in designing schools and municipal buildings on the East side of Metro Detroit. Much of his work in the area was created during the 1920's and early 1930's, including:
Grosse Pointe Park Municipal Building – 1918
Image courtesy of Michigan Architect and Engineer, 1919, and Walter P. Reuther Library, Archives of Labor and Urban Affairs, Wayne State University.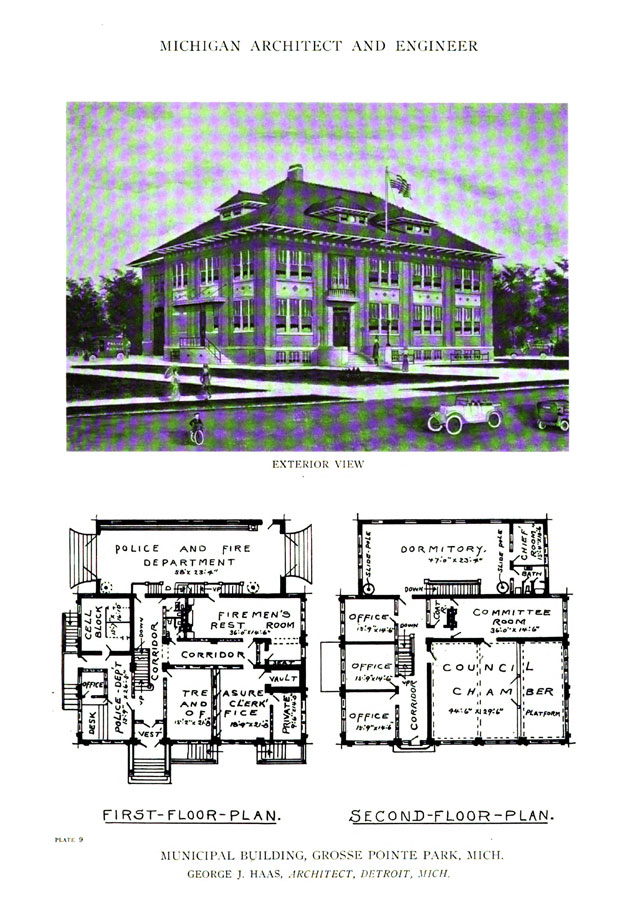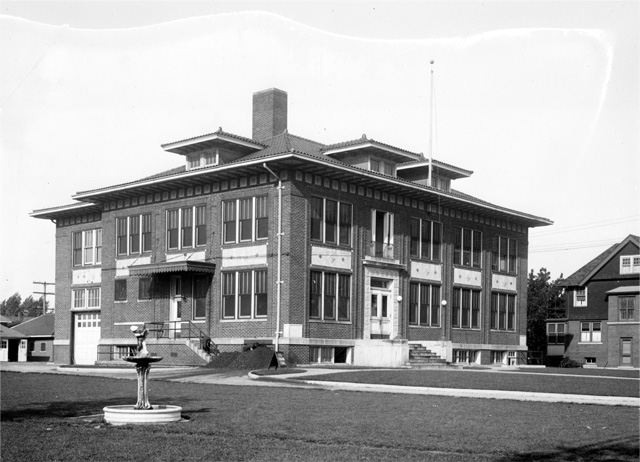 905 Berkshire – 1923
Possibly Haas's only residential project in Grosse Pointe. Image courtesy of Curbed Detroit.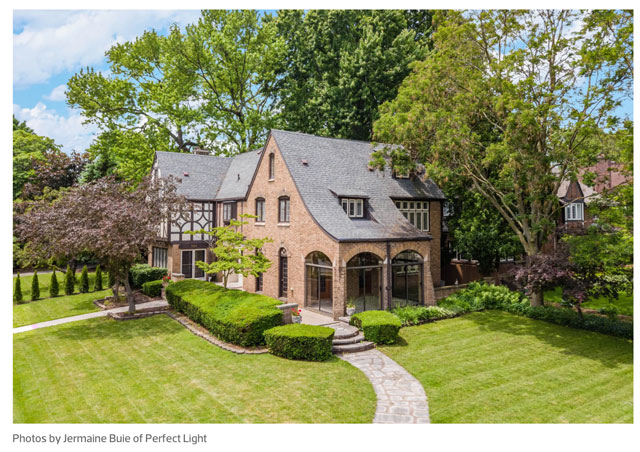 31032 Jefferson, St Clair Shores – between 1922 and 1924 – his own home
Haas designed this prominent Colonial home in St Clair Shores for his family. The four-bedroom residence was built sometime between 1922 and 1924. In the 1930, U.S. census, it was valued at $75,000 (around $1.2m today). Haas lived in the home with his wife, Elizabeth, and their four children for around 15 years. Source: The St. Clair Shores Sentinel, 2019. Article by Heidi Christein. Images courtesy of Michigan Architect and Engineer, 1922. Second image is courtesy of: St. Clair Shores Historical Commission.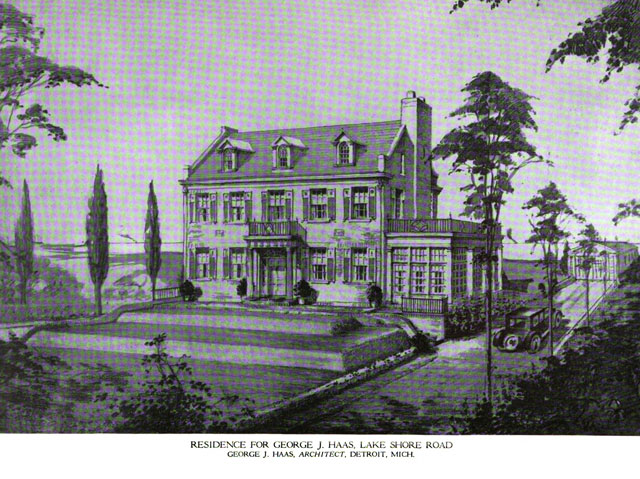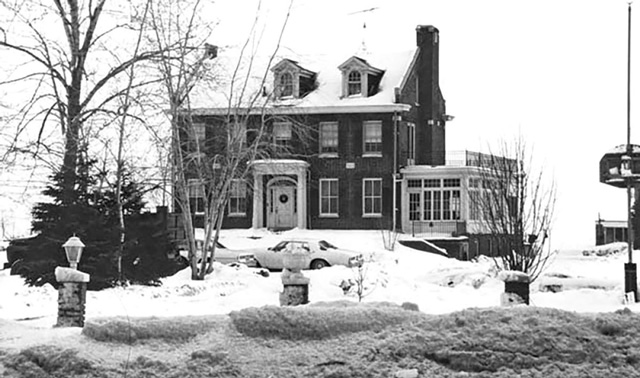 Defer Elementary School – 1925
Haas designed Defer Elementary School in the Tudor Revival Style, a popular approach in Detroit and across the U.S. during the first quarter of the twentieth century. The three-story building was constructed of brick, with superb limestone detailing used to frame the doors and the many large windows, thus creating a striking contrast to the brick. Many of the doors are wood paneled and encased by Gothic arches, a style that was very prominent in municipal buildings during this era. The interior of the school is flooded with light, courtesy of the large windows, while several of the rooms are decorated with Pewabic tile; the kindergarten room features a Pewabic fireplace and drinking fountain. It is believed the construction of the new school cost around $244,000 (around $3.3m today). Defer Elementary School was listed as a designated Michigan Historical site in 1996 and listed on the National Register of Historic Places in 2001. We will feature a more in-depth presentation about Defer Elementary School soon.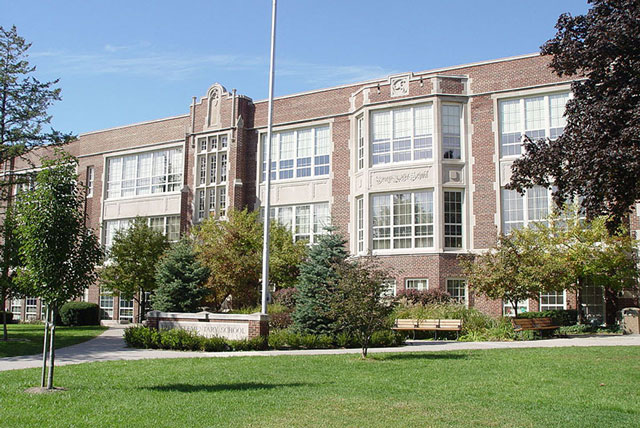 Grosse Pointe South – 1928
Completed in 1928, the school has come a long way since the property, 23-acres of swampland, was purchased from Helen Newberry and the McMillan Family. The Neo-Georgian inspired building features a dominant 134-foot-tall clock tower. At the time of completion, the clock tower was the highest architectural structure in the Pointes. The first class to grace the building was in 1928. Since then, the building has continued to evolve – for example, in 1961, the Industrial Arts building received a third floor to house the math department. Despite the expansion over the years the integrity of the original design has remained, and the school has become everything it was intended to be – one of the best public schools in the state of Michigan. Image courtesy of: Walter P. Reuther Library, Archives of Labor and Urban Affairs, Wayne State University. We will feature a more in-depth presentation about Grosse Pointe South soon.
Stevens T. Mason Elementary School – 1928
Hamtramck High School – 1930
Jefferson Beach Amusement Park Coliseum – 1930
The photos below show the Jefferson Beach Coliseum. The amusement park also had a roller coaster, multiple rides, a carousel, fun house, and arcade. Images are courtesy of: the Detroit News Archives and waterwinderwonderland.com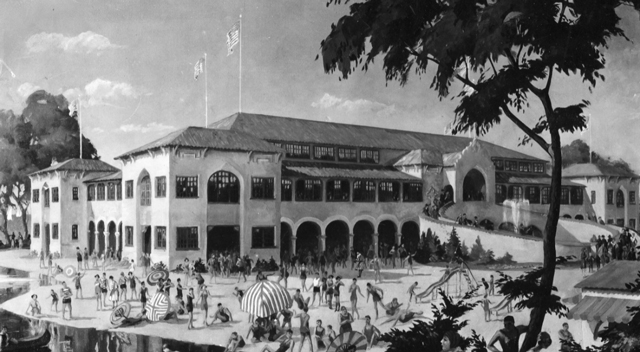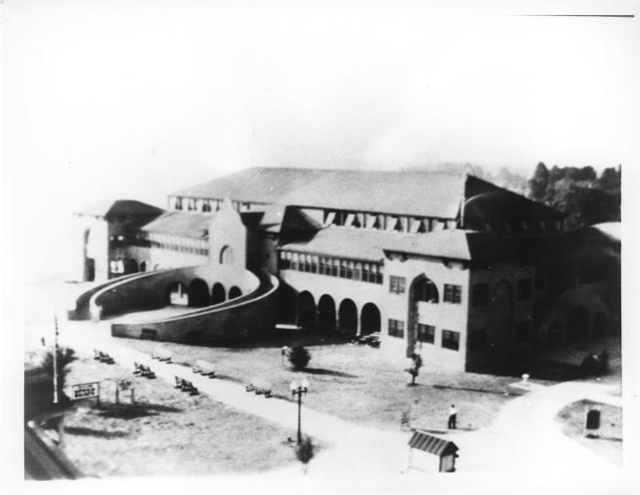 Macomb County Building, Mt Clemens – 1931 – 1944.
This iconic Art Deco building is vastly different in style to most of Haas's other projects. It is reported 'the building was undertaken to show that Macomb County was modern and vibrant'. Based on research by Mount Clemens Public Library we understand 'in August, 1930, architect George J. Haas of St. Clair Shores submitted plans for a limestone-clad, 12-story building with a square footprint and an Art Deco design. In September of that year, the Board of Commissioners voted to proceed with the plan for the county building that was to cost no more than $650,000. When construction began, a crew of 75 men, most of them county residents, worked 24 hours per day, assisted by floodlights when necessary.
In 1933, the effects of the great depression resulted in construction being halted. While the buildings superstructure was in place only the first 5 floors were finished. In 1944, the Macomb County Building was finally completed, aided by a $50,000 grant from the WPA. It had cost $605,000 (around $9.5m today) to build the 13-story gray limestone clad structure – source: www.waymarking.com and Mount Clemens Public Library. Research on waymarking.com provides the following description about the design of the building – 'The design is dominated by the many relief sculpture panels up and down the exterior, but the most outstanding features are the large faces sculpted into the edifice. Facing south are a soldier and a sailor, facing north are a marine and an airman as a salute in the direction of nearby Selfridge Field. On the east and west are duplicate Revolutionary War soldiers and Native Americans paying tribute to history. Further down on the north and south facades are two buffalo or rams' heads, with decorative headdresses'. It is not clear if Haas completed the building or if it was finished by another architect. Image courtesy of: courthouses.co/us-states.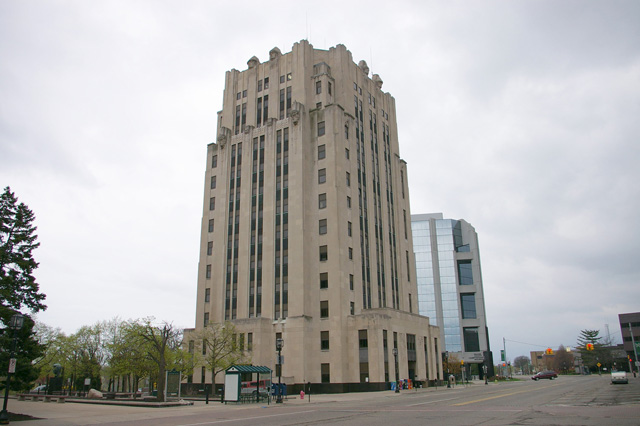 In 1940, George J. Haas and his family moved to Plymouth for George's work with Great Lakes Steel. By the mid 1940's, the Haas family had relocated to Miami. In 1945, Haas held the position of secretary treasurer of the Florida Association of Architects, however it is not clear how many projects he worked on in Florida before his death in 1956.
George Haas had a rich and varied career. He was associated with the crème de la crème of Detroit architects during the early twentieth century and left Metro Detroit with multiple buildings we can all be extremely proud of.
*Photos courtesy of the Higbie Maxon Agney archives unless stated.
** Research, information, and data sources are deemed reliable, but accuracy cannot be fully guaranteed.
Written by Katie Doelle
Copyright © 2022 Katie Doelle
https://katiedoelle.com/wp-content/uploads/2022/01/GPP-Municipal-Building_Sm.jpg
462
640
Katie Doelle
https://katiedoelle.com/wp-content/uploads/2022/04/KatieDoelle_Logo_NEW1-Sm.jpg
Katie Doelle
2022-01-18 15:24:46
2022-01-18 15:32:07
Historical Architecture of Grosse Pointe – The Work of George J. Haas.