Last week we explored a rather special home in Grosse Pointe Park – 813 Trombley, a grand Tudor style home completed by the firm of Roscoe W. Babcock, Inc. In 1928, the property was open for the public to tour, presented as "one of the finest and most complete homes ever produced in Metropolitan Detroit".
This week we stay on Trombley to explore 805 Trombley, a once superb limestone clad property that was located on the corner of Tombley and Essex Drive. It appears the property was completed in 1928, by the firm of C. E. Reichle Co. Designers & Builders, for Robert E. Farley, president of the Hillgartner natural stone company in Baltimore, Maryland. It appears Mr. Farley opened an office for the company in Detroit in 1920. The photo (below) is courtesy of © Indiana Limestone Company. Courtesy, Indiana Geological and Water Survey, Indiana University, Bloomington, Indiana.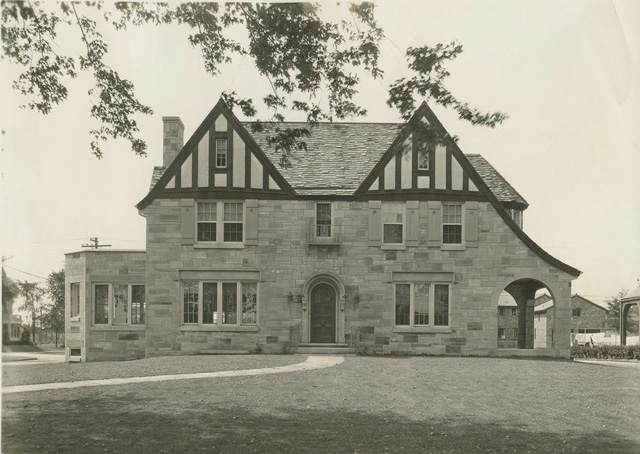 Robert Farley's property on Trombley was a 3,000 sq ft residence, located on a large 80' x 175' lot. The property was constructed from stone and finished in 4" old gothic random ashlar (ashlar is a type of masonry which is finely cut and/or worked, and is characterized by its smooth, even faces and square edges). Ashlar can be found on many historic buildings, particularly in the UK. Ashlar has also been used in construction as an alternative to brick or other materials dating back to classical architecture (a style of buildings originally constructed by the Ancient Greeks and Romans). Source: designingbuildings.co.uk. The old gothic ashlar used on 805 Trombley was supplied by the Indiana Limestone Company – the largest company in the history of the Indiana limestone business. Indiana Limestone was commonly used in the construction/finishing of residences, churches, universities, museums, businesses, and public and municipal buildings. Many of these buildings were designed by prominent architects, throughout the United States from the late 1800s to mid-1900s. Source: Indiana University Bloomington. Limestone was also a popular material used in the construction, finishing, and for decorative elements on many homes in Grosse Pointe that were completed during the early 20th century.
805 Trombley was created in an English Tudor architectural style. The ashlar blocks that are so integral to the look and feel of the house are complimented by the traditional stucco sections that are associated with the Tudor style – stucco walls with decorative wood half-timbering – on the front section of the gable-roof. The front elevation also features a superb example of a porte-cochère on the right-hand side of the residence. Traditionally, this structure provided a covered place for vehicles to stop thus allowing passengers to be protected from the weather as they entered the home. It also allowed a vehicle to pass from the street to an interior courtyard – a feature of many 18th and 19th century mansions and public buildings in Europe. The first photo (below) is courtesy of © Indiana Limestone Company. Courtesy, Indiana Geological and Water Survey, Indiana University, Bloomington, Indiana.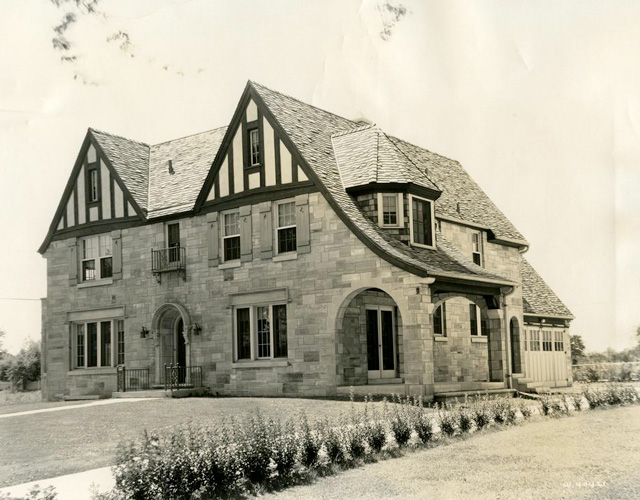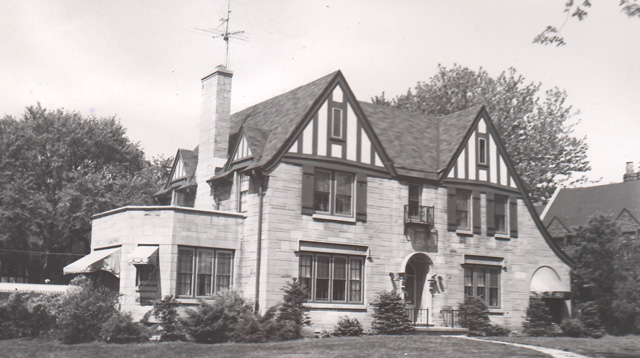 The interior of the four-bedroom property had a 26' x 15' sq ft living room, a 15' x 14' sq ft dining room along with service stairs, a screened porch, along with a stunning five-sided library on the left-hand side of the residence. The second floor had four bedrooms, plus an additional room for the maid, while the basement was the location for a large recreation room with a fireplace and a wet bar. The photo (below) is courtesy of © Indiana Limestone Company. Courtesy, Indiana Geological and Water Survey, Indiana University, Bloomington, Indiana.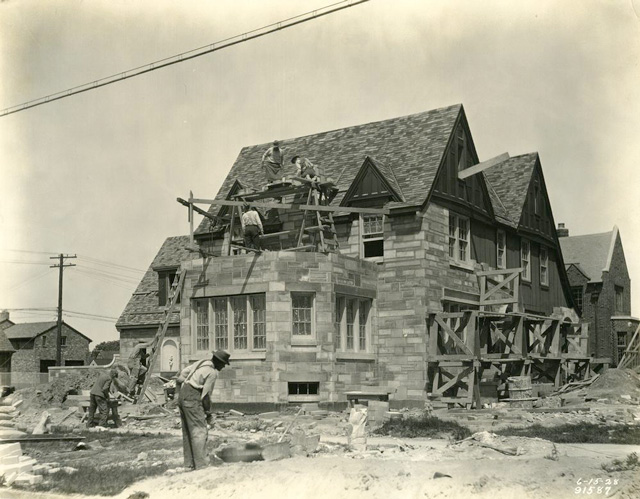 Interestingly, our files and an article in the Detroit News (1928), stipulate that despite Mr. Farley being listed as the original owner, the property was built to advertise stone, given that it was "the first home in Detroit built of shot sawed Indiana limestone". In 1928, (the year it was completed) 805 Trombey had "served the purpose for which it was built – namely, to introduce Shot Sawed Indiana Limestone, and to prove that this aristocrat of building materials costs only slightly more than brick". At this point the property was never occupied and sat vacant, offered for a quick sale. It is also reported the garden had practically no planting. Mr. Farley, meanwhile, was residing at the Book Tower in Detroit. It is not clear how long Robert Farley was the registered owner of 805 Trombley. The photo (below) is courtesy of © Indiana Limestone Company. Courtesy, Indiana Geological and Water Survey, Indiana University, Bloomington, Indiana.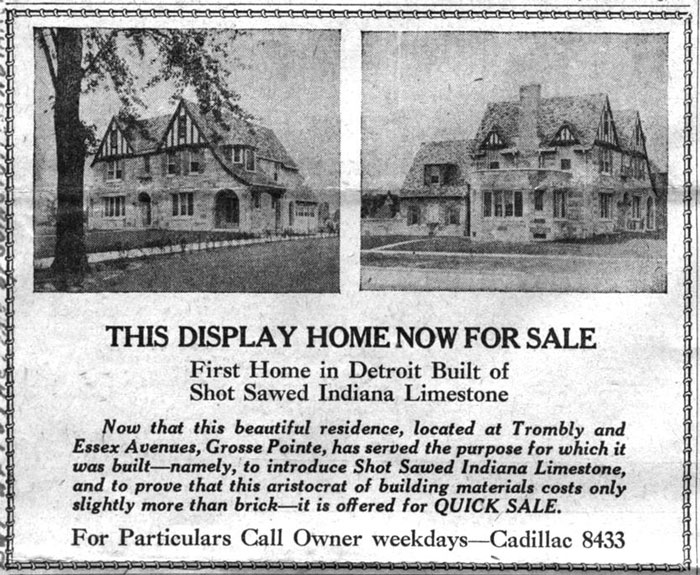 According to our files, in September 1936, the property remained for sale for $35,000 (around $714,000 today) and was still for sale three years later. By the late 1940's the property had been sold and was owned by Mr. and Mrs. C. W. Rexford. They had listed the home for sale in 1949, for $32,000 (around $381,000 today). However, after a roof fire the property had to be redecorated and the Rexford's moved across the street to 834 Trombley. In July 1954, the Rexford's had rented 805 Trombley to Mr. Fred Renker for $300 per month (around $3,100 today). It appears the property was also still for sale during this time. At some point, prior to 1963, a heated 20' x 40' sq ft swimming pool, a cabana with dressing room, bathroom, and an equipment room were added to the back garden. It is not clear if the Rexford's added the pool or if this was installed when the house was sold.
By the 1980's the property was listed for sale in 1985, and again in 1987. This was followed by a further sale in 2006. In 2008, the owners of 813 Trombley purchased 805 Trombley (the house to the left of their property). According to reports 805 Trombley had been neglected for years and was in a poor state of repair. Image of 805 Trombley (below) is courtesy of Redfin.com After the purchase, 805 Trombley was razed to create a spectacular double-acre lot that is now part of the 813 Trombley estate.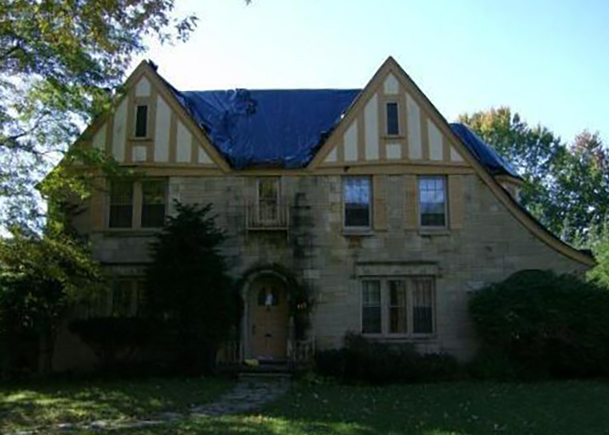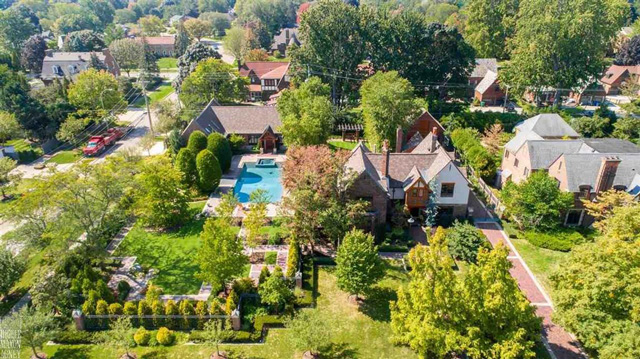 805 Trombley was an elegant home. Despite its classic lines and individualistic design, one could surmise, having been built to advertise stone, laying vacant for many years, and ultimately left in a state of disrepair, it never seemed to receive the love and respect it probably deserved.
*Photos courtesy of the Higbie Maxon Agney archives unless stated.
** Research, information, and data sources are deemed reliable, but accuracy cannot be fully guaranteed.
Written by Katie Doelle
Copyright © 2022 Katie Doelle
https://katiedoelle.com/wp-content/uploads/2022/04/805-Trombley_BW_Sm-1.jpg
358
640
Katie Doelle
https://katiedoelle.com/wp-content/uploads/2022/04/KatieDoelle_Logo_NEW1-Sm.jpg
Katie Doelle
2022-04-12 20:03:48
2022-04-12 20:09:00
Historical Architecture of Grosse Pointe – 805 Trombley