Last week we presented the story of another lost home on the lake, 575 Lake Shore, also known as "Clairview. The Italian Renaissance "palace" was designed by Detroit based architect John Scott, between 1911-15, for Dr. Harry Norton Torrey and his wife Nell Ford (sister of Stella Ford who owned "Stonehurst", located at 500 Lake Shore).
This week we head to arguably one of the most prestigious streets in Grosse Pointe – Provencal – to review an impressive Georgian residence, 34 Provencal, completed in 1912, by architectural legend Louis Kamper for John Scripps Sweeney Sr.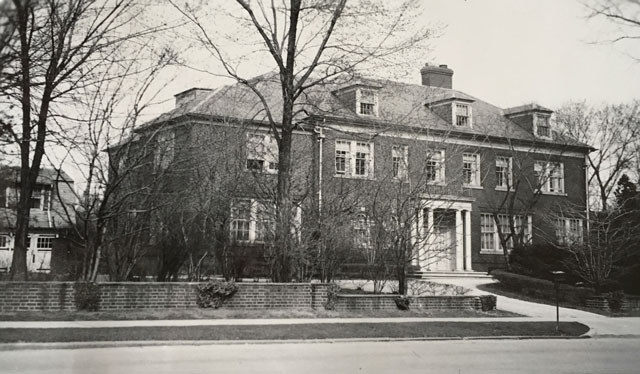 34 Provencal, located on the first block from Lake Shore, is one of the earliest residences to be built on the street. The elegant brick home is created in a Georgian architectural style, which was becoming an admired approach in Grosse Pointe during the early twentieth century. During this era the Grosse Pointe communities were transitioning from a popular summer retreat for wealthy Detroit families to a permanent location for prominent professionals who were hiring the finest architect's money could buy to build grand mansions with formal landscaped gardens. Increasingly popular large Georgian residences had begun to take precedence over the Victorian and Queen Anne style homes that had been the favored architectural style in the community for so many years.
The 8,162 sq ft property features multiple traits one would expect on a formal Georgian home – brick built in a rectangular configuration with symmetrical windows, shutters, and columns. The center entrance (of many Georgian homes from this era) are normally grand affairs often with pediments, arches and in the case of 34 Provencal, a large portico supported by multiple columns. In keeping with the trend of this style, 34 Provencal has six-over-six sash pane windows, flanked by shutters painted in forest green, a popular choice of color at the time along with black and navy blue.
Upon entering the property, the central foyer is dominated by the hung staircase. The interior has high ceilings and pegged oak floors in most rooms. The first floor also has a large formal 26' x 16' dining room, an elegant 24' x 22' wood paneled library with a bay window, a butler's pantry, and a substantial 26' x 25' kitchen. The second floor originally had four main bedrooms, with access to the balcony at the rear of the home, along with three smaller bedrooms for maids. The third floor also had two further bedrooms and a recreation room. The property, when completed, had a 1,200 sq ft Italian patio along with a 35-foot screened porch with a vaulted ceiling. The estate also has an 800 sq. ft carriage house, complete with a one-bedroom apartment, along with a 3-car garage. As one would expect with a formal Georgian home of this kind the garden is elaborate, formal, and attractive.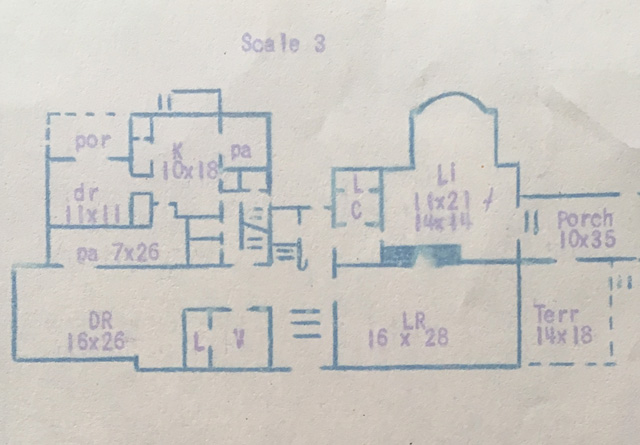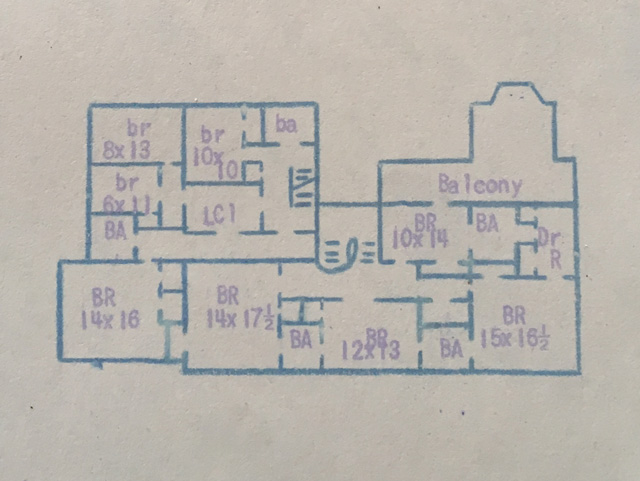 As with so many of the earlier homes on Provencal the residence has undergone substantial renovations during its lifetime. In 1928, 34 Provencal was significantly remodeled by Hugh T. Keyes, whose work centered on creating grand estates for the industrialists of Metropolitan Detroit (clients included Ford, Hudson-Tannahill, Bugas and Mennen). Not only is he considered to be one of the most versatile architects of his generation he was also adept at
transforming existing older mansions into more suitable spaces for modern living. This included several such projects in Grosse Pointe.
The original architect who designed 34 Provencal was Louis Kamper, described as one of the most impactful designers to have ever graced Detroit, along with Albert Kahn, and George D. Mason. During his career Kamper received many prestigious commissions from some of Detroit's wealthiest families. He is also credited with designing over 100 commercial and residential structures in and around the city – The Book Tower and The Book Cadillac Hotel. During his career he worked with several prominent families within Metro Detroit, including the Bagley, Merrill, Tuller, and Book families. Louis Kamper created several homes in Grosse Pointe, including:
10 Moross (around 1905)
285 Washington (1910)
50 Moross (1914)
16761 E. Jefferson (1917)
251 Lincoln (1918)
1 Rathbone Place (1918)
836 Edgemont Park (1918)
1008 Buckingham (1922)
175 Merriweather Road (1931)
We understand the original owner of 34 Provencal was John Scripps Sweeney Sr, born in Rushville, Schuyler County, Illinois in 1855. During his career he became the business manager
of the Penny Press, founded in 1878, by his cousin Edward W. Scripps (the Penny Press became the Cleveland Press in 1889). Mr. Scripps was married to Elizabeth Stanley and together they had a son, John Scripps Sweeney Jr. It is reported John Scripps Sweeney Sr. passed in 1935, and his wife Elizabeth in 1942. After her death 34 Provencal was owned for a short time by John Scripps Sweeney Jr., a successful developer and co-owner of Sweeney and Moore, who were responsible for the development of many well-known Grosse Pointe subdivisions. In March 1943, John Sweeney Jr. listed 34 Provencal for sale for $35,000 (around $585,000 today). The property was sold to John Mulford in May 1943. According to our files Mr. Mulford's house, 283 Merriweather, was taken in trade at $15,000 net. Mr. Mulford then held the option on 283 Merriweather at $15,000 until August (that year) – he could sell it, pay a commission, and keep all he got above $16,500 (around $275,000 today).
34 Provencal is a majestic home. Having been designed by Louis Kamper, one of Detroit's finest architects and remodeled by the talented Hugh T. Keyes, it is a treat to see this grand Georgian property as you head up Provencal from Lake Shore.
*Photos courtesy of the Higbie Maxon Agney archives unless stated.
Written by Katie Doelle
Copyright © 2022 Katie Doelle
https://katiedoelle.com/wp-content/uploads/2022/07/34-Provencal_old.jpg
374
640
Katie Doelle
https://katiedoelle.com/wp-content/uploads/2022/04/KatieDoelle_Logo_NEW1-Sm.jpg
Katie Doelle
2022-07-27 20:00:58
2022-07-27 20:00:58
Historical Architecture of Grosse Pointe – 34 Provencal