Last week we introduced you to the work of Arthur Knox Hyde. During his career Arthur K. Hyde was associated with some of the finest architects in Detroit and was a former partner of William B. Stratton. He created at least four homes in Grosse Pointe.
This week we head to 130 Kenwood, completed in 1926. J. Ivan Dise designed the English Tudor style home for Luther David Thomas. It is one of the larger Dise homes in Grosse Pointe.
The original address of 130 Kenwood was 50 Kenwood – post 1930, many house numbers on this street were changed. The 7,256 sq ft residence is constructed from brick with a steeply pitched slate roof. The impactful exterior features an elaborate oversized entrance with a recessed limestone porch, with seating, to the front door. The front elevation also features a two-story turreted section, multiple leaded glass windows, and a striking chimney that commands attention when looking at the front of the house. Where the house number above the front door currently exists, it appears this might have had a different architectural feature when the house was built, such as a sundial.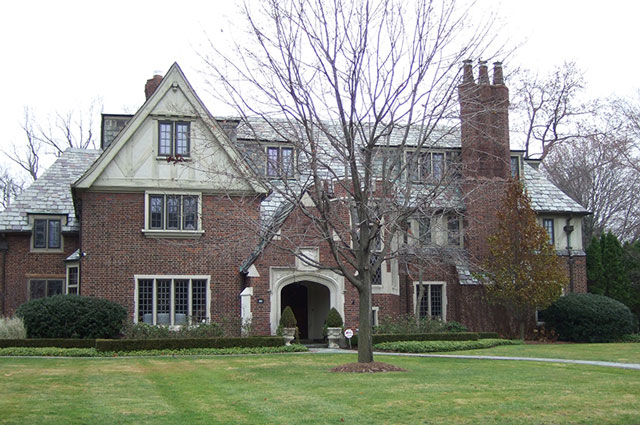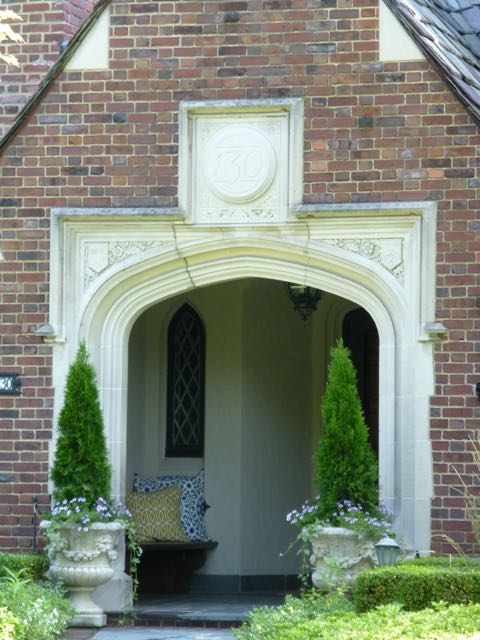 Not to be over shadowed by the exterior, the interior features superb architectural detailing. The main floor includes a bleached oak foyer, a 18' x28' sq ft living room (with fireplace), a 15' x 17' dining room with a large bay window, a 15' x 15' sq ft oak paneled library (with fireplace), a 14' x 14' sq ft sitting room, enclosed porch and beautiful carved plaster detailing throughout. The second floor has an 18' x 18' sq ft master bedroom with fireplace, four additional large bedrooms along with two bedrooms for maids. The third floor contained two further bedrooms and a playroom.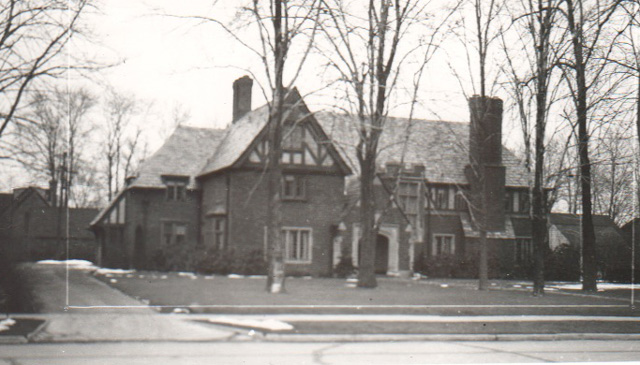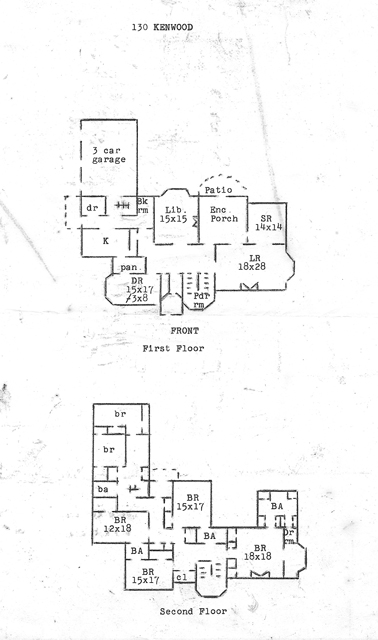 The original owner of the home was Luther David Thomas. He was born in Emporia, Lyon, Kansas in 1884. He married Gladys Ann Riggs in Emporia in 1911. It is not clear when the couple moved to Michigan, but the couple and their two children resided in Grosse Pointe until around 1935. It is reported Mr. Luther D. Thomas and family then moved to California. Based on information in our files, it appears at the time (in 1937), there was a substantial mortgage on the property (approximately $91,000 – around $1.6 m today). Mr. Thomas reportedly listed the property for $105,000 (around $1.9m today) but wound up renting the property to a tenant for a number of years. 130 Kenwood was eventually sold in 1940 for $50,000 (around $940,000 today).
After Mr. Thomas sold 130 Kenwood the property has had a number of prominent owners. It appears Dr. Charles C. Merkel purchased the property in 1940. Dr. Merkel married Frances Gray – Dr. Merkel was Frances Gray's second husband (her first husband passed in a tragic accident in 1939). An article in the Detroit Free Press (1983) reveals Mrs. Merkel's lavish approach to life. 'During a trip to Paris in the 1950's Dr. and Mrs. Merkel kept the opulent suite they were staying in, and moved to the Ritz hotel for a week'. It is reported Mrs. Merkel sensed 'the Ritz Hotel was probably coming to the end of its glory day's and thought they should stay at the Ritz for a while'. The couple enjoyed collecting fine art and antiques and filled their home with treasures. After the couple sold 130 Kenwood the Merkel's moved to 17315 E. Jefferson – a stunning Georgian home designed by Charles A. Platt. You can read the full story of 17315 E. Jefferson by clicking here.
Over the years the owners of 130 Kenwood have included: Wendell W. Anderson Jr., Frederick James Robinson, Roy R. Hunsinger, James H. Humphrey, Le Roy Deola, and Joseph A. Ricci. However, it is apparent that no one has lived at the property for more than three years.
Architect J. Ivan Dise designed 130 Kenwood in association with his partner, at the time, Clair William Ditchy. Dise created a significant number of homes (over 20 that we know of) in Grosse Pointe along with the Grosse Pointe Farms pumping station on Chalfonte and Kerby. Dise was born in Pennsylvania in 1887. After graduating from the University of Pennsylvania in 1909, he began his career in New York with the prestigious firm of Cass Gilbert. During his time there he was heavily involved with a number of commissions the company had secured in the City of Detroit, including the Detroit Public Library and the Scott Memorial Fountain on Belle Isle.
Dise moved from New York to Detroit in 1919, to join the architectural firm of Albert Kahn, where he would work until 1922. After working with Kahn for three years he set up his own firm, and worked on many civil and residential projects throughout Metro Detroit including: the Methodist Children's village, the Boulevard Temple Building, several Public Schools, and multiple homes. The majority of his work in Grosse Pointe was created during the 1920's and 30's.
From 1922 through 1926, Dise was associated with Clair William Ditchy, a fellow employee of Albert Kahn. After working together for Kahn it appears Dise and Ditchy joined forces and were associated until 1926, collaborating on a number of homes together in Grosse Pointe:
877 Edgemont Park – completed in 1923
1003 Buckingham – completed in 1924
986 Lochmoor – completed in 1924
821 Balfour built in 1924
44 Provencal – completed in 1925
745 Bafour – started in 1925
1148 Three Mile – completed in 1925
524 Lakepointe – completed in 1925
130 Kenwood – completed in 1926
1124 Berkshire – completed in 1926
After the duo went their separate ways Dise went on to create many noted residences in Grosse Pointe, including two further homes on Kenwood –
93 Kenwood Road in 1928 – for Frank T. Nelson
90 Kenwood Road in 1929 – for Cleveland Thurber
130 Kenwood is a striking home, located on one of Grosse Pointe Farms most prominent streets. The houses created by Dise are some of the most attractive in the community.
I would like to thank Brad for contacting us about 130 Kenwood –the property certainly has a lot of history to share.
*Photos courtesy of the Higbie Maxon Agney archives unless stated.
Written by Katie Doelle
Copyright © 2021 Katie Doelle
https://katiedoelle.com/wp-content/uploads/2021/03/130-Kenwood.jpg
365
640
Katie Doelle
https://katiedoelle.com/wp-content/uploads/2022/04/KatieDoelle_Logo_NEW1-Sm.jpg
Katie Doelle
2021-03-16 16:34:44
2021-03-16 16:35:30
Historical Architecture of Grosse Pointe – Welcome to 130 Kenwood