Last week we presented another majestic home designed by Raymond Carey – 338 Provencal. The 10,304 sq ft English Tudor Manor was completed in 1928, for Howard F. Smith, VP of the Canada and Dominion Sugar Company in Ontario.
This week we head to a splendid property, 12 Rathbone Place (original address 17400 E. Jefferson). Alpheus Chittenden completed the English Manor home in 1909, for John Gaine Rumney and his wife Mary Elizabeth (Pittman).
John G. Rumney, a prominent Detroiter, was born in Detroit, 1850. He began his career as a salesman for Ducharme, Fletcher & Company – dealers in wholesale hardware. He then took the position of treasurer at the Hart Manufacturing Company, a position he held for eight years. In 1888, he relocated to Helena, Montana to work in the cattle and real estate business, returning to Michigan in 1896, to take the position of manger at the Kalmazoo Spring & Axle Company. In 1904, Mr. Rumney relocated to Detroit to organize the Detroit Steel Products Company – manufacturing motorcar springs, and draft gears for freight and passenger cars. The company also manufactured "Fenestra" steel windows, which helped revolutionize industrial construction – many of the largest factories in Detroit and throughout the world purchased them. In 1914, Rumney became president of the Detroit Steel Products Company. Under his watch the organization became one of the best-known companies of its kind in the country. In addition he also held the position of president at numerous companies in Detroit, Helana (Montana), and Toronto. In 1883, he married Mary E. Pittman, and together they had two children.
12 Rathbone Place (original address 17400 E. Jefferson) was completed in 1909. The stately 7,773 sq ft asymmetrical residence features brick on the lower part of the exterior and the upper level is finished in stucco. While the front entrance could be described as understated, the interior is one of lavish architecture detailing, millwork, and detailed wood paneling throughout. The 31' x 25' sq ft living is finished in oak paneling, part of which has exquisite carving. The room also features an oversized decorative limestone fireplace and an adjoining 18' x 20' sq ft dining room with a coffered ceiling, sublime leaded windows, and decorated ceiling. The main floor also includes a wood paneled 13' x 21' sq ft library, with fireplace, an 18' x 18' sq ft sitting room, a maid's dining room, and a butler's pantry. The second floor included a sleeping porch and four main bedrooms – the 18' x 22' master has a large fireplace and a bay window. There were also three additional bedrooms for maids. The huge carriage house (described as a cottage when the property was listed during the 1930's) was added in 1924 – esteemed architect Louis Kamper designed it. The main floor of the cottage included a two-car garage; a living room, dining room and a kitchen. Two bedrooms and a bathroom were located on the second floor. At the back is an attached greenhouse. All color photos are courtesy of stylishdetroit.com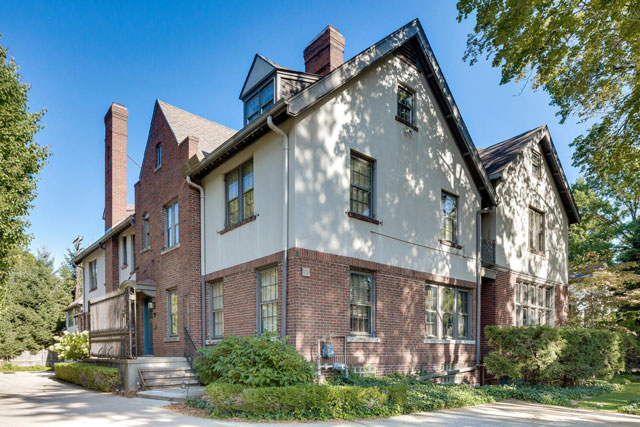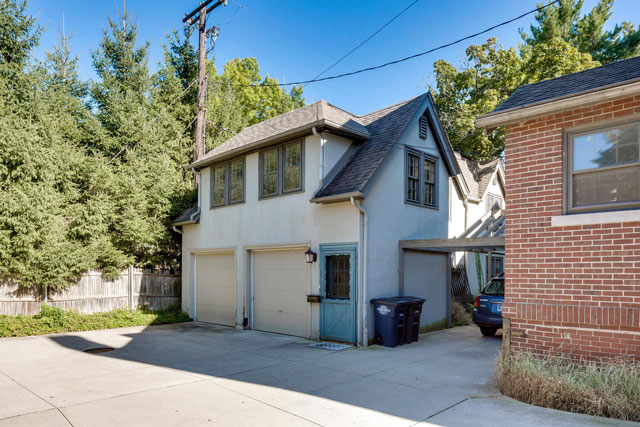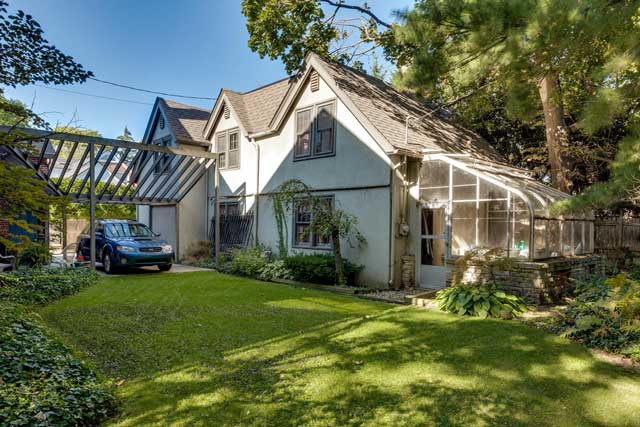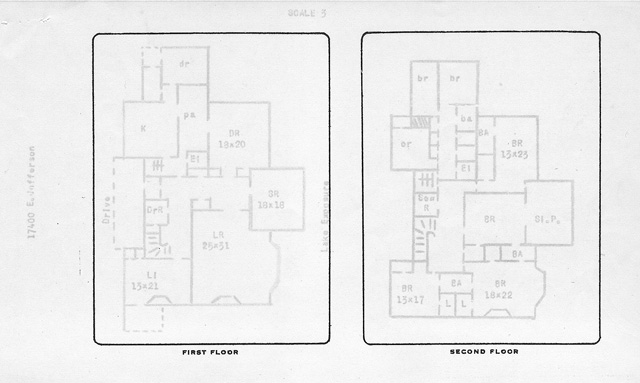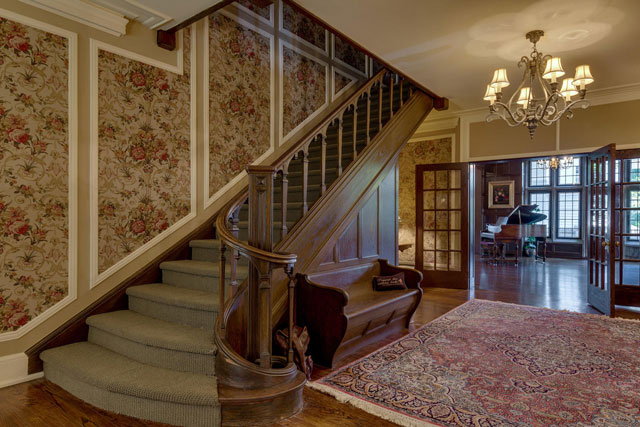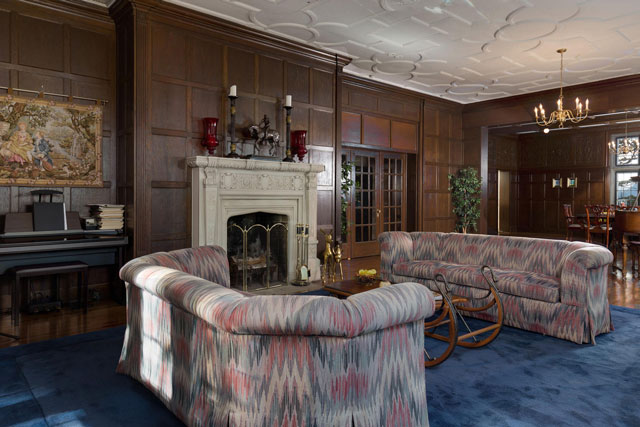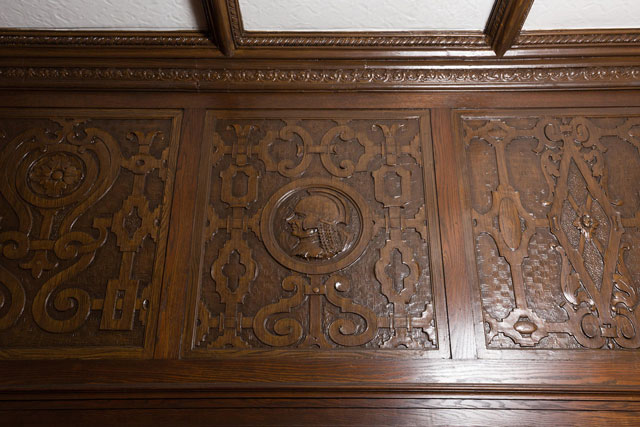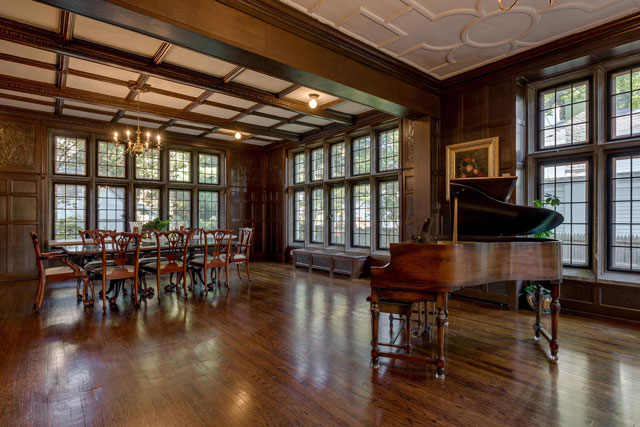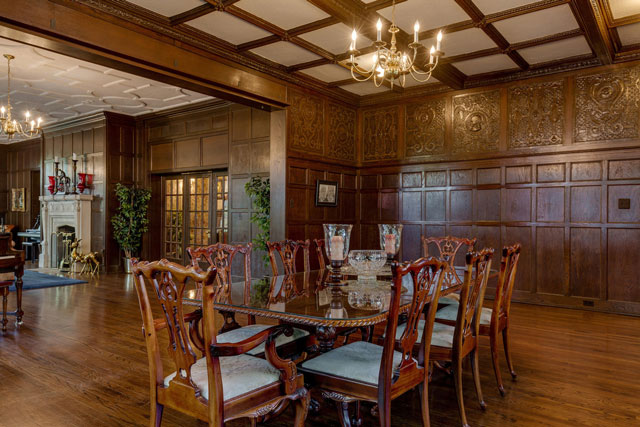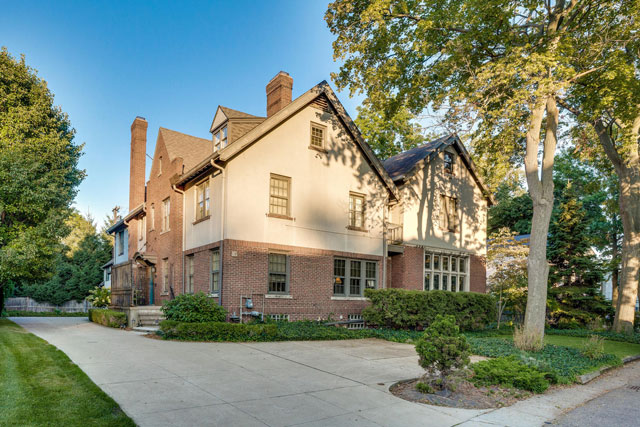 The architect responsible for this lavish home was Alpheus Chittenden. Having attended Massachusetts Institute of Technology and the Hochschule in Berlin, Chittenden is said to be one of the earliest architects to work in the academic Georgian tradition. While he spent the majority of his career on residential projects Chittenden is probably best known for the design of the Detroit Boat Club (in 1902) on Belle Isle. In 1903, Chittenden joined forces with Dutch architect, Charles Kotting to form the firm Chittenden and Kotting. Together they created many sublime homes in Grosse Pointe and throughout the affluent neighborhoods of Metro Detroit. You can read the full story by clicking here.
It is not clear how long the Rumney's resided at 12 Rathbone Place or when the couple sold the property. We do know, from our files, that Mr. David Carter purchased 12 Rathbone from Mr. and Mrs. Rumney, and listed the property for sale in 1935, for $65,000 (around $1.2 million today). It is also not clear when the current address – 12 Rathbone Place was changed from 17400 E. Jefferson.
Of interest – in the Social Secretary, 1922, 12 Rathbone Place is listed as the Rumney's primary residence. However, we know that the couple also built a second property on Rathbone Place – number 1, completed between 1917-1918. Louis Kamper (who created the "cottage" at 12 Rathbone Place) designed the glorious Italian Villa. 1 Rathbone Place, is located opposite the Rumney's first home and was originally located on 1 acre of land, running from Jefferson to the lake. Other documentation has the Rumneys listed as living at 1 Rathbone Place until Mr. Rumney's death in 1941. You can read the full story by clicking here.
Between the two properties (number 12 and number 1) John G. Rumney created a lasting legacy on Rathbone Place, thanks to the creative vision of Alpheus Chittenden and Louise Kamper – two of the best architects money could buy.
*Photos courtesy of the Higbie Maxon Agney archives unless stated.
Written by Katie Doelle
Copyright © 2021 Katie Doelle
https://katiedoelle.com/wp-content/uploads/2021/01/12-Rathbone_Sm.jpg
387
640
Katie Doelle
https://katiedoelle.com/wp-content/uploads/2022/04/KatieDoelle_Logo_NEW1-Sm.jpg
Katie Doelle
2021-01-22 20:45:27
2021-02-05 19:53:15
Historical Architecture of Grosse Pointe – 12 Rathbone Place