Last week we explored 50 Moross. The property was designed for William E. Moran, in 1914, by Louis Kamper – one of the most noted architects to grace Metro Detroit.
This week we head to another property by Kamper as we travel to Washington Road to visit an historic home located at the foot of the street – welcome to 285 Washington.
The address of this property was originally listed as 4455 E. Jefferson, it was then changed to 17631 E. Jefferson, and finally to 285 Washington. The residence is immense in size and stature and once presented an impressive entrance to one of the most prominent streets in the community. Image courtesy of Walter P. Reuther Library, Archives of Labor and Urban Affairs, Wayne State University (1933).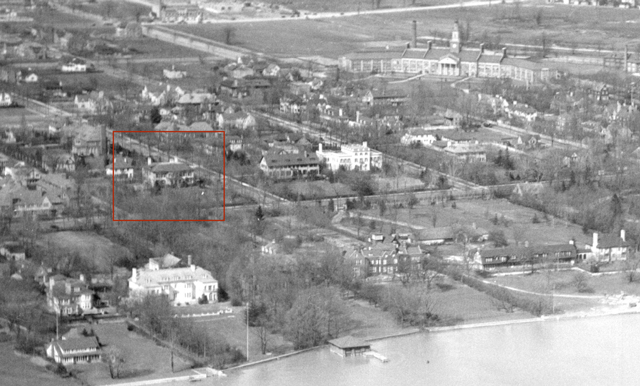 The 7,629 sq ft house was one of the earliest properties constructed on Washington. As one would expect from a property located on "E. Jefferson" during this era, it was surrounded by some rather significant estates – it's neighbors were some of the most prominent figures in the City of Detroit: William Ducharme, David Rust, Frederick Alger, Murray W. Sales, Charles Swift, and Anna Dodge.
285 Washington was completed in 1912, by Louis Kamper for James L. Lee. It is believed the property was one of Kamper's earlier projects in Grosse Pointe. During his career Kamper had a reputation for producing large-scale homes for some of Detroit's wealthiest families. He was also a designer who liked to push boundaries. During the early 20th century, it appears Kamper was particularly fond of Italian Renaissance Style architecture, a style that was becoming increasingly popular with some of the most prominent designers in Detroit. The Italian Renaissance influence on Kamper's work appeared in two further significant properties he designed in Grosse Pointe –1 Rathbone Place (1917) and 251 Lincoln (1923).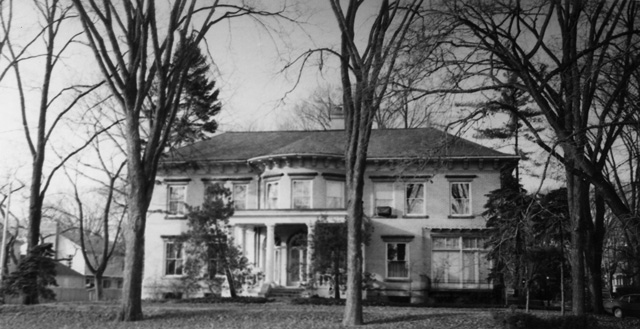 The reoccurring dominant theme from Kamper's Italian Renaissance period was archways, low sloping tiled rooves, and large overhanging eaves. All of which are present on the design of 285 Washington. What makes the design of this property more interesting is the design of the front elevation – a large central portico is supported by eight oversized columns to create an inspiring entrance – this is particularly significant given the location of the home on Jefferson. However, it is the rear of the home that is filled with the beautiful archways that are associated with this architectural style, including the second-floor windows and the substantial covered balcony on the second floor. The right-hand side of the property provides the main entranceway on Washington – the oversized central door is a striking feature from the curved driveway at the side of the home. Images courtesy of Realtor.com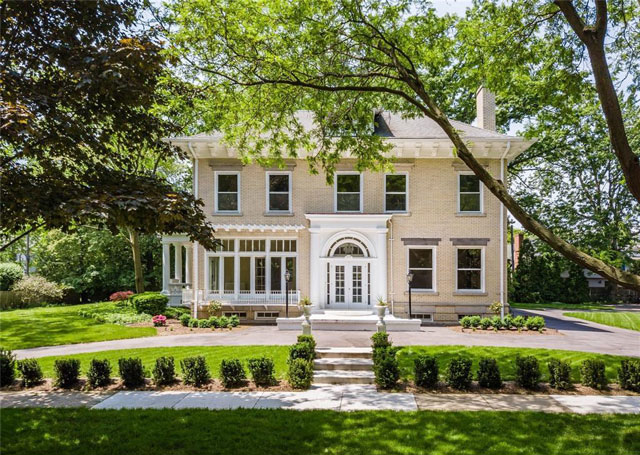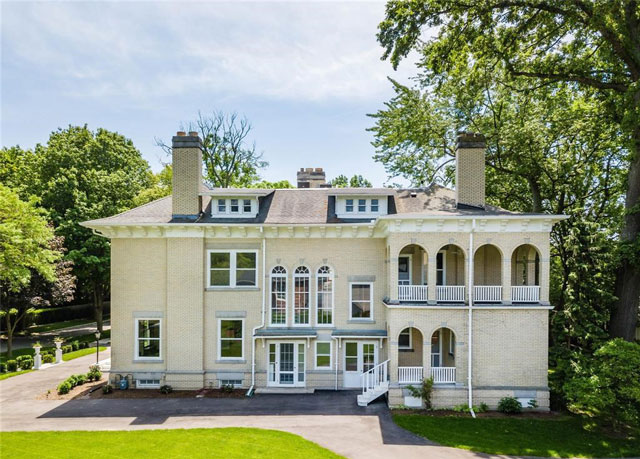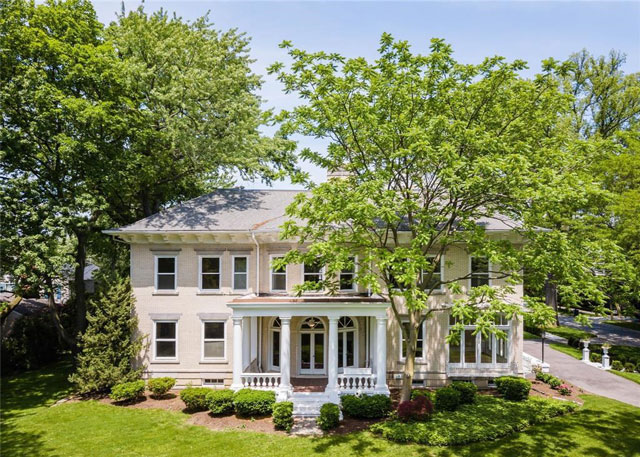 Inside, the vestibule has a marble floor, and a huge 10' x 35' sq ft main hall. The focal point of the 18' x 34' sq ft living room is the three stunning floor to ceiling doors overlooking the front garden. The main floor also features a 12' x 18' sq ft sunroom, a 16' x 24' sq ft library (with fireplace), an 18' x 24' sq ft dining room, and a smaller dining room (originally for staff). The second floor (as per the listing in 1972) had a large 15' x 24' sq ft sitting room (with a bay window), four main bedrooms along with three additional bedrooms for maids. Images courtesy of Realtor.com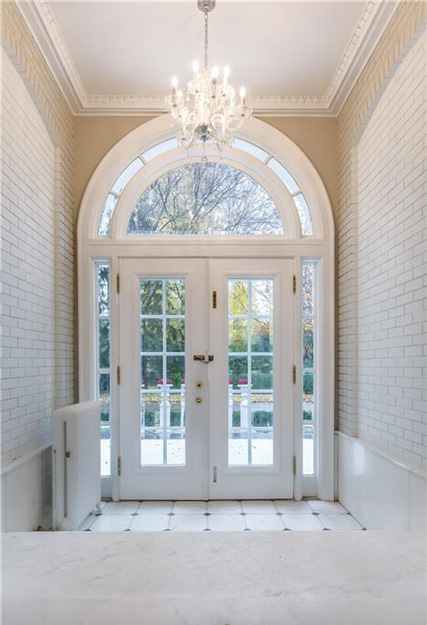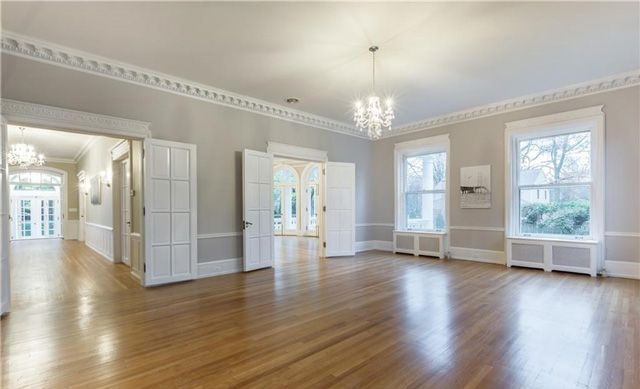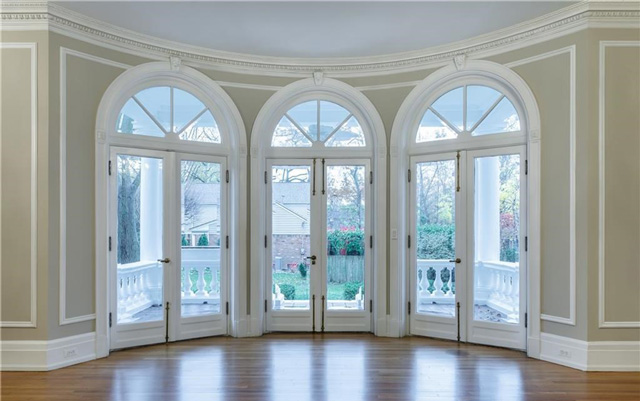 285 Washington was commissioned by James L. Lee and his wife Mary F. Lee (Lawson). It was originally located on three lots. It is possible the property could have been a summer residence – the Lee's winter address was listed as 216 East Grand Blvd (Social Secretary, 1924). From our files, it appears the Lee's resided at 285 Washington until 1929. On December 22, 1929, the Highland Park State Bank obtained a Sheriff's deed to the house. The Lee's were given six months to redeem the house and unless they did during that time, the bank threatened to sell the property for the amount of the Lee's first mortgage and interest ($93,000 plus $19,000) total = $112,000 (around $1.8m today). It appears the house was rented out for a while and subsequently purchased in 1934, by John Palmer Frazer and his wife Frances Frazer (Shaw).
John P. Frazer, born in 1884, was a designer, builder and salesman for luxury homes and owner of John P. Frazer Construction Co. He later became president of Frazer-Couzens Company, a real estate development firm with partner Frank Couzens, son of U.S. senator James Couzens. From an article in the Detroit Free Press (1924) we understand the firm of Frazer-Couzens, in 1924, purchased a substantial amount of land in Palmer Woods to build a group of beautiful homes, each one unusual in design, construction, and appearance. At the time it was reported a $2m was invested in homes in the district. 'The activity, practically all resulted from the operations of the Frazer-Couzens company that purchased, over a year ago, an entire section comprising a great number of the choicest lots in Palmer Woods'. Source: Detroit Free Press, 1924.
John P. Frazer passed in 1972. 285 Washington was listed for sale in November that same year for $120,000 (around $800,000 today). The house was listed with its own lot (165 x 141 – the size of the lot today), while the two additional lots – lot 1 (100 x 135) and lot two (116 x 139) were listed separately. Lot 1 at Washington (now the location of 281 Washington, built in 1979) was listed for $20,000 (around $122,000 today). Lot 2 at Roosevelt Place (now the location of 280 Roosevelt Place, built in 1976) was listed for $25,000 (around $163,000 today). The house itself (and the current lot it is located on) was purchased by artist Jose Calvillo in 1973, for $60,000 (around $367,000 today).
285 Washington is an elegant home created by an elegant designer. It takes its place at the top table as one of THE special homes constructed in Grosse Pointe during the early 20th century.
*Photos courtesy of the Higbie Maxon Agney archives unless stated.
Written by Katie Doelle
Copyright © 2021 Katie Doelle
https://katiedoelle.com/wp-content/uploads/2021/08/285-Washington_Sm.jpg
329
640
Katie Doelle
https://katiedoelle.com/wp-content/uploads/2022/04/KatieDoelle_Logo_NEW1-Sm.jpg
Katie Doelle
2021-08-06 18:12:39
2021-08-06 18:12:39
Historical Architecture of Grosse Pointe – 285 Washington