Last week we explored 30 Beverly Road, a distinctive English Cottage style residence, completed in 1913, by Marcus Burrowes & Dalton R. Wells for Florence L. Pond, daughter of a distinguished lawyer in Detroit.
This week we jump forward to 1947, to visit 22 Lee Gate Lane. This one-of-a-kind modern residence was designing by Hugh T. Keyes for Robert Hudson Tannahill, a renowned art collector in Detroit, nephew of department store king Joseph L. Hudson, and first cousin of Eleanor Ford, wife of Edsel Ford.
During his long and distinguished career Hugh T. Keyes built many significant houses across Metro Detroit. One of his "principal works" was 22 Lee Gate Lane, located at the end of a secluded cul de sac, close to the lake in Grosse Pointe Farms. Keyes was a prolific designer of fine homes in the Grosse Pointes and arguably one of the most diverse architects to ply his trade in the community. His work centered on creating grand estates for the industrialists of Metropolitan Detroit and he was considered one of the most versatile architects to work in southeastern Michigan. Having worked for some of the most renowned architects (Albert Kahn, C. Howard Crane, and Smith, Hinchman, and Grylls) in Detroit during the early 20th century, Keyes opened his own office in Detroit in 1921. During this period of his career Keyes primary focus was residential projects. His earlier work engaged numerous architectural styles. Arguably one of his most charming projects in Grosse Pointe during this era was the Italian Renaissance villa – 221 Lewiston – you can read the full story by clicking here. Prior to 1930, Keyes was heavily influenced by Tudor, French Renaissance, and formal Georgian styles. Post 1930, he switched to international style homes, which was followed by his trademark Regency Moderne style that he would ultimately become most noted for. 22 Lee Gate Lane was one of Keyes most prominent projects in this architectural approach.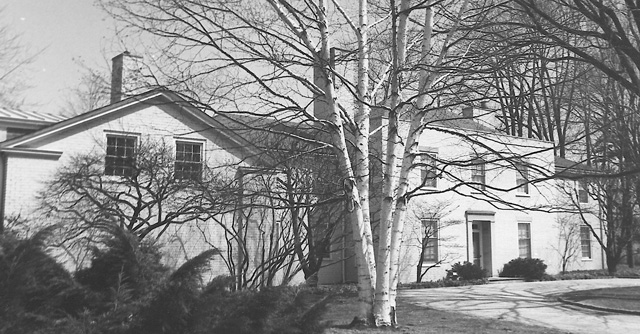 The 5,490 sq ft residence is a white brick construction (with brick pilasters), has a strong symmetrical façade, a slate roof, hipped roofline partially concealed by a parapet (giving the appearance of a flat roof), a dormered (garage) wing, and low walls of matching construction. It is reported 'Robert Tanahill commissioned the home to accommodate his sprawling art collection – the architect would need to match the quality of his art. At the time Tanahill had had a long relationship with the recently deceased Albert Kahn, and Tannahill's choice of Keyes as next in line to design his home was a testament to Keyes standing at the time'. Source: Wikipedia. Image courtesy of Realtor.com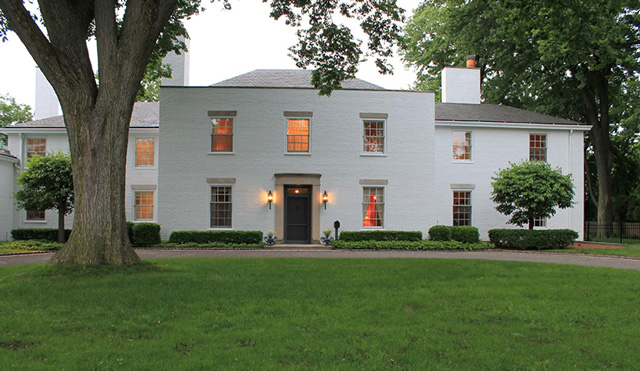 The five-bedroom house was developed with durability, security, and beauty in mind. It was "built like a bunker, meant to stop the spread of fire" to protect the art, using "stout walls and ceilings" made of "a lot of cement". The large windows let in an abundance of light, with the attached glass conservatory overlooking Lake St. Clair. Inside, the floors and ceilings are solid concrete, parquet flooring is a feature of nearly every room, while the fireplaces had imported antique mantels. A 5-foot-tall painting – Woman Seated in an Armchair – that Tannahill called "the mistress of the house" – while several other works by Picasso decorated the stairwell. Meanwhile, a Renoir nude was the main feature in the living room and a Matisse still life hung over the dining room table. Source: Wikipedia. Image below is of the Woman Seated in an Armchair – courtesy of dia.org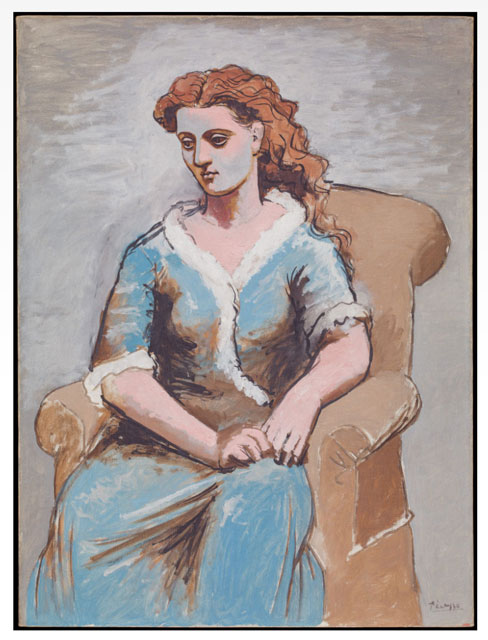 Despite the house resembling a museum Tannahill seldom showed his collection. At the time of completion Tannahill was reported as "becoming increasingly reclusive and protective of his art". He enjoyed being surrounded by the beauty of his paintings. Source: Wikipedia. Robert H. Tannahill resided at Lee Gate Lane up until his death in 1969.
It is also reported 'Tannahill donated almost 500 pieces of art to the Detroit Institute of Arts during his life, and upon his death he bequeathed another 557 pieces (ranging from Impressionist masterpieces to African miniatures) as well as a large acquisition endowment. Tannahill's gifts, valued at around half-a-billion dollars, 'have become among the most recognizable and highly prized paintings in the museum's world-class collection'. Source: Wikipedia.
22 Lee Gate Lane when built, originally had a frontage of 190' on Lake Shore with a depth of approximately 450'. The executors of the estate listed the property for sale for $270,000 (around $2m today). The residence itself was sold in March 1970, for $160,000 – around $1.1m today). It was purchased by Mr. and Mrs. George E. McKean, II – a partner in the Detroit law firm of Dickinson, Wright, Moon, Van Dusen & Freeman. His late father, Robert E. McKean, was a founder of the firm.
From our files we can share the executors were prepared to sell part of the lot that was still owned by the estate, for $110,000 (around $773,000 today). Any sale of the land would have carried with it an easement to extend Lee Gate Lane to provide access to the property from Grosse Pointe Blvd, but would not provide a thru roadway to Lake Shore Drive. The lot available also included land on the lake side of Lake Shore Drive out to the United States harbor line. Our files confirm the property could have been divided into four building lots. Ultimately, the extra land next to Lake Shore Drive was sold – it is now the location of 141 Lake Shore (built in 1975).
Hugh T. Keyes and Robert Tannahill contributed wonderful lasting legacies to the Detroit Metropolitan area. Tannahill's gifts to the DIA are some of the most recognizable and highly prized paintings at the museum today.
*Photos courtesy of the Higbie Maxon Agney archives unless stated.
Written by Katie Doelle
Copyright © 2021 Katie Doelle
https://katiedoelle.com/wp-content/uploads/2021/08/22-Lee-Gate-Lane_Sm.jpg
334
640
Katie Doelle
https://katiedoelle.com/wp-content/uploads/2022/04/KatieDoelle_Logo_NEW1-Sm.jpg
Katie Doelle
2021-08-26 14:18:29
2021-08-26 14:18:29
Historical Architecture of Grosse Pointe – 22 Lee Gate Lane