Last week, in part 2 of relocated, we presented two historic properties that were relocated within Grosse Pointe – they have been fully maintained, restored, and stand today as a reminder of the communities architectural origins in the early 19th century.
This week we head to one of Grosse Pointe's more noted French Normandy residences – 273 Ridge Road, in Grosse Pointe Farms.
This superb example of French Normandy architecture is one of the most distinctive homes in Grosse Pointe. It was completed in 1928, for Owen R. Skelton, chief design engineer at Chrysler, and member of the Automotive Hall of Fame. The design is attributed to Alvin E. Harley. Image courtesy of Library of Congress.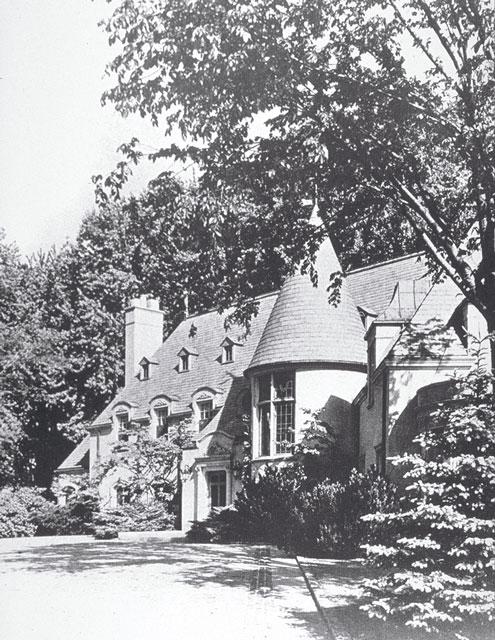 273 Ridge Road is a grand 7,437 sq ft residence. It is located on a uniquely shaped corner lot, with access to the driveway from Ridge Road and Vendome. The three-story stone construction features a dominant conical tower, a steep slate roof, and intricate stone detailing on much of the exterior. The level of detail above the front door and over many of the windows is sublime. The interior of the home is just as unique. The first floor consists of a large reception room, a sunken living room with parquet floor (32' x 19'), a substantial library with fireplace (17' x 14') and an adjoining sunroom (12' x 15'). The main floor also features a dining room with a fireplace (17' x 20'), a marbled floor conservatory, kitchen with a breakfast room, and a butler's pantry. The second floor has five bedrooms – the master bedroom is 20' x 15' sq ft, while two of the bedrooms contain a tub bath. The second floor is also the location of three servants' rooms in the adjoining wing, while the third floor is home to a sixth bedroom and a large hobby room (10' x 25'). The basement has a sizable recreation room with a marble floor. The property also has a three-car garage with additional living space above.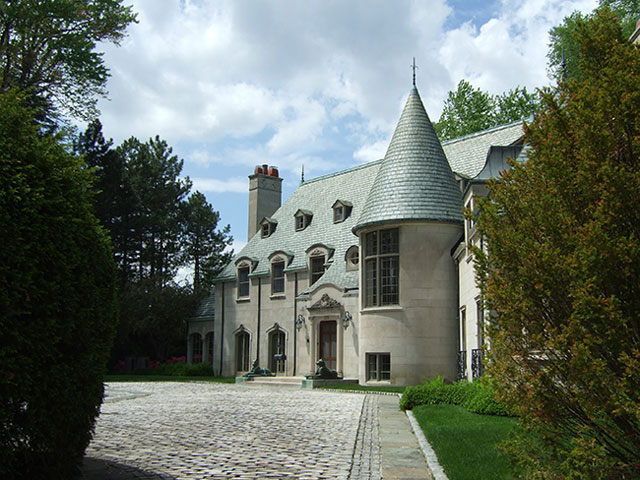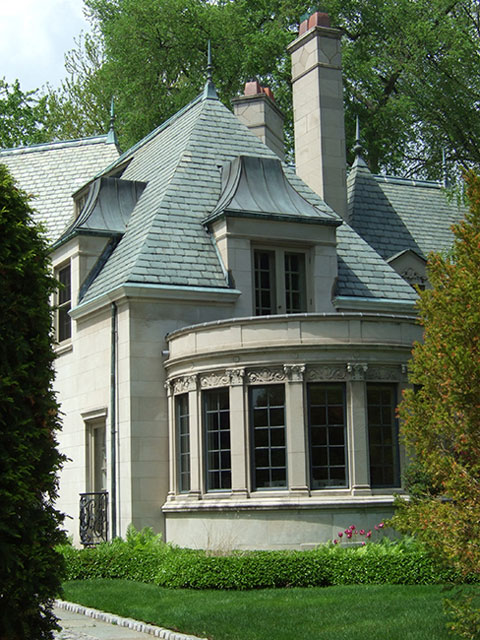 The original owner of the home, Owen R. Skelton, was an automotive designer and a member of the Automotive Hall of Fame. He was born in Edgerton, Ohio in 1886. He graduated from Ohio state University and went to work at the plant (from 1905 to 1907) that made the Pope-Toledo automobile – the Pope-Toledo was one of the most advanced cars of the time – source: allpar.com. In 1907, Skelton took a position at Packard in the design drafting departing. He would later become a specialist in transmissions. In 1914, he joined Studebaker, helping to design Studebaker's new line that was launched in 1918. In 1923, Chrysler hired Mr. Skelton as chief design engineer. He and his team were responsible for the development of a rubber engine mount system for cars, and together Skelton's team conceptualized more than 1,000 separate ideas to attach an engine to the chassis to reduce vibration (utilizing a new system called "floating power"). His work continued to be significant in the development of the rear-engine, all-steel-body that Chrysler continued to develop through the 1930s and into the postwar years. In 1931, Skelton became a vice-president of the newly founded Chrysler Institute of Engineering, and in 1937, became a member of the Chrysler board of directors. After a truly amazing career Owen R. Skelton passed 1969. He was named to the Automotive Hall of Fame in 2000. Source: Wikipedia.
The architect attributed to designing 273 Ridge is Alvin E. Harley, a respected architect who created many grand residences in some of Detroit's more prestigious neighborhoods. Born in Canada in 1884, Mr. Harley joined Albert Kahn & Associates aged 19. He stayed with the firm for two years, before joining the acclaimed firm of George D. Mason. From 1908-1912 Harley formed a partnership with Norma H. Atcheson. From 1913 onwards Alvin E. Harley established his own practice (one that still exists today under the name of Harley Ellis Devereaux). Within a few years, having received a commission to design a large home for the then president of the Chalmers Motor Company, Hugh Chalmers, Harley's residential projects took off and he never looked back. He designed at least eight homes in the elite neighborhood of Palmer Woods, which were quickly followed by several noted commissions in Bloomfield Hills. By 1920 Harley's reputation had grown quickly, so much so, that in 1921, he served as the president of the Michigan Society of Architects. During his height of popularity Harley created several superb residences in Grosse Pointe for Detroit's elite, including:
1328 Berkshire (1924)
1370 Berkshire (1925)
1005 Three Mile Dr (1925)
1168 Three Mile Drive (1925)
895 Edgemont (1925)
1150 Berkshire (1926)
273 Ridge (1928)
273 Ridge Road is arguably one of the most aesthetically pleasing and more popular designs in Grosse Pointe. In an era when the architectural scene in Grosse Pointe Farms changed considerably it is a residence that has its own unique identity and is a reminder of the superb French inspired homes that are so integral to the Grosse Pointe communities.
*Photos courtesy of the Higbie Maxon Agney archives unless stated.
Written by Katie Doelle
Copyright © 2020 Katie Doelle
https://katiedoelle.com/wp-content/uploads/2020/06/273_Front_Sm_Gray.jpg
480
640
Katie Doelle
https://katiedoelle.com/wp-content/uploads/2022/04/KatieDoelle_Logo_NEW1-Sm.jpg
Katie Doelle
2020-06-30 17:23:27
2020-06-30 17:23:27
Historical Architecture of Grosse Pointe – Welcome to 273 Ridge Road