We recently explored 849 Notre Dame, believing it to be the only kit home in Grosse Pointe. Turns out it is the only 'Sears Robuck Kit Home' in Grosse Pointe, but there are in fact other kit homes in the community. Thanks to a wonderful blog 'American Kit Homes', which also included additional research by Ben Gravel, we were alerted to several more possible kit homes in the community.
We would like to introduce you to these homes. This week we will tell the story of an authenticated kit home – 1100 Bishop, and next week we will explore the "probable" kit homes that exist in the Woods and the City.
Kit homes, also known as mail-order homes or catalogue homes, became popular in the United States and Canada in the first half of the 20th Century. Between 1908 and 1940 over 100,000 kit homes were built in the United States: Source Wikipedia. Several companies, (with many based in Michigan and Illinois, including major competitors – Sears Modern Homes, Aladdin and Sterling Homes), offered houses with an abundance of plans and styles. The designs ranged from simple bungalows to more complex colonials.
The majority of the materials, supplied at a fixed price, were delivered initially by railroad to the local area, and then by truck to the construction site.
A typical house would contain between 10,000 – 30,000 components. Brick, concrete, and/or masonry were not included in the price, neither was construction. Upon delivery the purchaser would then either build the house themselves of hire local contractors to construct the home.
Kit homes were typically advertised in magazines and newspapers, and sold through mail-order catalogues. The purchaser could opt to purchase a standard kit or upgrade the design to include additional options such as extra rooms and advanced technology, such as updated pluming and heating systems. Prices, in 1920, were in the vicinity of $1,500 – $3,000 (around $21,000 – $41,000 today).
Aside from 849 Notre Dame, a further great example of a kit home is 1100 Bishop, Grosse Pointe Park (both homes have been authenticated by stamps found on the lumber inside the house). 1100 Bishop is a Vernon Kit Home, sold by Sterling Homes, International Mill and Timber Company, Bay City, Michigan. According to research on the blog American Kit Homes: 'This home has been authenticated through the finding of stamped lumber in the basement by the home's current owner, and was originally built by contractor Alexander Russell Keys for himself and his family'. Image courtesy of Katie Doelle.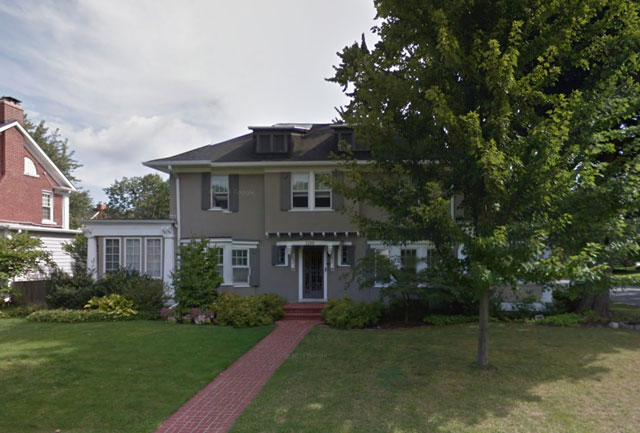 Constructed, we believe, in 1921 this 2,250 sq ft Colonial house was possibly one of the larger kit homes on the market during this era. It is designed in a classic Colonial Revival style, with a symmetrical front facade, central entrance, with small dormer windows in the roof. Based on research from antiquehome.org this kit provided an extremely spacious residence, including three bedrooms, a main staircase, a further bedroom for a maid and a service staircase. From the floor plan below we can see the layout of the first floor was rather generous, offering a dining room, living room, a large hall along with additional space in the adjoining porch and sunroom at each side of the house.
Sterling Homes (along with two other major kit home manufacturers) were located in Bay City, Michigan, and were manufactured by International Mill and Timber. The designs of many of the homes in their catalogue were created to 'reflect the most popular styles of the day including Craftsman-style bungalows, Colonial Revival style homes, as well as tiny cottages'. Source: http://www.arts-crafts.com/.
It is believed, prior to 1920, Sterling Homes were one of the major competitors to Sears Modern Homes in the increasingly competitive kit home market. However after running into financial difficulty, in part due some purchasers defaulting on their mortgages, the company went bankrupt in 1922. It was then restructured and continued to build homes until the 1960's. You can read the full story by clicking here and also view a slide show of their product catalogue from 1920-1921.
The Vernon Kit Home located at 1100 Bishop is an excellent example of a superb home from the 1920's. It is a charming residence, a result of an innovative method that offered customers the chance to select, build and own their own home.
Next week, in part two of our kit home story, we present you with three "probable" kit homes. Could there be more? If anyone out there knows of any other kit homes we would love to hear from you.
*Photos courtesy of the Higbie Maxon Agney archives unless stated.
Written by Katie Doelle
Copyright © 2016 Katie Doelle
https://katiedoelle.com/wp-content/uploads/2017/01/849-Notre-Dame_sm.jpg
410
640
Katie Doelle
https://katiedoelle.com/wp-content/uploads/2022/04/KatieDoelle_Logo_NEW1-Sm.jpg
Katie Doelle
2017-01-31 13:59:42
2022-03-02 23:03:41
Historical Architecture of Grosse Pointe – Grosse Pointes Kit Homes – Part 1