Last week we presented 115 Lake Shore, the superb mid-century home designed by Carl Habermas, in 1953, for auto dealer Stark Hickey.
This week we stay with the modern architectural approach as we explore 15882 Lakeview Court, designed by renowned Detroit architect Gino Rossetti, in 1977, as his own residence.
Gino Rossetti, son of renowned architect Louis Rossetti, who designed Cobo Hall, founded the architectural firm ROSSETTI in 1969. Early on the firm's primary focus was working on health care facilities, corporate head quarters, and retail planning. In 1984 the firm was commissioned to design The Palace of Auburn Hills. After this major success in the field of sports entertainment, ROSSETTI began to work with clients worldwide, with a focus on sports and entertainment, including stadiums for soccer, tennis, NHL, NFL, NBA teams, along with multiple college stadiums. Source: Wikipedia. Gino's son, Matt, now owns ROSSETTI. Gino Rossetti is retired and now lives in Denver.
15882 Lakeview Court is one of the more unique homes in Grosse Pointe. The 4,700 sq ft asymmetrically designed five-bedroom residence is located on a stunning lot next to the lake. Constructed from steel, the design uses cantilevers instead of beams so not to obstruct the view of the lake. The exterior is clad in wood, while the interior features an abundance of redwood and glass, high ceilings, and dramatic angles. The floor plan is set through five different levels, accessed by a few steps to each level. There are multiple skylights throughout, and many of the rooms include half circles in their floor plan. Source: The Detroit Free Press, article by Judy Rose.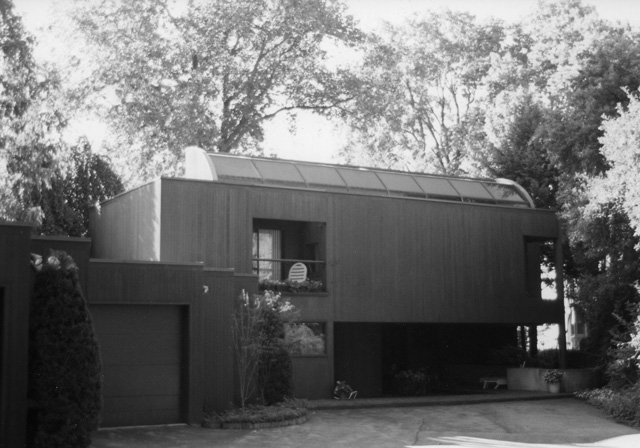 On the main floor, the 24' x 9' foyer features a redwood clad round tower, while the 16' x 26' sq ft living room, with a large wall clad in redwood, has a sunken seating pit around the fireplace. Throughout the five levels are interesting spaces that are used to hold plants, or provide additional places to sit. There is an abundance of built in storage space so that it is part of the overall design. What makes this house so interested is that every inch has been considered – whether it is a space, storage or a wall treatment. It is utterly unique. Images courtesy of Realtor.com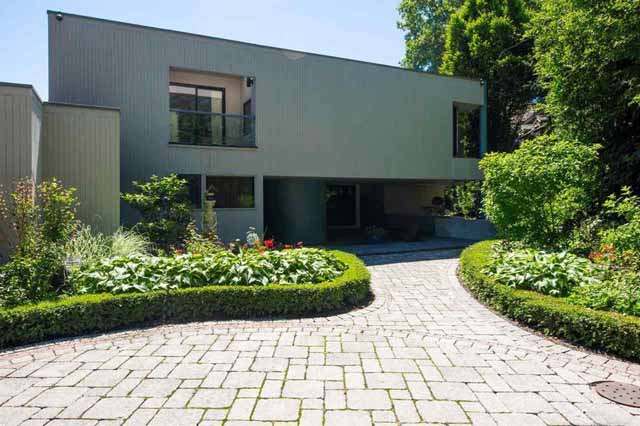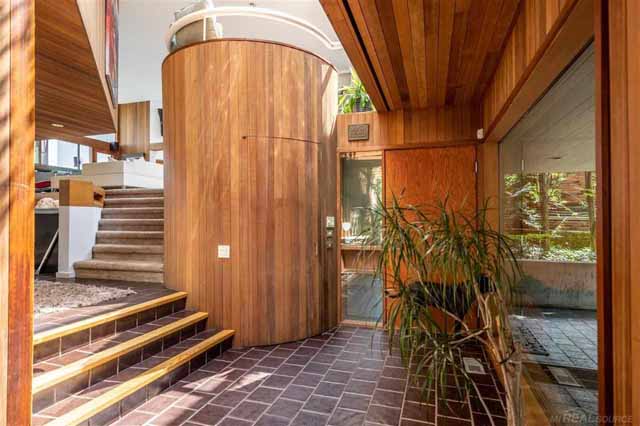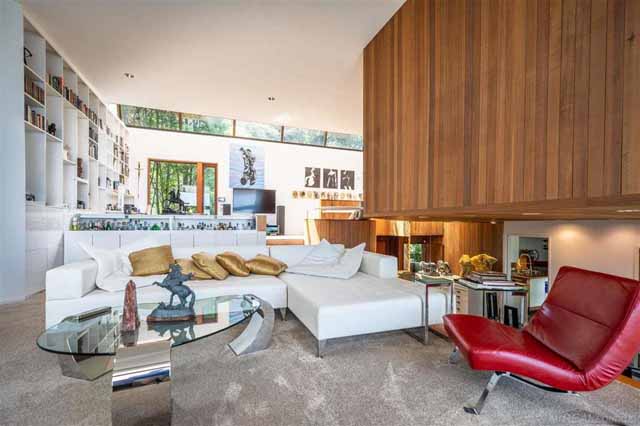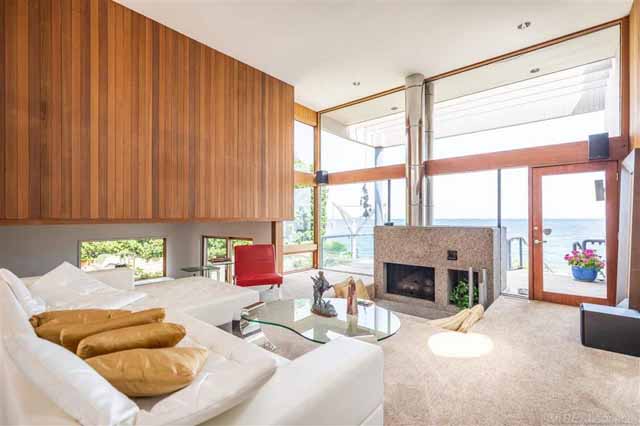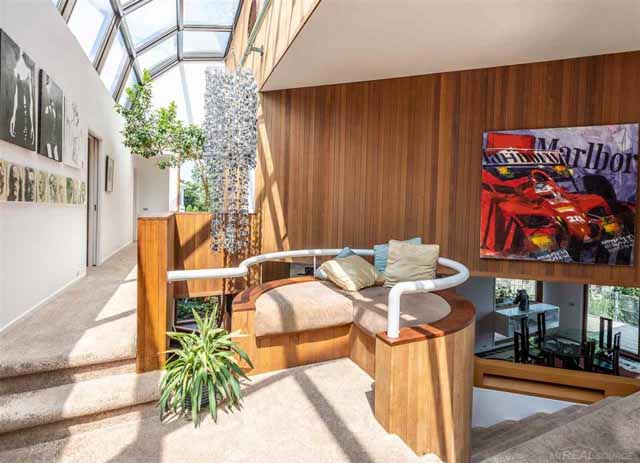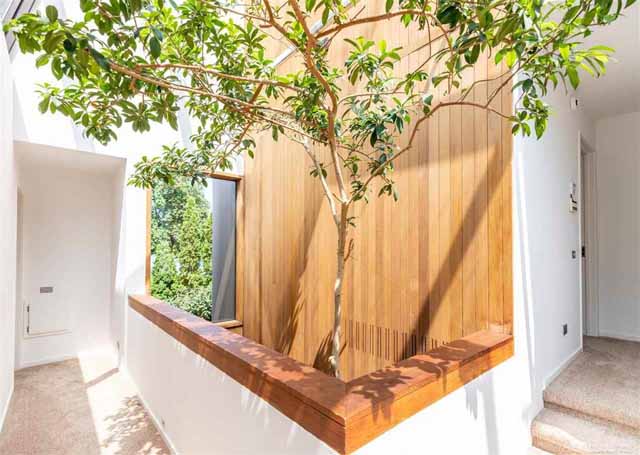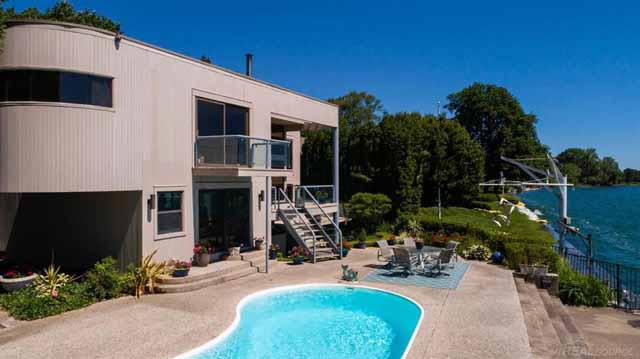 The current owner has lived there for 21 years. The article by Judy Rose states 'he has kept the house very original, but from one big addition, a lavish wine cellar, which measures 17' x 21' sq ft. Source: The Detroit Free Press, article by Judy Rose. The property is now on the market again for $1,725,000 – it is believed this will be only the second time it has been sold since 1977. Image courtesy of Realtor.com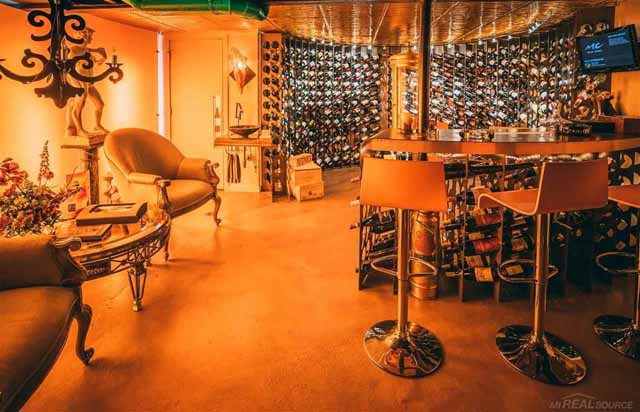 Gino Rossetti's father, Louis also designed his own home in Grosse Pointe, located at 1145 Balfour. He designed the residence in the late 1930's, and he and his family moved into the house in 1941. The 2,878 Sq ft, modern style five-level home was built in 1940. The exterior white stucco walls feature a few bands of glass block, while the casement windows are tucked up close to the eaves. Louis Rossetti designed it in such a way that when viewed from any angle the house presents several overlapping, projecting walls that make it a particularly interesting design. Terra cotta steps lead to the front door, which is set in a niche behind a half-wall, while an L-shaped extension of the first floor extends outwards from the rear of the home. At the time of construction the house contained many innovative elements for its time, including a central ventilation system, load bearing cinder block walls and a multi level, open floor plan free of hallways. The design also includes a spacious living and dining area, a large family room (25 x 25 sq ft) with a skylight, and a kitchen with brushed chrome cabinetry, along with four bedrooms.
Louis Rossetti was born in Paris in 1895. He served in World War 1 as a captain, receiving the silver medal of valor for his service. After graduating from Rome University, in 1924, he won a scholarship in America. By 1928 he had established himself as an architect in Detroit and began a partnership with Raymond Giffels, the firm was named Giffels & Rosetti. Come the 1950's Giffels & Rossetti had become one of the largest firms in the country, and produced work around the world. Louis was director of architecture and the firm had over 950 employees.
The Rossetti's, Louis and Gino, were not only skilled architects, but they both left a lasting legacy of modern architecture that is still making its presence felt on the Grosse Pointe architectural scene today.
Written by Katie Doelle
Copyright © 2019 Katie Doelle
https://katiedoelle.com/wp-content/uploads/2019/09/15822-Lakeshore_Sm.jpg
448
640
Katie Doelle
https://katiedoelle.com/wp-content/uploads/2022/04/KatieDoelle_Logo_NEW1-Sm.jpg
Katie Doelle
2019-09-24 16:12:05
2019-09-24 16:12:05
Historical Architecture of Grosse Pointe – Welcome to 15882 Lakeview Court