Last week we explored one of the finest homes in the community, 17315 E. Jefferson. Charles A. Platt completed the classically designed Georgian style house in 1927for Mrs. Arthur McGraw.
This week we jump forward to 1939 to present 176 Fisher, designed by Clarence Mack.
Grosse Pointe is awash with homes created by prominent architects who created multiple projects, not only in the community, but in some instances on the same street. Many of these designers created a large collection of homes; Robert O. Derrick was one of the most prolific with over 25 buildings to his name. This week however, we turn to the nationally noted architects who came to the community to work on one project (based on what that we can find). These rare treasures were created from 1919 through to 1970. Such examples include:
Meade and Hamilton – 1008 Bishop (1919)
George V. Pottle – 812 Whittier – (1927)
Guy Lowell – Grosse Pointe Yacht Club (1929)
Weston and Ellington – 61 Kenwood (1929)
Bernard C. Wetze – 243 Lakeland (1929)
Donaldson & Meier – 1015 Berkshire (1929)
August Geiger – 217 Touraine (1929)
Duncan Chandler – 30 Preston Place (1932)
Harrie T. Lindeberg – 481 Kercheval (1935)
Gavin Hadden – GP Tennis House, 360 Mossell Place (1936)
Eliel and Eero Saarinen – 203 Cloverly (1937)
Marcel Breuer – Grosse Pointe Central Library (1951)
Milton Grigg – 320 Provencal (1956)
Paul Rudolph – 3 Cameron Place (1970)
Clarence Mack is another name that can be added to the list of 'one hit wonders' with his project at 176 Fisher. So far we have been unable to find any other homes in the community by this prestigious designer, developer, and master builder. Mack was born in Cleveland, 1888.  His grandfather, father, and uncle were all builders. Based on research by Case Western Reserve University we understand Mack did not study architecture in college, and had no formal training in this field. He did, however, spend 10 years studying architecture in Europe and the Cleveland area. Color image courtesy of Google.com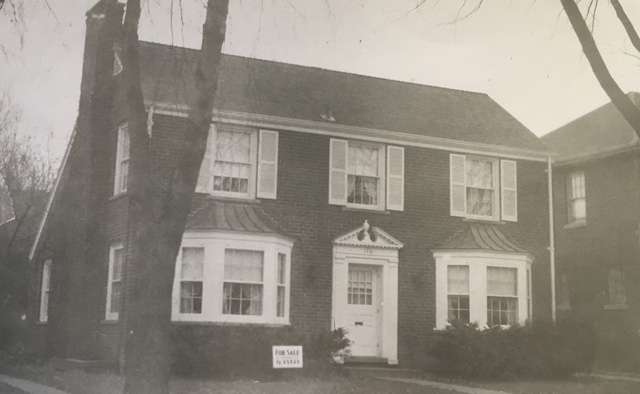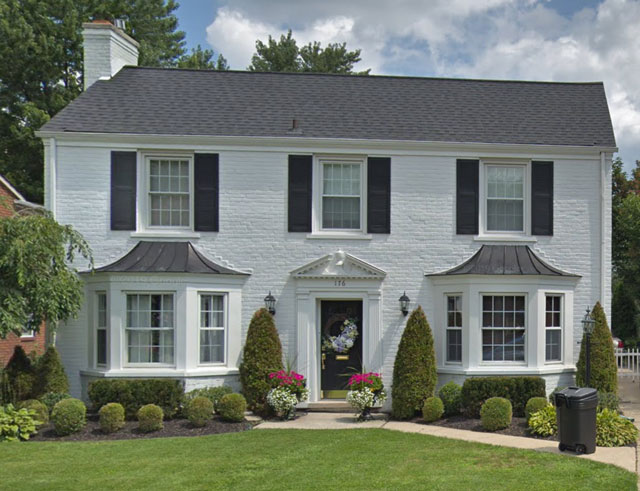 During the 1920's Mack was a prominent designer in Cleveland, and was best known for the projects he created between 1925 and 1932. He designed numerous classically styled large Georgian, and French Eclectic homes in Lakewood for wealthy clientele – at least 19 homes, and a further 8 homes in Shaker Heights. The university research explains 'Mack's houses were all apparently built for speculation; he is said to have bought the property, designed each house, acted as the contractor, then furnished and lived in many of them before they were sold'. It is apparent that many of the interior furnishings Mack selected were purchased from England and France. One of his most prominent commissions was for Mr. and Mrs. Charles Kelley King, in 1926. The 47-acre estate, in Mansfield, Ohio, reportedly cost $400,000 (around $5m today) In 1953 it opened as a public garden. Image courtesy of eventective.com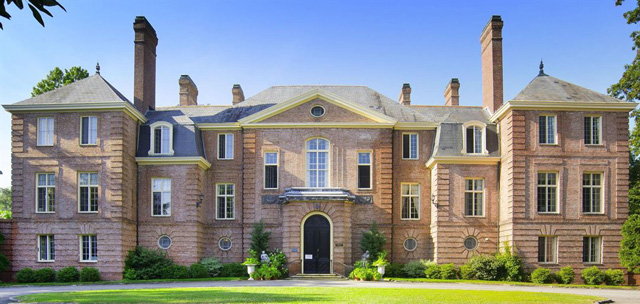 It appears the great depression significantly affected Mack's business. It is understood that he spent five years traveling around the word before relocating to Palm Beach in 1935 where he continued to design and build in the area until 1962 when he retired. He passed in 1982, at the age of 93.
Here in Grosse Pointe Clarence Mack created 176 Fisher in 1939 – a very pretty traditional brick built center entrance colonial. It is not clear who commissioned the home, or whether it could have been another of Mack's spec homes, but we do know it was listed for sale in 1954, with the owner recorded as Kendrick Read.
The career of Clarence Mack is particularly interesting. Given that he had no formal training he created many superb homes in the United States. We would love to know more about him, and whether he had any other projects in Grosse Pointe – if anyone has any additional information please get in touch.
For now we will enjoy the home he created on Fisher, knowing that he is in esteemed company with the other prestigious architects who completed their one and only project in Grosse Pointe.
Written by Katie Doelle
Copyright © 2019 Katie Doelle
https://katiedoelle.com/wp-content/uploads/2019/09/176_Old.jpg
394
640
Katie Doelle
https://katiedoelle.com/wp-content/uploads/2022/04/KatieDoelle_Logo_NEW1-Sm.jpg
Katie Doelle
2019-09-03 16:08:35
2019-09-03 16:08:35
Historical Architecture of Grosse Pointe – Welcome to 176 Fisher