Last week we profiled the work of Harlow N. Davock. He designed at least five homes in Grosse Pointe from 1913 through to 1920, including four homes on Washington as part of the 'Grosse Pointe Colony' development in Grosse Pointe City.
This week we head to 223 Lake Shore, a lost estate that was commissioned by John Francis Dodge, in 1918, but was never fully completed.
John Francis Dodge hired the firm of Smith, Hinchman & Grylls, in 1918, to design what was intended to be the largest residence in the Detroit Area. Located on an 11 acre, 376' x 1200 feet lot, Dodge had planned for the lavish home to be one of the "finest in the country".
According to research in Tonnancour it is understood the project was assigned to Bloodgood Tuttle, (of Smith, Hinchman, & Grylls) to design the residence. From an article in the Grosse Pointe News, 1941, we understand the three-story property would have over an acre of floor space, with 110 rooms, 20 baths, and a 21' x 60' sq ft swimming pool. The property would also include a magnificent garden, green houses, and a boat well (located across Lake Shore Road that would be connected to the house by a large tunnel. Images are courtesy of Wayne State University's Virtual Motor City Collection, 1925.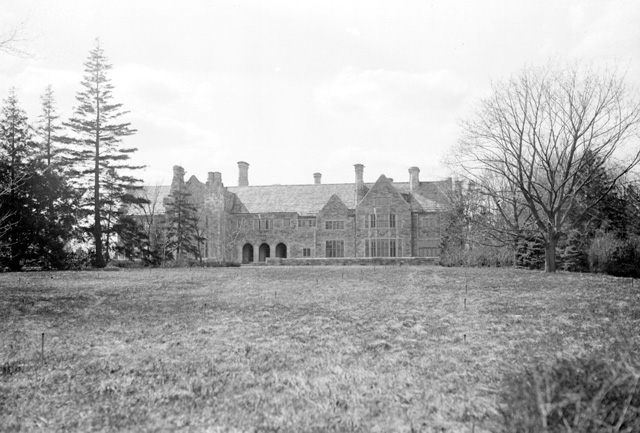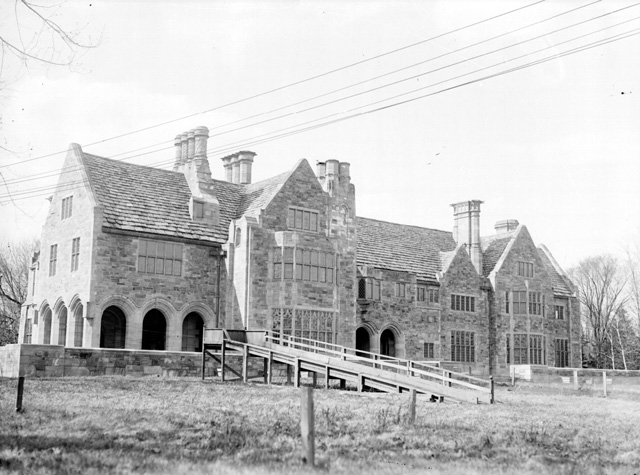 Sadly, in January 1920, before construction the house was completed, John Dodge – while attending an auto show with his brother in New York City – contracted influenza and pneumonia during the flu pandemic. John died on January 14, 1920, at the age of 55. His wife, Matilda, was understandably devastated and halted construction of the couple's new home. It is reported (in the Grosse Pointe News, 1941), that more than $2,500,000 (around $36 million today) had already been spent on the project – the steel and concrete frame, the hand cut stonework of the home, garages, greenhouses, landscaping and the boat well etc. Prior to Dodge's unexpected death it is reported the couple had hired New York City based landscape architect, Charles Wellford Leavitt, to design the grounds.
Leavitt was an American landscape architect, urban planner, and civil engineer who designed everything  – elaborate gardens on Long Island, grand estates in New Jersey, federal parks in Cuba, hotels in Puerto Rico, sports stadiums, and plans of towns in the states of Florida, and New York. Leavitt became a much sought-after specialist, particularly in landscape and garden design. He created the gardens at countless large estates owned by some of America's wealthiest families, including Walter P. Chrysler, Charles Schwab, and William C. Whitney. Leavitt was also one of the preeminent landscape architects of his era and helped found the study of landscape architecture at New York City's Columbia University, where he was one of the first three professors in the University's new four-year program in the discipline. After setting up his own practice in New York City in 1897, he completed projects across the United States. Leavitt passed in 1928, aged 57. The firm, which had become Charles Wellford Leavitt & Son, remained active until 1940. Source: Wikipedia.
223 Lake Shore was an empty shell when the project was halted – walls were never plastered, and many windows were never put in. It is reported, the only completed part was the DePetris greenhouses. It is also reported (in the Grosse Pointe News, 1941), that the property was put up for sale; with several real estate firms offering to subdivide the land if the estate paid to put in roads etc., however it remained for sale for several years, but nothing was decided. It is reported from 1920, when the structure was abandoned, up until it was sold, in 1941, Mrs. Dodge had continued to pay taxes on the estate that amounted to $155,000 (around $2.7 million today) – the property had stood uncompleted for 21 years and had become a popular place for local children to play. In 1941, it was decided if the home was torn down the land would be more marketable. It was dismantled that same year. Image courtesy of Michigan Architect and Engineer.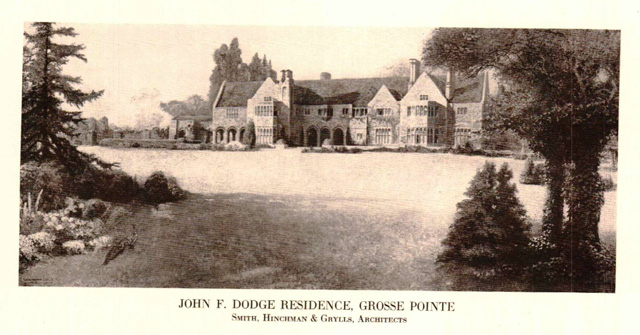 After her husbands death Matilda inherited his share of the Dodge Brothers Company and became one of the wealthiest women in the United States. In 1925, Matilda Dodge married Alfred Wilson, a lumber baron. Together they commissioned Smith, Hinchman & Grylls once again to design and build a new home – an 88,000' sq ft, 110-room mansion (to be named Meadow Brook Hall), on the 320-acre farm estate that John and Matilda Dodge had purchased, in 1907, as a weekend country retreat. It is understood the project was assigned to William E. Kapp (of Smith, Hinchman & Grylls) to design the extravagant home. Work on Meadow Brook Hall began in 1926, and was completed in 1929, at a cost of nearly $4million (around $61 million today). Upon completion it was one of the finest examples of Tudor-revival architecture in the United States, inspired by the country manor homes of England along with incorporating many details from 223 Lake Shore, including windows, stonework, and the arches.
In 1927, during the construction of Meadow Brook Hall, Matilda and Alfred went on a second architectural tour of England accompanied by their architect. Many of the architectural details of the hall are based on specific examples of the historic rooms – found in English manor houses of the 16th, 17th and 18th centuries – they had viewed on their trip. However, much of the interior was made, to a large extent, from American materials, installed by American craftsmen. Source: meadowbrookhall.org.
The architect who created 223 Lake Shore, Bloodgood Tuttle, worked on at least three projects in the Grosse Pointe community (223 Lake Shore, 840 & 920 Balfour) His first project, and most impressive creation was 223 Lakeshore. At the time he was associated with Smith, Hinchman & Grylls – one of the oldest architectural firms in America.
223 Lake Shore takes its place in history as what would have been one of the finest homes in Grosse Pointe, if not the state of Michigan. If anyone has any additional details on the home we would love to hear from you.
We would like to thank Dean for contacting us about 223 Lake Shore – it was fascinating to research the story behind this lost residence.
*Photos courtesy of the Higbie Maxon Agney archives unless stated.
Written by Katie Doelle
Copyright © 2021 Katie Doelle
https://katiedoelle.com/wp-content/uploads/2021/04/223-Lake-Shore_2_Sm.jpg
475
640
Katie Doelle
https://katiedoelle.com/wp-content/uploads/2022/04/KatieDoelle_Logo_NEW1-Sm.jpg
Katie Doelle
2021-04-13 16:17:38
2021-04-13 16:17:38
Historical Architecture of Grosse Pointe – The Lost Estate, 223 Lake Shore