Last week we presented the story of 17800 E. Jefferson, completed by Albert Kahn for Charles M. Swift in 1905 – now a lost estate.
This week we turn our attention to the house next-door – 17840 E. Jefferson, "Rose Terrace I", completed in 1910, for Horace Elgin Dodge – another of Albert Kahn's masterpieces. Given the significance of this property and its successor we thought it was about time to tell the story of "Rose Terrace I", and its later replacement "Rose Terrace II" next week. Photo is courtesy of: Legacy of Albert Kahn by W. Hawkins Ferry.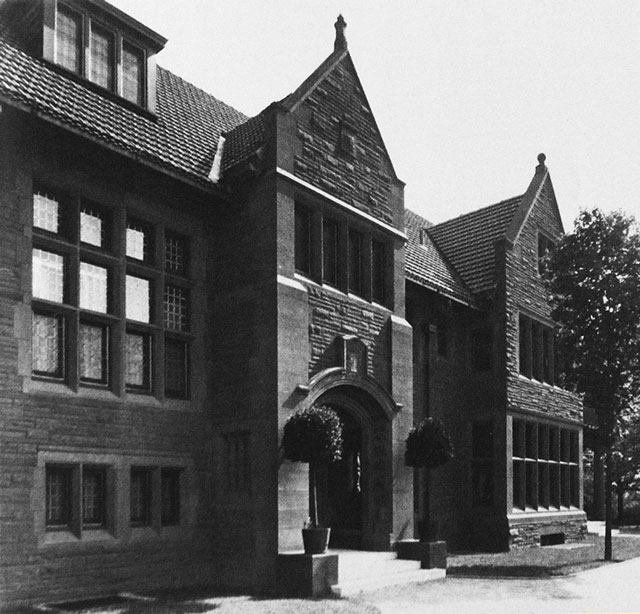 "Rose Terrace I" was located at 17840 E. Jefferson. Prior to its commission Horace E. Dodge, the younger of the Dodge siblings, had purchased land adjoining the former Detroit Country Club (demolished in 1907) on Jefferson Avenue (near Fisher Road) in order to be closer to the water. Kahn selected to create the grand residence in a gabled Jacobean approach, in keeping with his more formal style of that era. The house was constructed of rugged red sandstone with a green tile roof. The design featured banks of large mullioned windows that providing a perfect of Lake St. Clair and the private dock where the couple moored their yacht, the Delphine (named after their daughter), a 45-feet long launch which Mr. Dodge used to commute to downtown Detroit. At the rear of the property the lush formal gardens were accessed through a large porch that had Tuscan columns and a dominant balustrade. Based on an article in the Detroit News (June, 2000) we understand the name "Rose Terrace: came from the collection of roses that were a favorite of Mrs. Dodge. Photos are courtesy of: The Grosse Pointe Historical Society and the book – Legacy of Albert Kahn by W. Hawkins Ferry.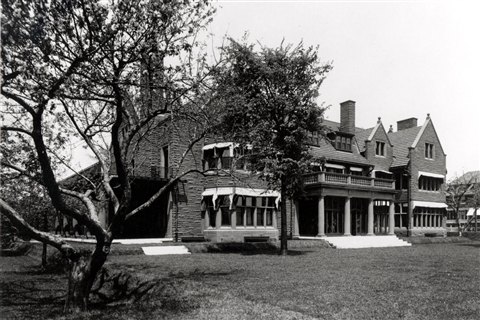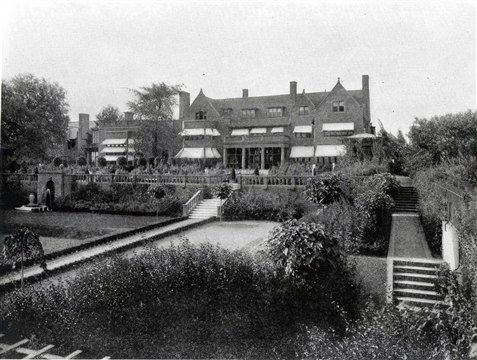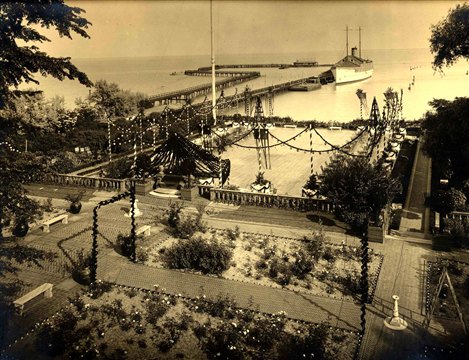 The interior of the property, as depicted by the photos below, was an opulent affair – filled with wood paneling, decorative ceilings and intricate carvings. Images are courtesy of: The Grosse Pointe Historical Society.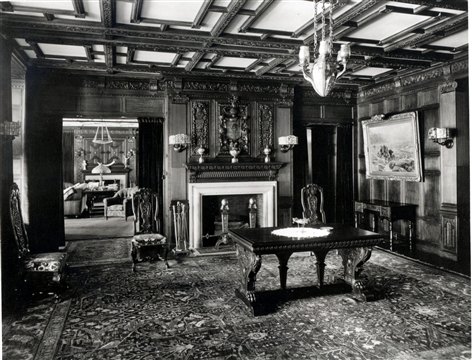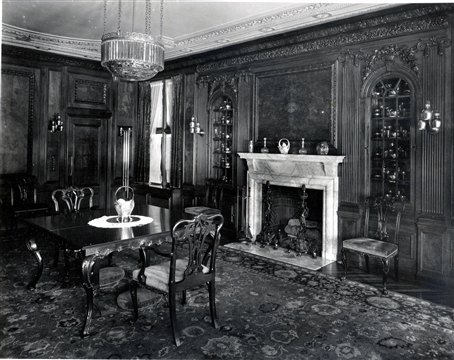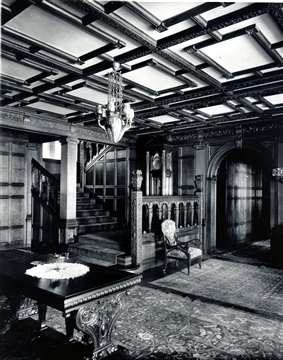 Horace Elgin Dodge was born in Niles, Michigan in 1868. It is reported that Horace, and his elder brother John were inseparable as both children and adults. In 1886, the Dodge brothers moved to Detroit where they took jobs at a boilermaker plant. Six years later, in 1894, they went to work as machinists at the Canadian Typograph Company in Windsor, Ontario. In 1896, Horace Dodge married Anna Thompson, who was born in Scotland. Together they had two children Horace Jr. and a daughter Delphine.
Horace was a gifted mechanic and inventor. In 1897, he invented the first dirt-proof ball bearing, he and his brother made a deal with a third-party investor to manufacture bicycles. Having sold the business in 1901, the brothers used the proceeds to set up their own machine shop in Detroit, making parts for the auto industry. In 1902, they won a contract to manufacture transmissions for the Olds Motor Vehicle Company. The following year, in 1903, they turned their attention to a new project – building engines for the new Ford Motor Company. After supplying engines to Ford for ten years the Dodge brothers formed 'Dodge', creating motor trucks, ambulances and other vehicles for the military for World War 1. In 1917, they produced their first commercial car. Source: Wikipedia.
The brothers were not only taking the manufacturing world by storm, they were by now playing a major role in transforming and influencing real estate throughout Metro Detroit. In 1918, John F. Dodge, purchased the neighboring property to his brother, 17800 E. Jefferson, from Capt. Herbert Hughes for a rumored price of $250,000 (around $4.2 million today). In 1920, "Rose Terrace 1" was rated as one of the finest homes in America. That same year, having traveled to New York in January to attend an Auto show, both brothers passed from pneumonia contracted during the influenza epidemic – John passed in January, 1920, and Horace in December 1920.
Six years later, in 1926, Horace's widow, Anna Thompson, now one of the world's wealthiest women, purchased John's former home, 17800 E. Jefferson, as a gift for her son, Horace, Jr. That same year she married former actor Hugh Dillman. Source: Tonnancour, Volume 1. Shortly after Mrs. Dodge and her new husband decided to build a new mansion – "Rose Terrace II". The original "Rose Terrace" was razed in 1931, to accommodate the new property. Mrs. Dodge commissioned Horace Trumbauer, a prominent architect from Philadelphia to design her new home – to be set on an 8.8-acre site. Mr. Trumbauer was a noted designed of the Gilded Age known for creating residential manors for the wealthy. For "Rose Terrace II" is believed that Mrs. Dodge asked Trumbauer to design an enlarged version of a home in Newport called "Miramar" – a French-style Louis XV château that Trumbauer had completed in 1911, for George Dunton Widener, a prominent businessman in Philadelphia. "Miramar" was a house Mrs. Dodge greatly admired, but she wanted her version to be bigger!
We will be continuing the story of "Rose Terrace II" next week.
*Photos courtesy of the Higbie Maxon Agney archives unless stated.
Written by Katie Doelle
Copyright © 2020 Katie Doelle
https://katiedoelle.com/wp-content/uploads/2020/05/Rose-Terrace_1_Sm.jpg
614
640
Katie Doelle
https://katiedoelle.com/wp-content/uploads/2022/04/KatieDoelle_Logo_NEW1-Sm.jpg
Katie Doelle
2020-05-19 16:37:08
2020-05-19 16:37:08
Historical Architecture of Grosse Pointe – The Lost Estates – Rose Terrace I and II – Part 1