Last week we presented 78 Kenwood Road – arguably one of the finest examples of an English Cotswold inspired home in Grosse Pointe Farms. Hugh T. Keyes completed it for Edward Macauley, in 1928.
This week we head to one of the more prominent streets in Grosse Pointe City to explore 333 Washington. Completed, in 1913, it was designed by Rogers & Bonnah for William B. Colburn.
As with many homes built in the early 20th century 333 Washington does not have an instantly identifiable architectural style. One could argue it is based on an English Cottage approach with several typical characteristics – an asymmetric configuration, a steeply pitched roof, large flat chimneys, arrangements' of tall narrow windows, multiple smaller windows (in bands), stucco on the front façade, and a tile roof. There are several excellent examples of this approach in the community from this era, including 34 Beverly (built in 1913 – pictured below), 70 Moran (built in 1919, demolished in 1957), 1175 Three Mile (built in 1925), and 25 Roslyn (built in 1922). The English Cottage style is a particularly interesting architectural period – many talented architects created an array of projects that have their own unique identity. While there are elements that are instantly recognizable, in part the design was left to the architect's own interpretation of this approach.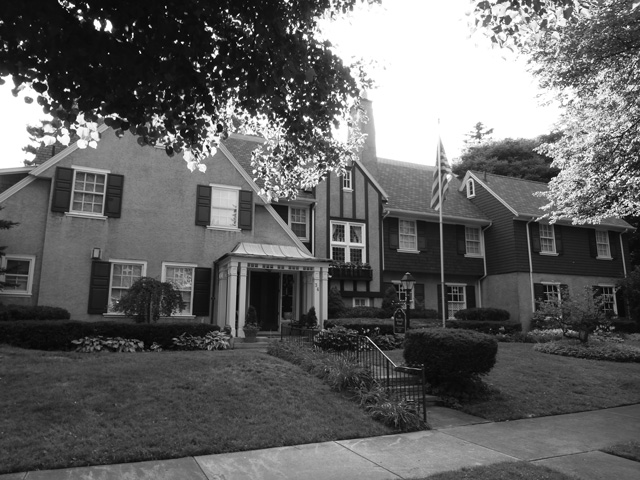 The front elevation of 333 Washington is aesthetically appealing; the myriad of differently sized windows provides an interesting contrast to the steeply pitched roof, and the sharp triangular gable on the side elevation. The 4,400 sq ft asymmetric home includes a carriage house built in a style that reflects the main residence. The interior features beautiful woodwork throughout, with paneling in the living room and oak floors. The first floor consists of a long narrow 7' x 30' sq ft foyer, a 25' x 15 sq ft living room, an 17' x 13' sq ft dining room and a 15' x 14' sq ft library, while the second floor includes four bedrooms, with two additional bedrooms on the third floor for maids. The large basement has a recreation room, along with a pub room complete with wet bar. The three-car garage also includes one bedroom and bathroom, along with a workshop and a tool house. Color Images: courtesy of Realtor.com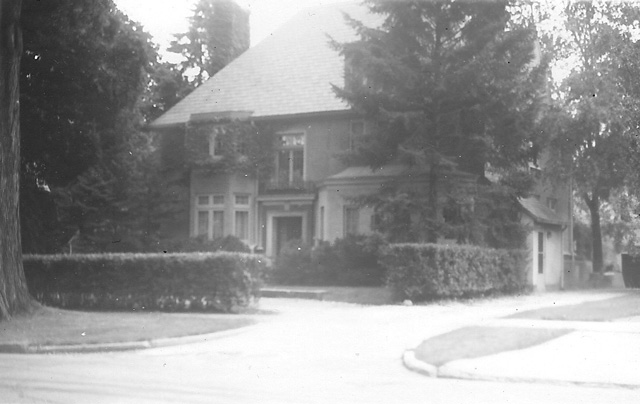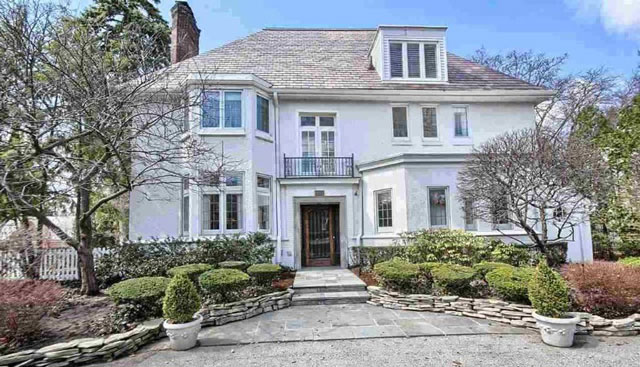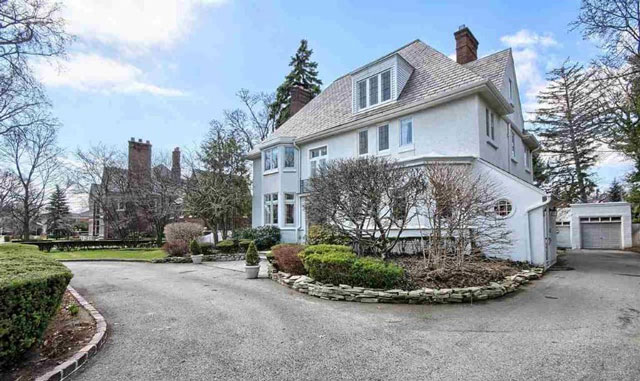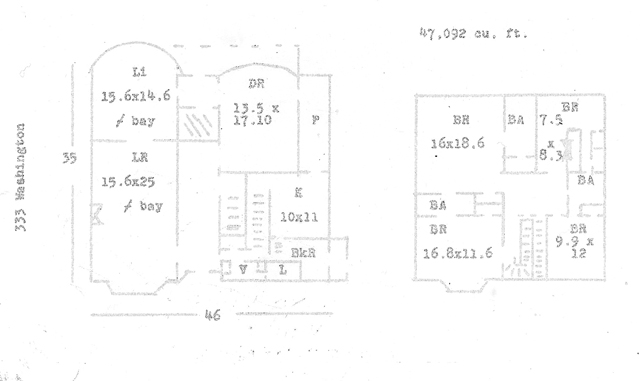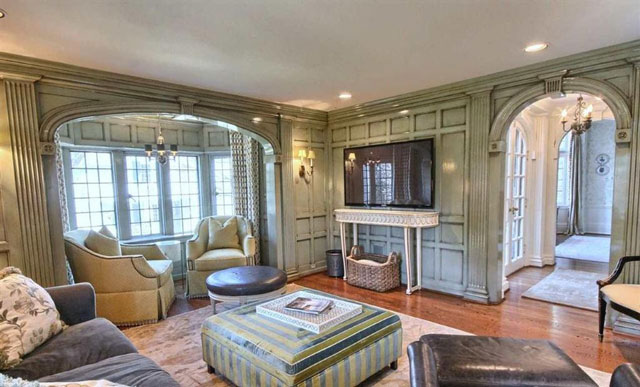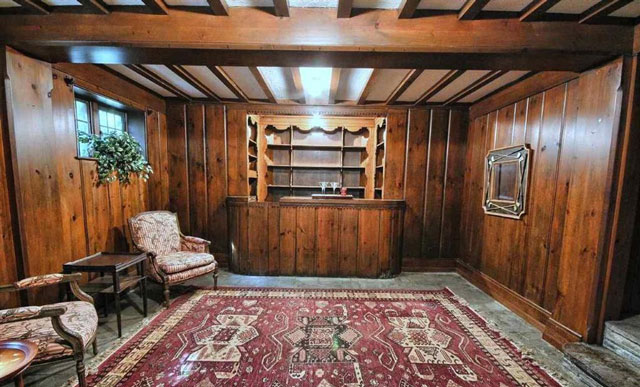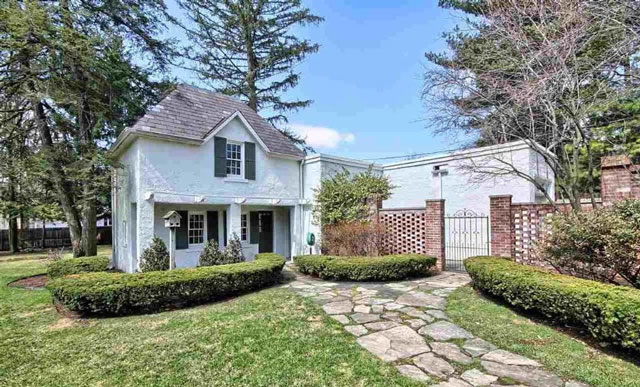 William B Colburn, the original owner, was the secretary and treasurer of the Detroit Motorbus Company. Prior to moving to Grosse Pointe Mr. Colburn, and his wife Gail K. Waldron resided at 1001 Seminole, Indian Village, which was built in 1896. Our files indicate Mr. Colburn, in 1941, spent $7,000 (around $123,000 today) modernizing the property, but it is not clear what the alterations were. A year later he listed the residence for sale, for $35,000 (around $554,000 today).
The firm of James S. Rogers and Harrie W. Bonnah designed 333 Washington. It appears this could have been their only project in Grosse Pointe. James S. Rogers was born in Alexandria, Virginia, in 1859. Having graduated from high school in Baltimore, Maryland, he attended Baltimore City College, and Massachusetts Institute of Technology. Harrie W. Bonnah was born in Port Huron, in 1885. During their time together Rogers and Bonnah worked on several significant projects together, including the Farwell Building (an eight-story, 107,000 square-foot office building), plus two large homes in Indian Village – 1720 Iroquois and 1481 Seminole. They then invited another prominent architect to join the firm, Walter C. Chaffee. The trio worked on several prominent projects in the city, including the house for Clarence M. Burton (121 West Boston Blvd) and 1488 Burns. It is not known when James S. Rogers left the firm, but it is apparent that Rogers, Bonnah & Chaffee was an early incarnation of the long-standing Detroit architectural partnership of Bonnah & Chaffee. The duo continued to work together for many years creating numerous significant buildings, including the Cadillac Tower (1927), The Hotel Norton (1918 – demolished in 1959), and the Indian Village Manor Apartments (1921). Source: Historicdetroit.org. James S. Rogers passed, in 1921, Harrie Bonnah passed in 1941, while Walter C. Chaffee passed in 1945.
Prior to working with Harrie Bonnah, James S. Rogers was the partner of distinguished architect Walter MacFarlane, from 1885 until 1912. Together they created numerous grand homes in the affluent neighborhoods in Metro Detroit, including the John N. Bagley House (in 1889 – located at 2921 E. Jefferson) and the Samuel L. Smith House (in 1889 – located at 5035 Woodward Avenue). The firm also designed a couple of prominent homes in Grosse Pointe – 237 Lake Shore (completed in 1902 and demolished in 1954) and 625 Lake Shore (completed in 1909). Rogers and MacFarlane were also responsible for the design of several office buildings, banks and factories in Detroit, including the Morgan & Wright Bicycle Tire Company plant (later Uniroyal), the Cadillac Motor Works building, and the Crescent Brass and Pin Company Building. Source: Wikipedia.
333 Washington is a respectable example of an early twentieth century English Cottage style property. The home stands proudly as one of the earliest residences on this prominent street, having been designed by one of the more noted designers Detroit had to offer during this early era of year-round homes in the Grosse Pointe Communities.
*Photos courtesy of the Higbie Maxon Agney archives unless stated.
Written by Katie Doelle
Copyright © 2020 Katie Doelle
(For more historical information on Grosse Pointe, visit Grosse Pointe Historical Society).
https://katiedoelle.com/wp-content/uploads/2020/04/333-Washington_Sm.jpg
404
640
Katie Doelle
https://katiedoelle.com/wp-content/uploads/2022/04/KatieDoelle_Logo_NEW1-Sm.jpg
Katie Doelle
2020-04-14 17:22:31
2020-04-14 17:22:31
Historical Architecture of Grosse Pointe – Welcome to 333 Washington Road