Last week we told the story of 61 Lochmoor Boulevard, a brick built French Colonial property, designed and built by Walter H. Mast, in 1942, as a speculative home. That same year businessman Donald A. Noble purchased the residence.
This week we stop by 114 Lothrop, a grand Regency home designed by Hugh T. Keyes in 1937, for decorated Canadian World War 1 veteran, Doctor J. Stewart Hudson. Measuring 10,586 sq ft it is one of Keyes larger homes in Grosse Pointe. It was built by Talbot & Meier.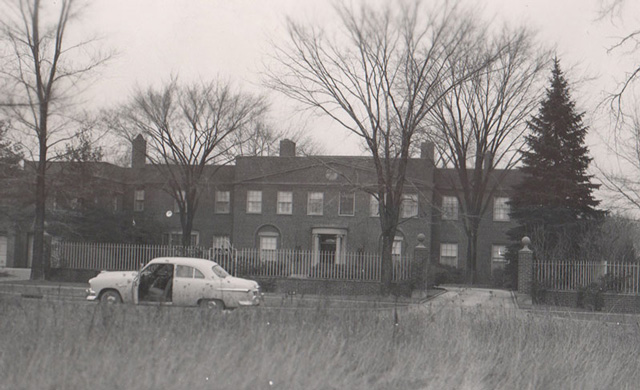 114 Lothrop, "Hudson House" is one of several Regency style homes built by Keyes in Grosse Pointe during the 1930's. An article by Thomas W. Brunk, in the Architectural Forum 1937, explains 'few traditional domestic styles are more in harmony with present-day building trends than Regency. Simple and dignified, it lends itself with grace to the modifications demanded by contemporary living requirements'. Regency residences are recognized for their elegance, and refinement. Many homes feature an impressive entryway, typically framed by limestone columns – present at 114 Lothrop. Keyes also selected to construct the house from red brick, incorporating a large central pediment, with a circular stone relief above the second story. The property also features many Georgian architectural details – a flat slate parapet roof, rigid symmetry, decorative window elements, and an oversized entrance. The design also accommodates the circular driveway, framed by an iron fence.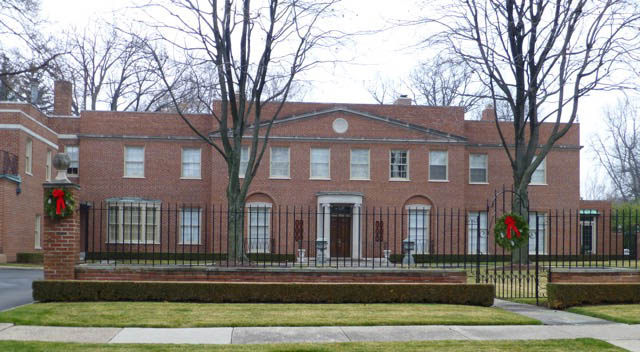 The article by Thomas Brunk also offers some wonderful details on the interior of 114 Lothrop – the foyer features a black and white marble floor leading into a long hallway that provides access to five rooms – the living room, library, study, kitchen, and the family room. Many of the rooms have beautiful arched doorways, and large decorative fireplaces. The fireplace in the living room was designed by the architect himself, Hugh T. Keyes (the image below is courtesy of Detroit Public Library Digital Collection). Brunk reports, 'the 'decorative elements in the home are minimal yet used effectively to provide elegance to the rooms'. It is reported that many of the ornate details found throughout the interior of the home are inspired by a Greek Key motif – a decorative border constructed from a continuous line, shaped into a repeating pattern. This is echoed by further Greek themed elements on the fireplace(s) and in the ironwork.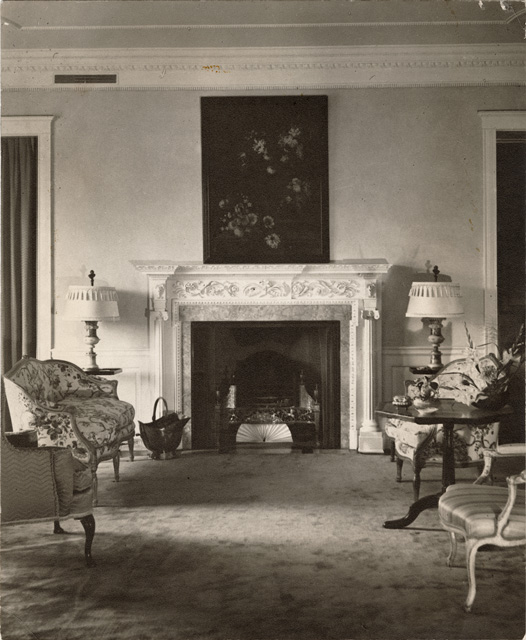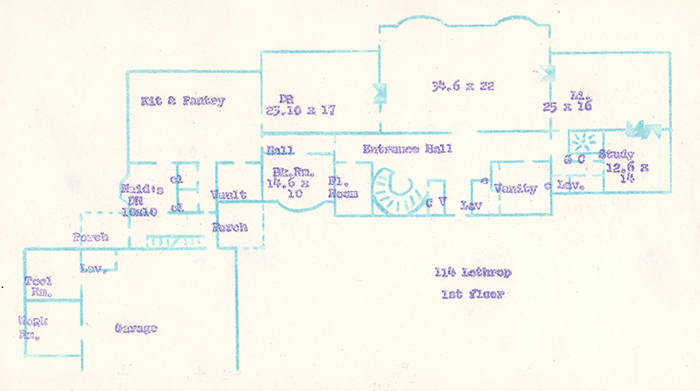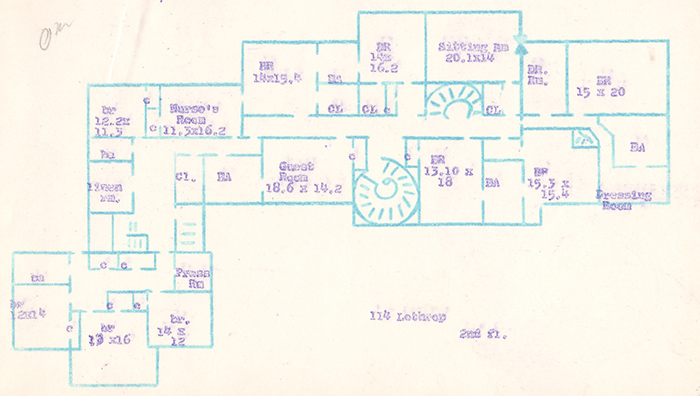 The main floor features a large 34' x 22' sq ft living room that has two symmetrically placed windows – a typical feature of Regency homes – providing the Hudson's with wonderful views of the garden. Also on the main floor is a 25' x 16' library (with fireplace), a huge 23' x 17' sq ft dining room (with fireplace), a 12' x 14' sq ft study (with fireplace), a 22' x 17' sq ft family room, along with a vault, a dining room for the maids and two porches. The two-story sweeping staircase to the second floor features modern iron balusters and a wood banister. This floor features a 20' x 14' sq ft master sitting room (with fireplace), six bedrooms, along with three smaller bedrooms and a sitting room for maids. Image of the interior courtesy of: Realtor.com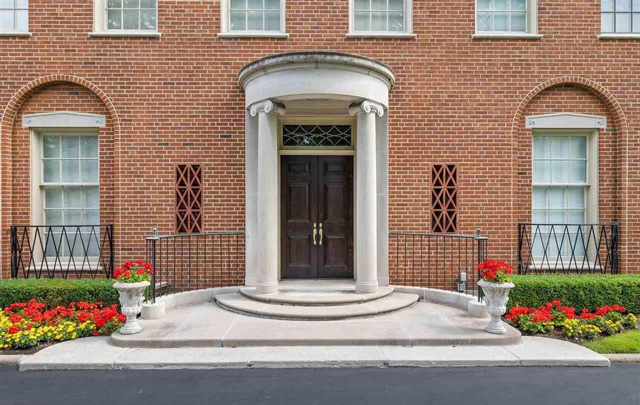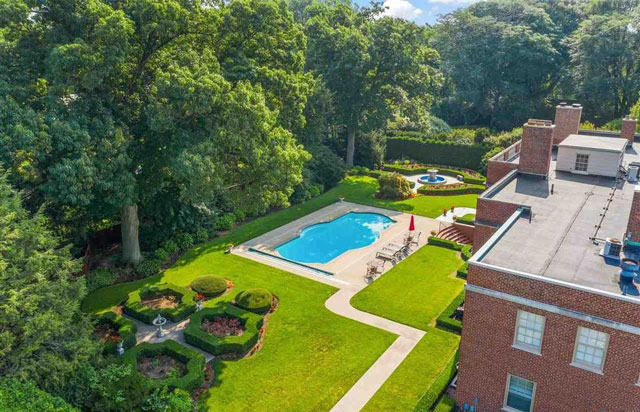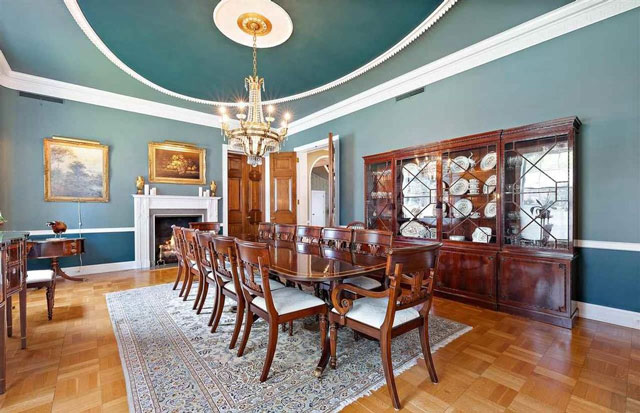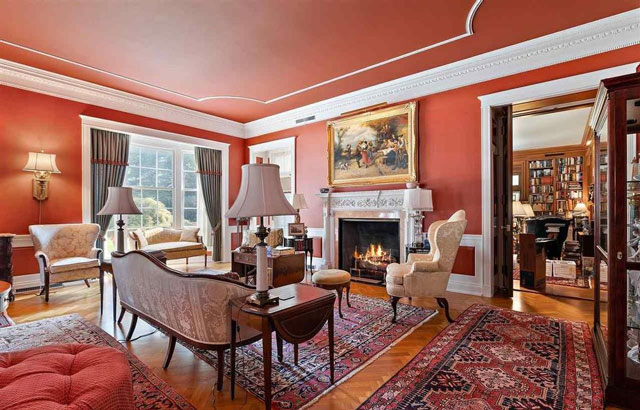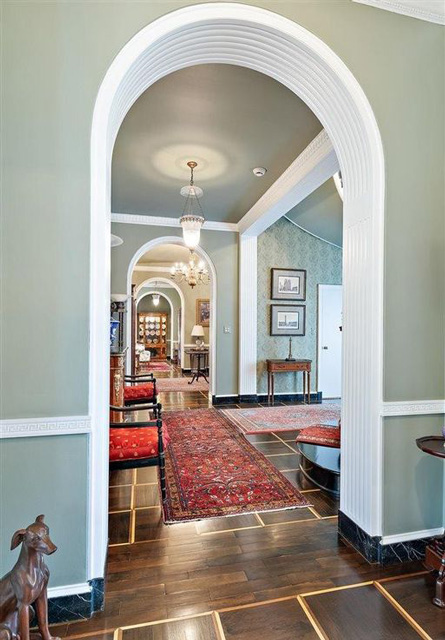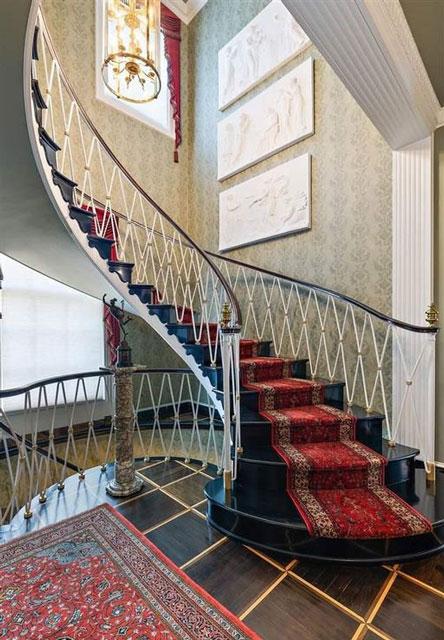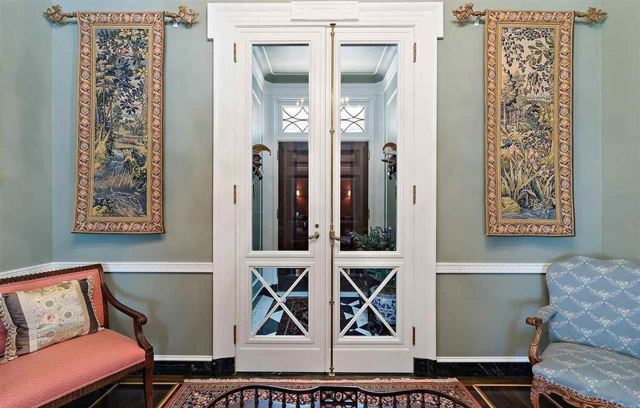 Thomas Brunk's research states Mrs. Hudson hired landscape architect F. Bruce Winkworth to design the garden. Through Brunk, we understand Winkworth worked in collaboration with renowned local architect Leonard B. Willeke on several projects in Grosse Pointe, including – designing the gardens and a fountain at 226 Provencal (1940), creating an elaborate rose garden and terrace with a fountain at 315 Washington Road (during the 1940's), and adapting an antique wellhead into a large circular fountain at 114 Lothrop, in 1946.
The original owner of 114 Lothrop was Dr. J. Stewart Hudson, born in London, Ontario in 1891. Having graduated from the University of Western Ontario Dr. Hudson served as a major in the Canadian Army Medical Corps and with the 1st Canadian Mounted Rifles during World War 1. He was also awarded allied and British war medals. He married Julia Buhl and together they had two daughters and three sones. Dr. Hudson was assistant medical superintendent at Harper Hospital before going into private practice, in Grosse Pointe, for over 50 years. He passed in January 1977.
The architect behind 114 Lorthrop, Hugh T. Keyes, had a long and distinguished career. He built many significant houses across Metro Detroit and was a prolific designer of fine homes in the Grosse Pointes. Keyes was arguably one of the most diverse architects to ply his trade in the community. His work centered on creating grand estates for the industrialists of Metropolitan Detroit and he was considered one of the most versatile architects to work in southeastern Michigan. Having worked for some of the most renowned architects (Albert Kahn, C. Howard Crane, and Smith, Hinchman, and Grylls) in Detroit during the early 20th century, Keyes opened his own office in Detroit in 1921. During this period of his career Keyes primary focus was residential projects. His earlier work engaged numerous architectural styles. Arguably one of his most charming projects in Grosse Pointe during this era was the Italian Renaissance Villa – 221 Lewiston – you can read the full story by clicking here. Prior to 1930, Keyes was heavily influenced by Tudor, French Renaissance, and formal Georgian styles. During the late 1930's, Keyes switched to international style homes, which was followed by his trademark Regency Moderne style that he would ultimately become most noted for.
114 Lothrop reportedly cost $250,000 (around $4.8m dollars today) to build. After her husband's death, in 1977, it appears Mrs. Hudson resided in the house until 1978. It remains a stunning home to this day.
*Photos courtesy of the Higbie Maxon Agney archives unless stated.
** Research, information, and data sources are deemed reliable, but accuracy cannot be fully guaranteed.
Written by Katie Doelle
Copyright © 2022 Katie Doelle
https://katiedoelle.com/wp-content/uploads/2022/01/114-lothropSm.jpg
390
640
Katie Doelle
https://katiedoelle.com/wp-content/uploads/2022/04/KatieDoelle_Logo_NEW1-Sm.jpg
Katie Doelle
2022-01-04 18:05:42
2022-01-04 18:05:42
Historical Architecture of Grosse Pointe – 114 Lothrop