Last week we introduced you to 15600 Windmill Pointe, the grand home, lost to fire in the 1990's. J. Ivan Dise completed it in 1929 by for John Walter Drake, former president of the Hupp Motor Car Company.
This week we move into the 1950's with a superb mid-century home designed by Carl Habermas, in 1953, for auto dealer Stark Hickey. Welcome to 115 Lake Shore.
During the 1950's, amongst the large 1920's residences that lined Lake Shore Drive came this splendid example of Mid-Century Modern architecture. The two-story 5,361 sq ft residence was created in the Hollywood Regency style, which, is characterized by the bold use of color and contrast often with metallic and glass accents to signify both opulence and comfort. Source: Wikipedia.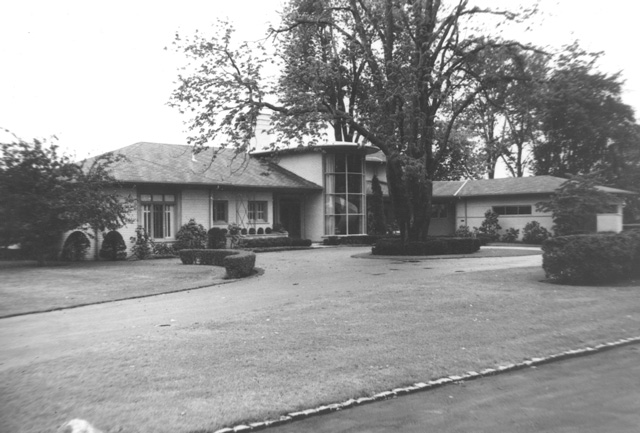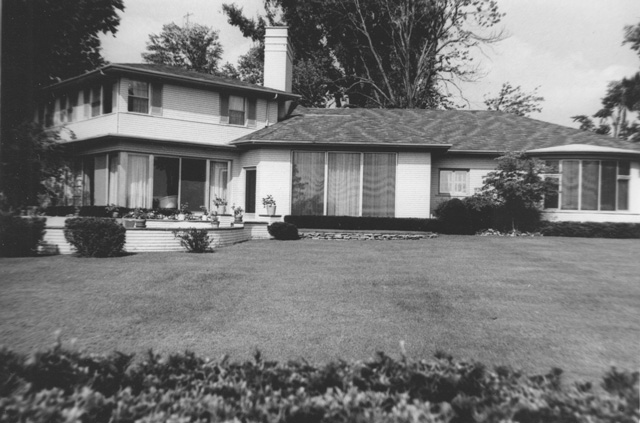 The house has a wonderfully asymmetric design with a unique floor plan, rounded edges, and unusually shaped rooms. The main floor features a suspended staircase and a magnificent turquoise kitchen (which remains untouched from the 1950's). Also on the main floor is a large foyer, a dining room (15' x 18' sq ft), living room (20' x 22' sq ft), a 22' x 26' sq ft den, along with two bedrooms, the largest of which is 19' x 13' sq ft. Many of the rooms on the first floor have oversized windows, which make the most of the lake view. Also present is some fantastic use of pastel colors, hard wood floors, striking wallpaper, along with a floor to ceiling brick built fireplace in the den. On the smaller second floor are three bedrooms, two bathrooms, one of which is triangular in shape, along with a sizable storage area. The most prominent feature of the home however is the dominant two-story glass front curved section next to the main entrance. The interior and color exterior photos are courtesy of realtor.com.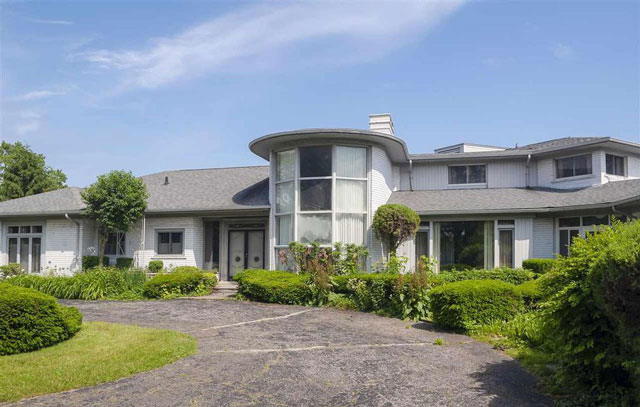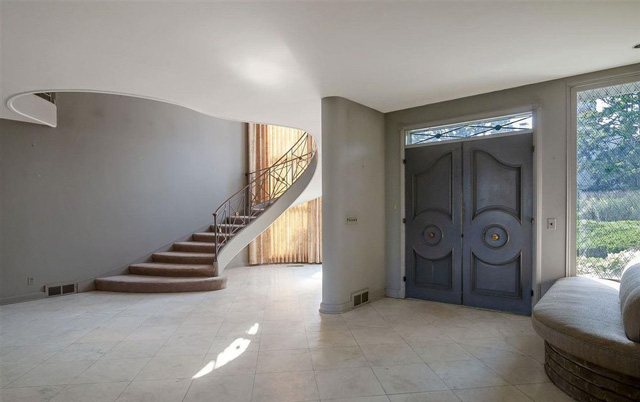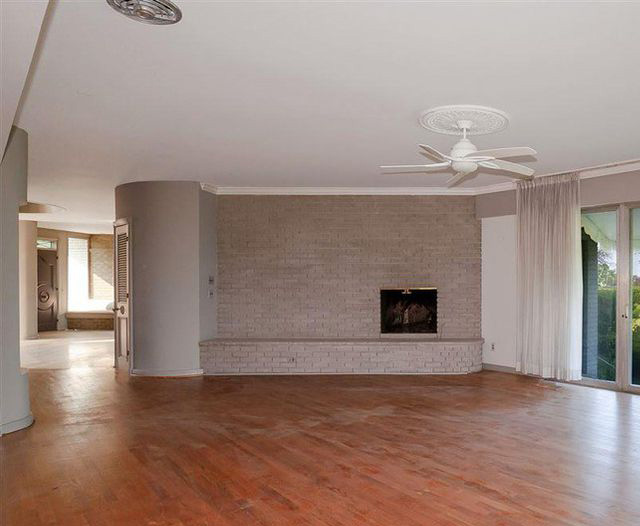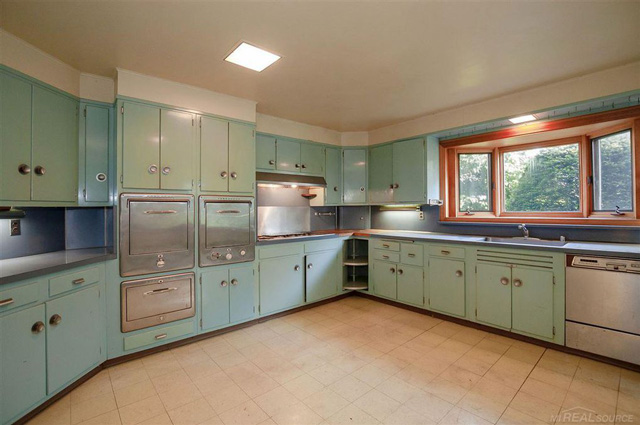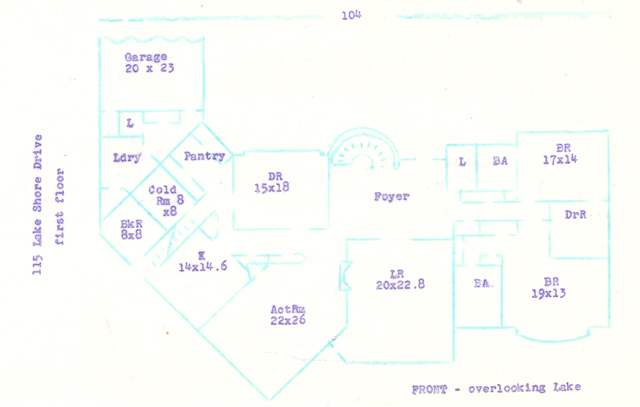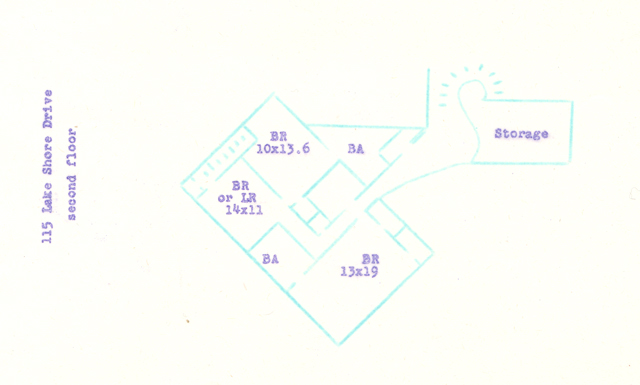 The exterior of the house is very similar in design to the Regency Moderne home, designed in 1951, by Hugh T. Keyes for Robert Pauli Scherer (now demolished). And, in part, to Robert O. Derricks design for 187 Irvine Lane, completed in 1949 for Sidney T. Miller Jr.,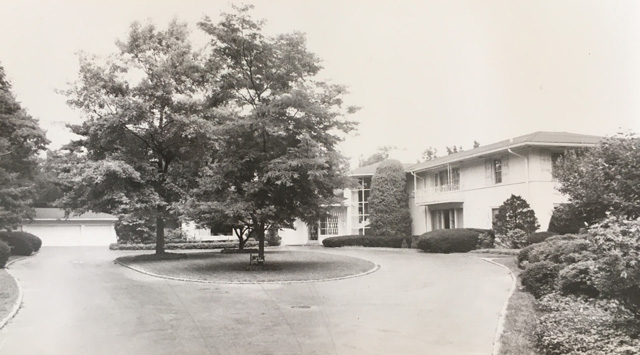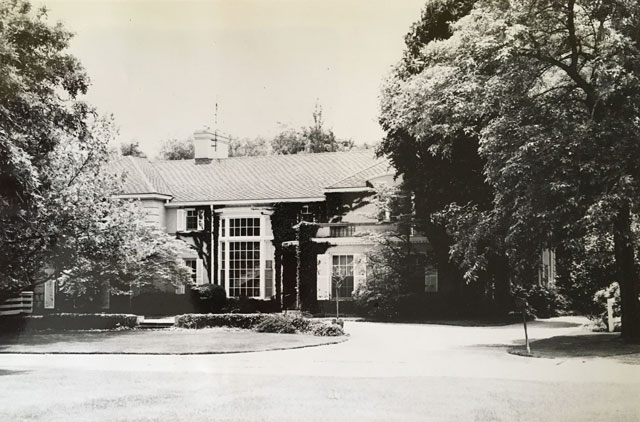 The original owner of the home was Stark Hickey. Born in 1890 he became known as the 'king of the car dealers'. Having sold his first Ford, a Model T, in 1920, he went on to own at least four Ford dealerships in Detroit. It appears the Hickey family sold the property in 1962 for $140,500 (around $1.1m today) to Mabel Slocum. It has subsequently been sold a couple of times, and is now on the market again for $995,000.
115 Lake Shore is located next to Newberry Place. What makes the history of the home interesting is that part of the lot used to be the location of "Drybrook", the Truman H. Newberry Estate, located at 123 Lake Shore. "Drybrook" was completed in 1914 by the noted New York City firm of Trowbridge and Ackerman, while renowned landscape architect William Pitkin Jr. created the superb gardens. In an edition of Country Life, 1916, 123 Lakeshore was listed No. 8 on Henry Saylor's 'Twelve Best Country Houses in America'. In 1945 Truman H. Newberry passed away. Upon his death the house was offered for sale but private buyers were discouraged by the high maintenance costs of such a huge estate. In the early 1950's the house was demolished, and the land sub divided, thereby making space for the construction of Newberry Place, 115 Lake Shore, and more. The image is courtesy of Tonnancour, Volume 1.

With regards to the architect of 115 Lake Shore, Carl Habermas, very little is known about him or his career. However it appears he created several homes in Grosse Pointe from the 1930's through to the 1960's, including –
766 Westchester (1936 – in collaboration with J. H. Steffens)
33 Beaupre (1936)
269 Cloverly (1938)
1001 Buckingham (1939)
734 Westchester (1940)
578 Barrington (1940)
25 Renaud (1946)
612 Middlesex (1957)
583 Lake Shore (1961)
The projects Carl Habermas worked on in Grosse Pointe covered a broad architectural spectrum – Tudor, Colonial, Regency, Art Deco, and Mid-Century Modern approaches. It also appears, at some point in his career, he was closely associated with J. H. Steffens. However, it is his work at 115 Lake Shore that is currently earning the most attention. A Hollywood Regency style home in Grosse Pointe is a rare find. The fact that the interior has remained virtually untouched since it was built makes this an exceptional home.
*Photos courtesy of the Higbie Maxon Agney archives unless stated.
Written by Katie Doelle
Copyright © 2019 Katie Doelle
https://katiedoelle.com/wp-content/uploads/2019/09/115-Lak-Shore_Front.jpg
433
640
Katie Doelle
https://katiedoelle.com/wp-content/uploads/2022/04/KatieDoelle_Logo_NEW1-Sm.jpg
Katie Doelle
2019-09-17 16:54:24
2019-09-17 16:54:54
Historical Architecture of Grosse Pointe – Welcome to 115 Lake Shore