Last week we continued the story of Lewiston Rd, part 2, profiling a range of homes located between Kercheval and the end of the street completed in 1930, or earlier.
This week we continue the story of one of the more unique homes on Lewiston. Completed in 1924, 221 Lewiston is an Italian Renaissance villa designed by Hugh T. Keys for businessman Charles A. Dean and his wife Helen W. Dean (Ryan). It is reported the land was once part of a 35-acre plot of land called "Ridgeland". Source: fox2detroit.com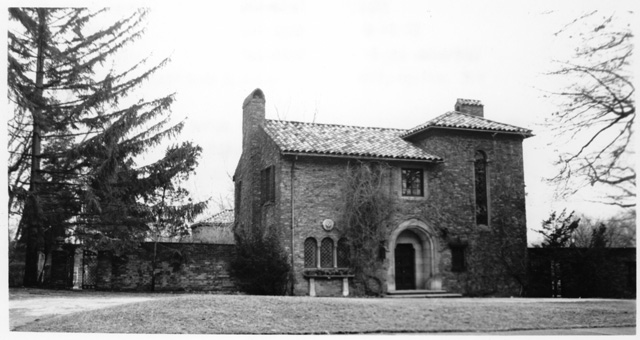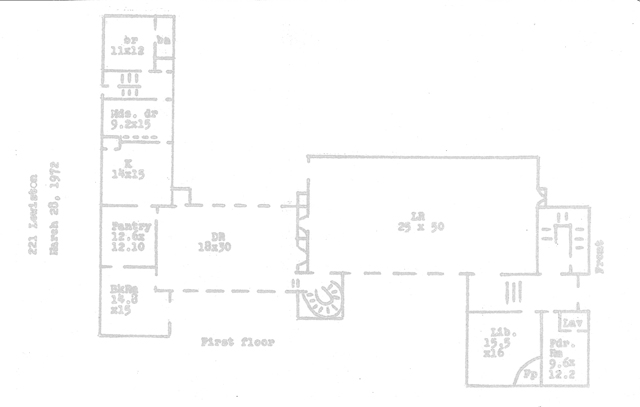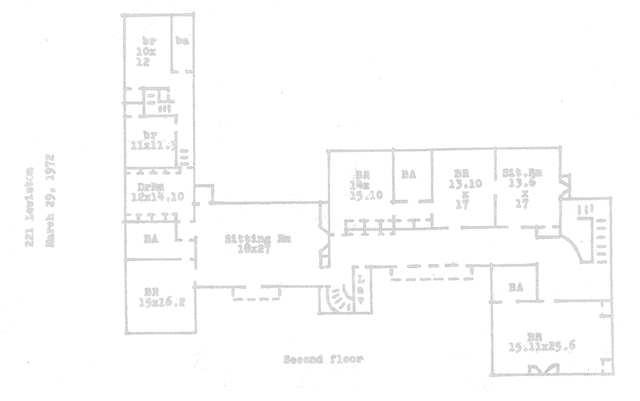 The property has exceptional architectural details inside and out and is one of the most distinctive homes in the community. From an article in the Detroit News, we understand 'Helen Dean, who loved Italy, actually went through two sets of plans for the family's new home before architect Hugh T. Keyes got it right'. According to the article, it was Helen's house and her vision.
The 9,000-square-foot home is now situated on a 1.3-acre hillside estate, reminiscent of an Italian country house, located on one of the few sloping sites in the area. The walls are constructed from tawny bricks, the roof is finished in red tile, evoking scenes from rural Tuscany, while the huge front door is framed in limestone creating a rather dramatic entrance to the home. All historic photos (interior and exterior) are courtesy of: digitalcollections.detroitpubliclibrary.org. Based on information in Tonnancour, Volume 1, we understand 'the long axis of the house is on two different levels with rooms that flow one into the other. Large windows fill many of the rooms with an abundance of natural light, along with a perfect view of the magnificent Italian style gardens, featuring fountains, walls, decorative brickwork and statues'. The garden can be accessed via the breakfast and the family room.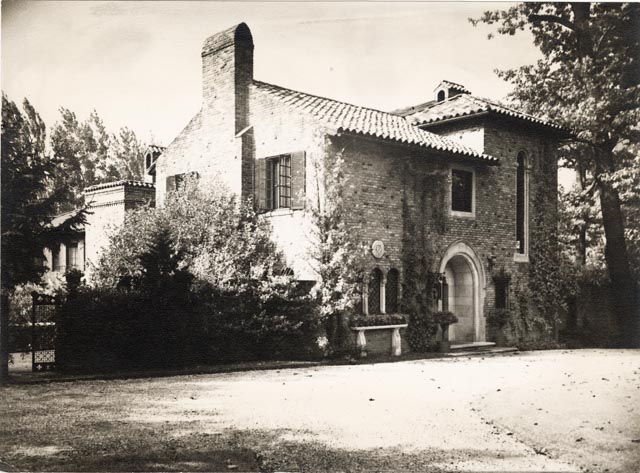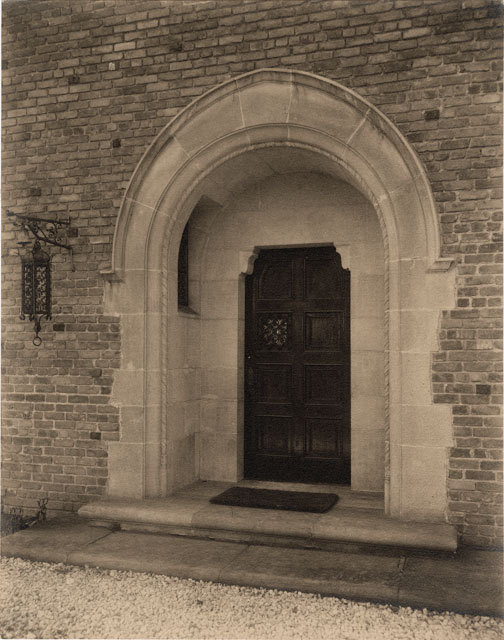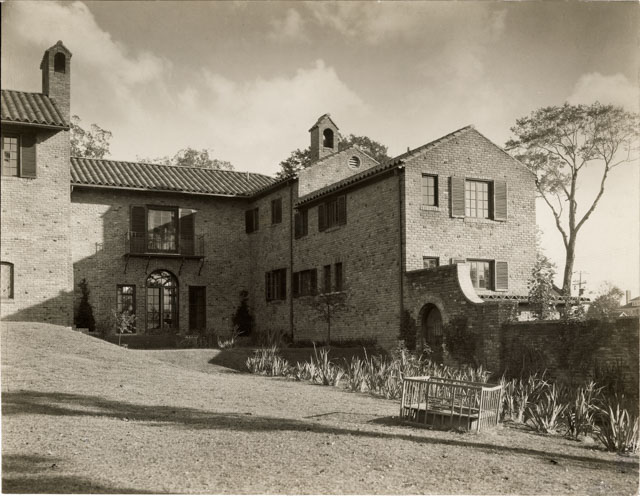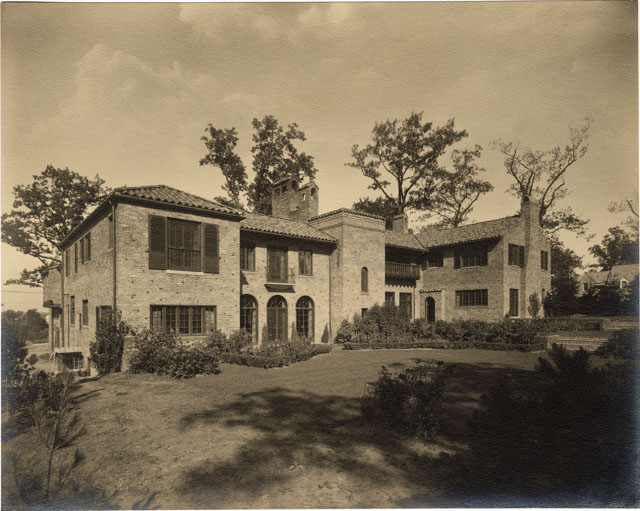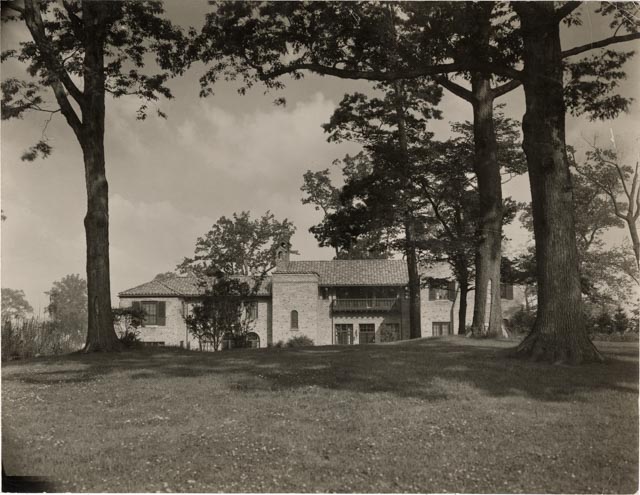 Inside the home, there are eight fireplaces, and eight bedrooms – each room in itself is its very own masterpiece. Starting with the foyer, the beautiful circular staircase, finished in red tile with an elaborate wrought iron handrail, leads up to the second floor, passing leaded windows, and a balcony. A second staircase, also finished in red tile with hand painted details, provides another route to the eight bedrooms on the second floor. Off the foyer is the 50' x 25' sq ft great room that includes living and dining areas. The ceiling of the great room is covered with a grid of beams, painted in 14th century Florentine designs made to look like wood. It is reported they were copied from the ceilings of Plazzo Davanzati, a mid-14th century palace in Florence. The great room also has two magnificent fireplaces, one of which was also copied from Plazzo Davanzati. The larger fireplace is framed with twisted Baroque columns. The 15' x 16' sq ft library also has a huge corner fireplace. It is constructed from limestone with a conical hood – similar to one at Plazzo Davanzati. Also, on the main floor is an 18' x 30' sq ft dining room (with a fireplace) along with a 14' x 15' sq ft morning room, plus a bedroom and a separate dining room for the maids.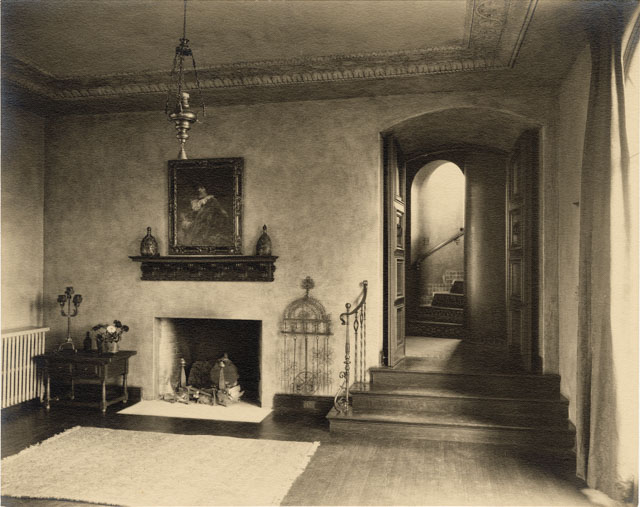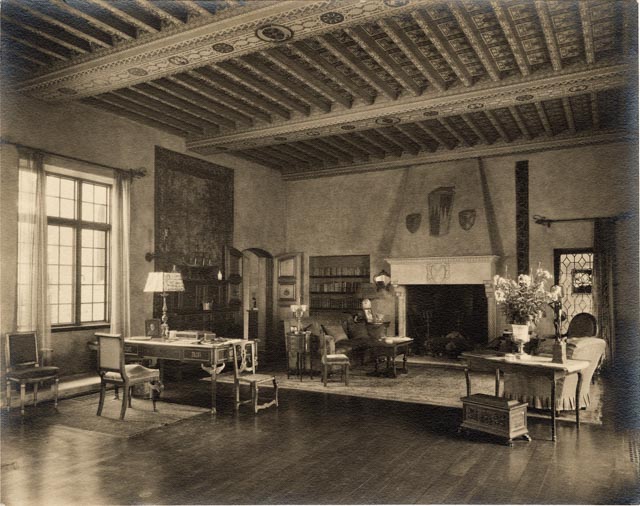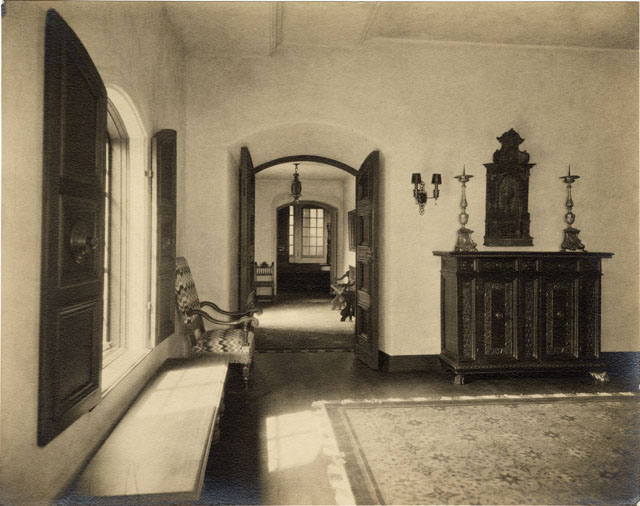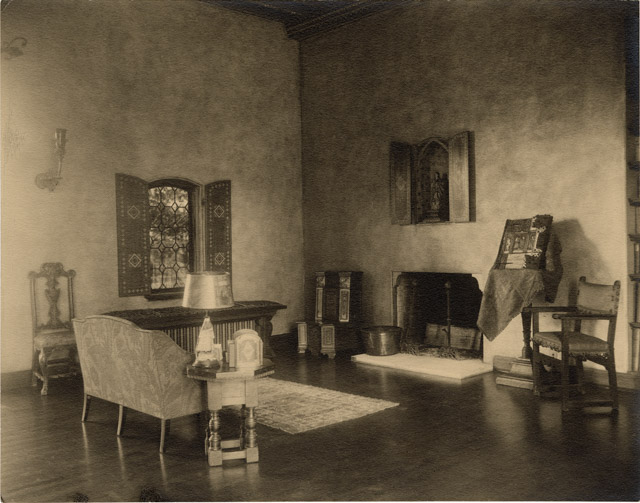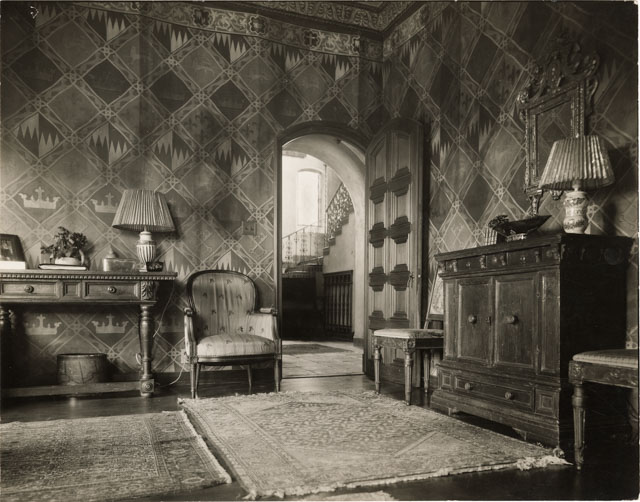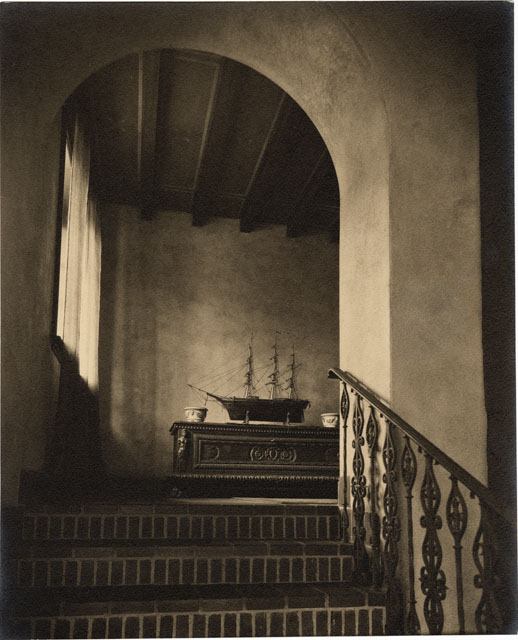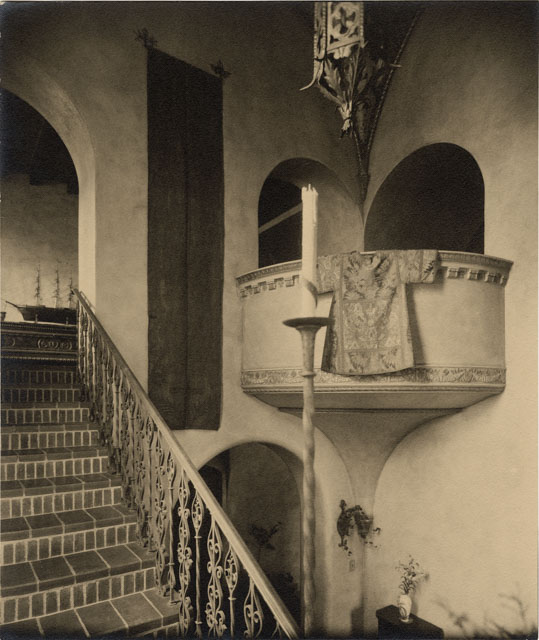 The second floor originally had eight bedrooms. In 1972, the floor plan consisted of a 15' x 23' sq ft master suite with a fireplace. This was located in close proximity to a 13' x 17' sq ft sitting room, and two further bedrooms. The second floor also had an additional much larger 18'x 27' sq ft sitting room (with a fireplace), a further bedroom, and two bedrooms for maids.
The architect of 221 Lewiston was Hugh T. Keyes, a prolific designer of fine homes in the Grosse Pointes and arguably one of the most diverse architects to ply his trade in the community. His work centered on creating grand estates for the industrialists of Metropolitan Detroit and he is considered to be one of the most versatile architects of the period. Born in Trenton, MI in 1888, Keyes studied architecture at Harvard University and worked under architect C. Howard Crane. After graduating he quickly became an associate of Albert Kahn working on Kahn's "signature project" at the time, the Detroit Athletic Club (in 1913). After serving with the Navy during World War 1, Keyes returned to Michigan. He briefly worked at Smith, Hinchman & Grylls, before opening his own Detroit office in 1921. Keyes was a versatile designer. Having completed the Italian Renaissance villa on Lewiston, arguably one of his most charming projects, Keyes, for the next few years, was heavily influenced by Tudor, French Renaissance and formal Georgian styles. Post 1930, he switched to his trademark Regency Moderne style that we would ultimately become most noted for.
It is reported 221 Lewiston has only had five owners since it was built. The property was first sold, by the Dean Estate, in 1972 – purchased by John C. Emery, Jr. At the time of purchase Mr. Emery was the president of Emery Air Freight (a freight-forwarding operation, founded by his father John C. Emery Sr., a Navy veteran, in 1946). In 1975, Emery Air Freight had 77 offices in the United States and 112 offices worldwide. That year John C. Emery, Jr. became CEO. A year later, in 1976, Mr. Emery sold 221 Lewiston, it was purchased by R. G. Ruffner for $135,000 (around $625,000 today). The house was last sold in 2015, via auction. Two special guests who attended the auction were Cynthia Dean Navarro, the daughter of the home's original owners (Charles and Helen Dean), and Steven Keyes, grandson of the architect, Hugh T. Keyes.
The families who have owned 221 Lewiston have kept the integrity of the design, inside and out, that Mr. and Mrs. Dean envisioned, and Hugh T. Keyes ultimately created. It is still as beautiful as the day it was first completed.
*Photos courtesy of the Higbie Maxon Agney archives unless stated.
Written by Katie Doelle
Copyright © 2021 Higbie Maxon Agney & Katie Doelle
https://katiedoelle.com/wp-content/uploads/2021/05/221-Lewiston_Sm-1.jpg
340
640
Katie Doelle
https://katiedoelle.com/wp-content/uploads/2022/04/KatieDoelle_Logo_NEW1-Sm.jpg
Katie Doelle
2021-05-20 18:53:00
2021-05-20 18:53:00
Historical Architecture of Grosse Pointe – 221 Lewiston