Previously, we presented a brief overview into the history of kit homes in North America, whilst last week we told the story of several "probable" kit homes in Grosse Pointe and offered a brief introduction on how to go about identifying a kit home. This week, in this final part of our kit home series, we delve a little further into two further "probable" kit homes in the Grosse Pointes. We use the word "probable" because these homes have yet to be authenticated. Given that none of the traditional kit house companies are still in business, and because many of the kit home records were either lost or destroyed it can be extremely difficult to authenticate these homes.
During the height of kit home popularity the price of a kit home varied dramatically. The costs were dependent on the manufacturer, the architectural style and size of the home, the choice of floor plan, plus any upgrades the purchaser wanted to include such as advanced technology – updated pluming and heating systems for instance. Prices, in 1920, were in the vicinity of $1,500 – $3,000 (around $21,000 – $41,000 today), however the land, brick, concrete, and/or masonry were not included in the price, neither was construction. It is believed, based on some excellent research by Andrew & Wendy Mutch, via their blog 'Kit House Hunters', the final cost of the home, when completed could escalate to between 2-3 times the list price in the catalogue. So a home listed for $1500 in a catalogue could actually cost $3000 – $4500 when complete.
It is believed 'much of the profit in the kit home business came from the mortgage financing that accompanied the sale, and not the materials or the house itself'. Source antiquehomestyle.com. It should also be noted, that several kit home companies either went out of business or had to be drastically restructured as a result of the mortgage packages (they had offered to their customers) having a detrimental effect on the company.
The "probable" kit homes we are about to present are located in the City, Park, and the Woods, and cover a range of architectural styles. The Aladdin Company and Wardway Homes by Montgomery Ward & Co – two competitors to Sears Modern Homes and Sterling Homes by International Mill and Timber Company – manufactured them.
The Aladdin Company Kit Homes
The Aladdin Company was founded in 1906. Aladdin was a pioneer in the pre-cut, mail order home industry, growing quickly to become of the of the largest mail-order house companies in North America.
'By 1915 sales surpassed $1 million. In 1918 Aladdin alone accounted for 2.37 percent of all housing starts in the United States, around 1,800 homes, with much of the company's success coming from sales to industries, which constructed company towns around new plants, mines and mills'. Source: Wikipedia.
706 University Place – Grosse Pointe City – built in 1923, is a "probable" Aladdin Capitol Kit Home.
Designed in a Dutch Colonial style, the Capitol is an "imposing" home, with large sized rooms, and four roughly equally sized bedrooms. If it is a Capitol kit home the 'American Kit Home' blog describes it as a 'fairly rare model, with only 5 other examples on the national database of Aladdin Homes'.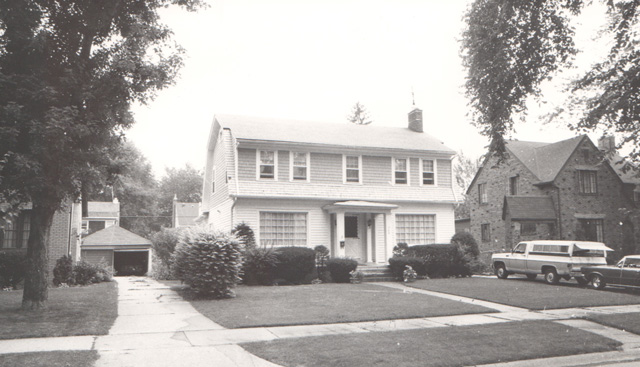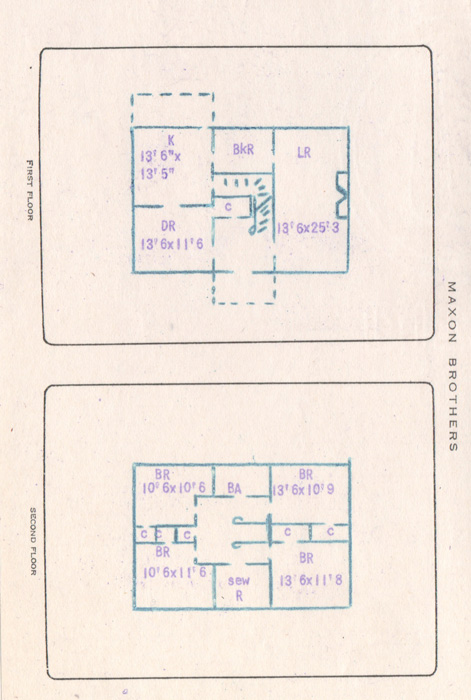 The floor plan on the catalogue page below is very similar to a floor plan from our archives on this property (from 1980), which potentially adds further evidence to this being an Aladdin Capitol Kit Home.
Wardway Homes by Montgomery Ward & Co.
Montgomery Ward sold the majority of Wardway 'ready-cut' homes from 1922-1931. Prior to 1922 it appears the company only offered plans, however they soon moved into offering kit homes (that could be shipped), thanks to an affiliation with the Gordon Van Tine Company, which manufactured their homes for them. Source: anitquehome.org
The following link provides a glimpse into the product catalogue offered by Montgomery & Ward in 1930.
1015 Cadieux – Grosse Pointe Park – built in 1931, is a Montgomery Ward Model Home
Based on research from the blog 'American Kit Homes' 1015 Cadieux is a Montgomery and Ward Custom Model Home. It is a custom built house constructed with materials from Montgomery and Ward, however it is not a Wardway kit home. 1015 Cadieux is featured in the ad below – 1931 issue of the Detroit Free Press (courtesy of 'American Kit Homes' with additional research from Ben Gravel).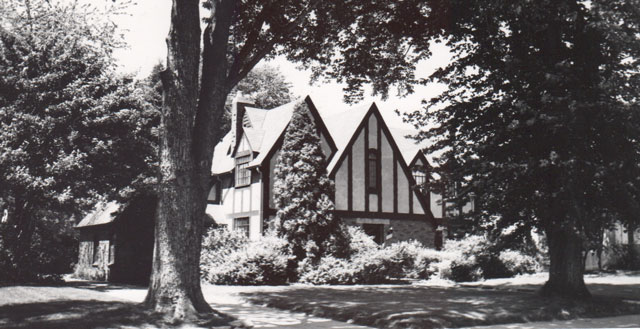 720 Hampton – Grosse Pointe Woods – built in 1924 – a "possible" Wardway Dresden kit home?
Based on our own curiosity (along with a little help with its identification from the 'American Kit Home' blog) could 720 Hampton, built in 1924, be a Wardway 'Dresden' Kit Home?
The image of the current home, along with the catalogue page certainly present interesting similarities – however, it was also not uncommon, at the time, for local builders to copy the plans from the kit home catalogues, and build similar houses – but if it was a kit home, it would certainly prove to be a nice find.
We hope you enjoyed our series on Grosse Pointes Kit Homes. Could there be more? If anyone out there knows of any other kit homes we would love to hear from you.
*Photos courtesy of the Higbie Maxon Agney archives unless stated.
Written by Katie Doelle
Copyright © 2017 Katie Doelle
https://katiedoelle.com/wp-content/uploads/2017/02/706-University_old.jpg
367
640
Katie Doelle
https://katiedoelle.com/wp-content/uploads/2022/04/KatieDoelle_Logo_NEW1-Sm.jpg
Katie Doelle
2017-02-14 13:27:48
2022-03-02 23:22:27
Historical Architecture of Grosse Pointe – Grosse Pointe's Kit Homes – Part 3