Last week we presented 189 Cloverly, the Spanish Colonial Revival home designed by Albert Kahn for Julius H. Haass in 1927.
This week we stay with the work of Albert Kahn as we explore his creation at 17800 E. Jefferson – now a lost estate.
During the early 20th Century Albert Kahn was already a well-established architect in the city of Detroit. Under the name of Albert Kahn Associates (the firm he formed with his brother Julius, in 1895) Kahn's skills were in high demand from wealthy clientele to create stately residences in the constantly evolving affluent suburbs of Detroit.
After completing 81 Lake Shore, a grand Italian inspired residence completed in 1904, for Albert L. Stephens, Kahn was commissioned by Charles M. Swift to design a splendid English Tudor inspired residence on the shores of Lake St. Clair. Completed in 1905, 17800 E. Jefferson was one of the earlier year round residences to be constructed in Grosse Pointe Village. The handsome 18-room residence, constructed from grey limestone, was located on a lot 1,200 foot deep, with190 feet of water frontage. Not much is known about the house but based on an article in the Detroit Free Press (1918) we understand the ground were beautifully laid out with trees and shrubbery, tennis courts and a bowling lawn. The house is repeatedly attributed to Albert Kahn with a credit to Ernest Wilby, who was an associate of Kahn. Wilby, born in England in 1869, was a talented designer who worked for architects in Detroit, Toronto, New York and London. He was best known for his work as Albert Kahn's associate, serving as his chief designer from 1903 until 1918. Image courtesy of: The Library of Congress.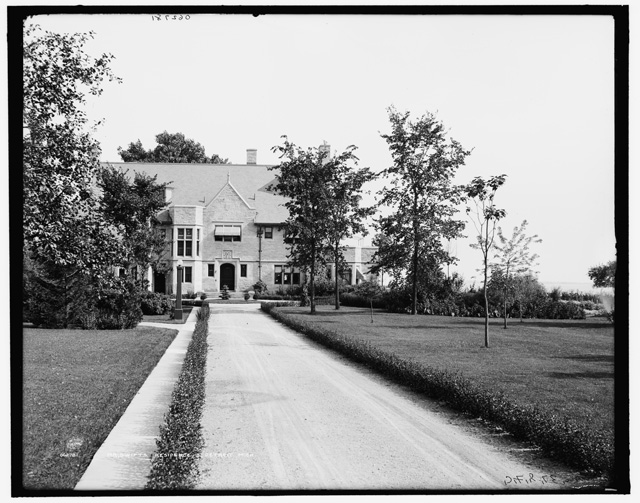 The original owner of 17800 E. Jefferson was Charles May Swift, a lawyer who made his fortune in mining. He was born in Middlebury, Vermont in 1854, and moved to Detroit as a child. Having graduated from high school in 1870, he was admitted to the bar in 1877. Mr. Swift practiced law until around 1893, after which he was involved with building and operating electric trams and steam railroads in Michigan and the Philippines. This included the Manila Suburban Railways Company, and in Michigan – the Wyandotte and Detroit River Railway, the Rapid Railway, and the Detroit and Port Huron Shore Line Railway. In addition, he founded Meralco, the largest electric utility and one of the leading companies of the Philippines (founded as the Manila Electric Railroad and Light Company). He was also president and director of the Nepigon Mining Lands Company. Source: Wikipedia.
It is not clear how long Mr. Swift resided at 17800 Lake Shore, but we do know Capt. Herbert Hughes purchased the residence. Based on the article in the Detroit Free Press it is reported Mr. and Mrs. Hughes sold the property, in April 1918, after Capt. Hughes went to France for military service with Mrs. Hughes accompanying him. John Francis Dodge, manufacturing pioneer and co-founder of Dodge Brothers Company, purchased the residence for a rumored price of $250,000 (around $4.2 million today). The property was located next to 17840 E. Jefferson, "Rose Terrace", (built in 1910-1912 – also by Albert Kahn – demolished late 1920's/early 1930's) which was owned by John Dodge's brother Horace Elgin Dodge.
Research in Tonnancour, Volume 1, states that 'in 1926, 17800 E. Jefferson was purchased by Anna Thompson Dodge, Horace Dodge's widow (both John Francis Dodge and Horace Elgin Dodge passed in 1920). The property was a gift for her son, Horace, Jr. He resided in the home (the address was later changed to 17840 E. Jefferson) whenever he was in Grosse Pointe, until his death in 1963. After that, Mrs. Dodge's niece, Mrs. Yvonne Ranger, owned the property until it was razed in 1985.
The Charles M. Swift estate had some fabulous architectural neighbors, including 32 Lake Shore Drive (the "Moorings" – now known as the Grosse Pointe War Memorial), 17700 E. Jefferson, "By-Way", owned by Frederick Moulton Alger (brother of Russell Alger Jr., who owned the Moorings), the Frank C. Baldwin estate (located at 17620 E. Jefferson), and 17000 E. Jefferson which was owned by Oren S. Hawes.
17800 E. Jefferson was a magnificent home, and was one of Kahn's earliest Tudor masterpieces. After the property was razed in 1985, the lot was subdivided and is now the location of 18 homes on Dodge Place.
*Photos courtesy of the Higbie Maxon Agney archives unless stated.
Written by Katie Doelle
Copyright © 2020 Katie Doelle
https://katiedoelle.com/wp-content/uploads/2020/05/17800-East-Jefferson.jpg
503
640
Katie Doelle
https://katiedoelle.com/wp-content/uploads/2019/03/KatieDoelle_Logo2-300x300.jpg
Katie Doelle
2020-05-12 16:13:30
2020-05-12 16:13:30
Historical Architecture of Grosse Pointe – The Lost Estate – 17800 E. Jefferson