Last week we presented the story of 354 Washington, a fabulous Georgian Colonial style home designed by John Scott completed in 1912. The property was one of the earliest homes to be constructed on the first block of Washington.
This week we travel to Windmill Pointe to visit another iconic home, 15410 Windmill Pointe. The sprawling estate was completed in 1924, by Alfred Hopkins & Associates for William Pickett Harris, Jr. an investment banker and a significant authority on zoology.
15410 Windmill Pointe is a splendid English Manor style home located on the shores of Lake St. Clair. The 9,599 sq ft property is constructed from sandstone with rough stucco that provides a superb blend of textures and colors. The exterior is awash with exquisite details – rainspouts are capped off with carvings of clipper ships, while hand carved gargoyles keep an eye over the archways. The initials of William P. Harris appear on a second corner stone of the house, even the architect, Alfred Hopkins, incorporated his own initials and professional signature on a stone, high on one of the corners of the residence. Meanwhile, the elaborate entrance, with its gable roof, features an inset carving of a shield crowned with the sun with the word Immotus, meaning "unmovable" below it. Source: Thomas W. Brunk.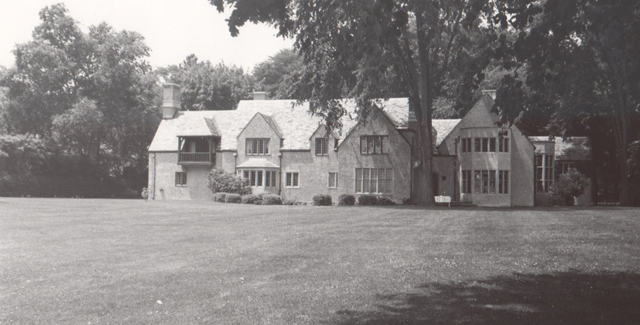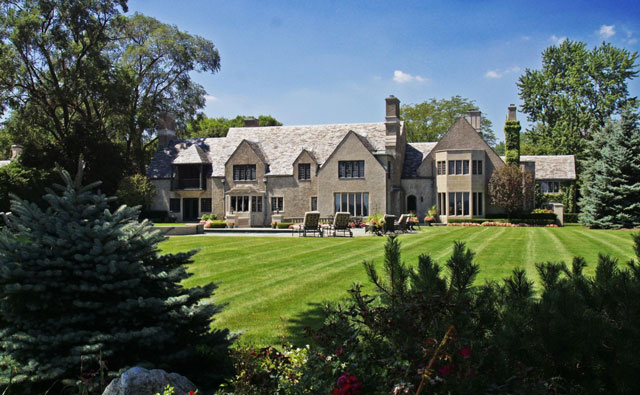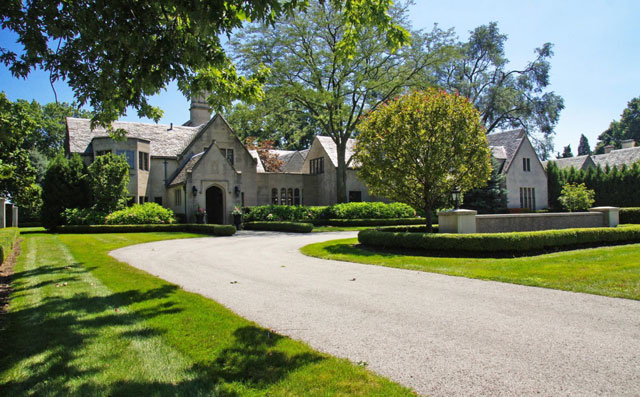 Inside, the interior is filled with many beautiful architectural details, including limestone carving throughout along with stunning woodwork. The grand hall, with its stone staircase and wrought iron railing, leads to the 20' x 28' sq ft living room with its stunning cathedral ceiling and a large fireplace with a mosaic hearth. It is reported the fireplace may have been imported from another residence, however we cannot confirm whether the residence was in the United States or overseas. The living room also has several huge limestone arches' – in front of the large two-story Tudor style casement window(s), the doorways, and the entrance to the library. The first floor also has a 16' x 20' sq ft wood paneled library, a 12' x 12' sq ft study, a 16' x 17' sq ft dining room, and at least three bedrooms, although we cannot confirm whether these were part of the original floor plan. The second floor has multiple bedrooms, an upper living room, a sitting room and a sun deck, plus additional bedrooms for the maids. It is not clear how many bedrooms the property had when it was built.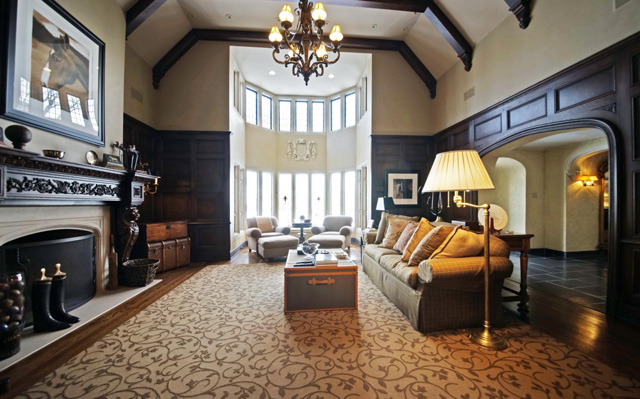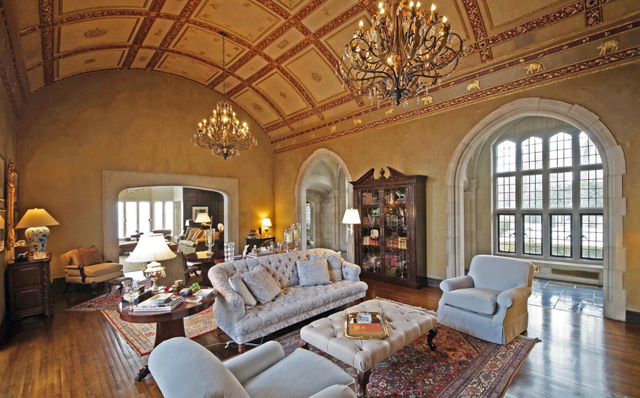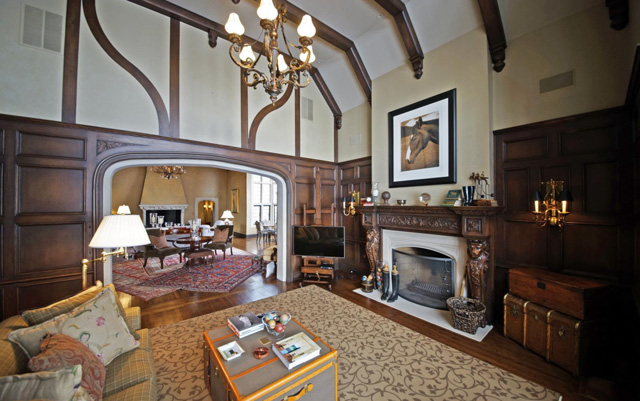 In 1929, William P. Harris hired prominent Detroit architect Hugh T. Keyes to double the size of the house and accommodate his growing family. Hugh T. Keyes, whose work centered on creating grand estates for the industrialists of Metropolitan Detroit (clients included Ford, Hudson-Tannahill, Bugas and Mennen), was considered to be one of the most versatile architects of his generation. He was also a key figure in transforming existing older mansions into more suitable spaces for modern living, which included several such projects in Grosse Pointe. According to research by Thomas W. Brunk, Keyes made the following changes to 15410 Windmill Pointe – "the east wing was expanded upward, and outward. He flanked the living room with the present loggia. Some of the original limestone details, including the limestone portraits of William and Elsie Harris (which flank the exterior loggia door to the garden courtyard), windows, and doors were reused in the new work. Additional bedrooms, a second-floor nursery, a basement game room, and a tap room were added along with a sunken rose garden".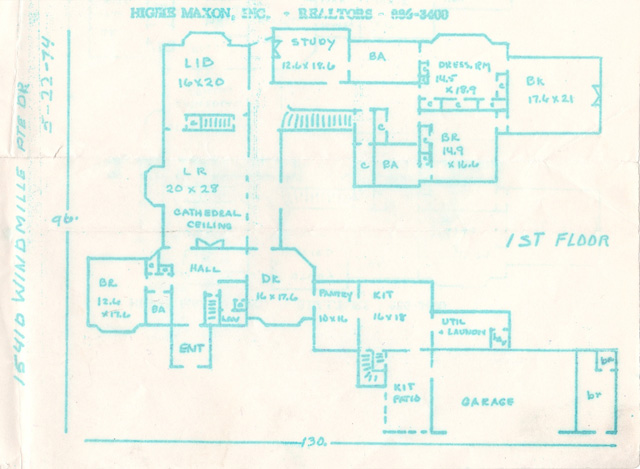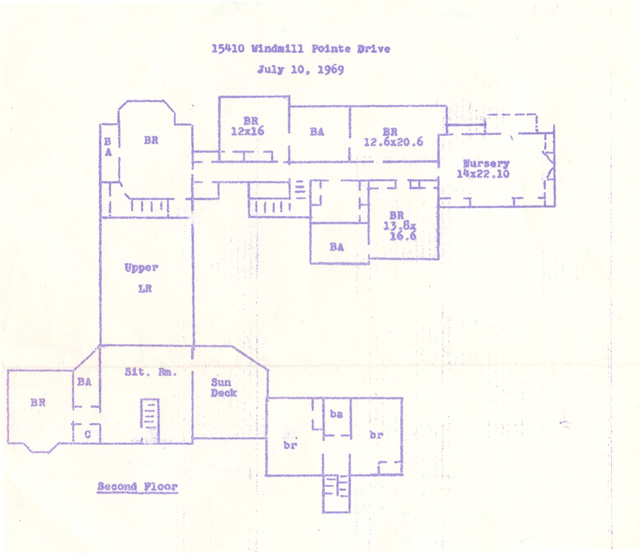 The original owner William P. Harris was born in Detroit in 1897. Having graduated from Yale University Harris served as 2nd Lieutenant in the U.S. Army Air Service in World War I. After the war he returned to his career and to his love of the arts and sciences. "Though he had important commitments as an investment banker, much of his effort was directed toward furthering scientific research and proper utilization of natural resources". Source: William P. Harris Obituary. Mr. Harris also played a highly important role in developing mammalogy and systematic collections of mammals at the University of Michigan. "In 1927, he established a continuing fund for field work on mammals. This effort was of considerable importance because it permitted the staff to make plans for research extending over a number of years". Source: William P. Harris Obituary. In 1934, he received an honorary master's degree from the University of Michigan. William P. Harris married Elsie Stivers Smith in 1923, and together they had three children.
It appears the Harris family lived at Windmill Pointe until 1951. They then moved to "small quarters" on Rivard. One year later they purchased 855 Ellair Place, a 2,217 sq ft mid-century ranch style home, reminiscent of the work by Frank Lloyd Wright – you can read the full story of 855 Ellair by clicking here. William P. Harris Jr. passed in 1972.
The architect behind 15410 Windmill Pointe was Alfred Hopkins, a New York based designer who specialized in creating distinctive country estates for wealthy Americans – one of his clients was Louis C. Tiffany. Born in 1874, it is reported Hopkins championed the use of stucco in domestic architecture, not usually associated with Tudor Revival style homes. Source: Thomas P. Brunk. Hopkins was also noted for the architectural detail he included in the design of his homes. From an article on Wikipedia we understand Hopkins studied at the Ecole des Beaux Arts in Paris followed by several years in Rome completing his knowledge of architecture, thought to be during the early 1890s. By 1898, he had returned to New York City to practice as an architect. Early in his career, Hopkins specialized in the design of farming complexes for American capitalists during the Gilded Age. Throughout this period, he worked in association with Edward Burnett, an agricultural specialist. In 1913, he established Alfred Hopkins & Associates, located at 101 Park Avenue in New York City. During the 1920's and 1930's, aside from residential projects, Hopkins developed a specialty in the design of large bank buildings. He published The Fundamentals of Good Bank Building in 1929. Hopkins work in Grosse Pointe was limited, aside from creating 15410 Windmill Pointe (in 1924) it appears the only other home he designed was 355 Lincoln, a year earlier (in 1923) – you can read the full story by clicking here.
15410 Windmill Pointe is an iconic residence. Over the years the property has been home to many families who have shared in the joy of living on this grand estate.
*Photos courtesy of the Higbie Maxon Agney archives unless stated.
** Research, information, and data sources are deemed reliable, but accuracy cannot be fully guaranteed.
Written by Katie Doelle
Copyright © 2022 Katie Doelle
https://katiedoelle.com/wp-content/uploads/2022/08/15410.jpg
325
640
Katie Doelle
https://katiedoelle.com/wp-content/uploads/2022/04/KatieDoelle_Logo_NEW1-Sm.jpg
Katie Doelle
2022-08-08 19:46:22
2022-08-08 19:52:00
Historical Architecture of Grosse Pointe – Welcome to 15410 Windmill Pointe