Last week we began a three-part series on the work of renowned Grosse Pointe architect, Leonard B. Willeke. Part 1, 745 Balfour began as a collaborative project between Detroit architects J. Ivan Dise and Clair W. Ditchy. However, Willeke wound up completing it in 1927. Willeke also designed the garage, carriage house, the 684 sq ft greenhouse, and the stunning gardens at the residence. This week we continue the series as we head to 1010 Three Mile Dr, a large Tudor residence and garden completed in 1927, for William August Petzold, vice president and treasurer of J.L Hudson Company.
First, let's begin in 1921, Leonard Willeke had embarked on a ten-year project for Oscar Webber, president of J. L. Hudson Company. 22 Webber Place (original address was 619 Lake Shore) was a spectacular 10,300 sq ft magnificent Tudor home, the largest residential commission of Willeke's career. It was through the project with Oscar Webber, that Leonard Willeke became acquainted with William A. Petzold, who commissioned the architect to design a grand 3-story Tudor home located at 1010 Three Mile Drive.
The 6,100 sq ft home Willeke created for the Petzold family is constructed of solid masonry and features traditional timbers associated with the Tudor Style, filled with stucco between each timber. A unique feature of the exterior is the sculptured plaster motif depicting a peacock perched on a grape branch which was inset in the pediment on the north front gable. Thomas Brunk wrote, in his book Leonard B. Willeke, Excellence in Architecture and Design, "Willeke was influenced by the work of Harrie T. Lindeberg, who used a similar motif in his 1923 residence for Francis L. Wurzburg at Bronxville, New York. Brunk also wrote, "the exterior woodwork of the Petzold residence was sealed with a transparent stain, making the grain an integral part of the decorative effect. The residence relies on contrasting shapes and materials, rather than ornaments, to present an imposing façade without ostentation. The picturesque is achieved through massing, fenestration, and layering of materials. The roof is an integral design element with its planes cut, folded, and stretched to cover the irregular perimeter of the walls." Images courtesy of: Leonard B. Willeke, Excellence in Architecture and Design, by Thomas Brunk.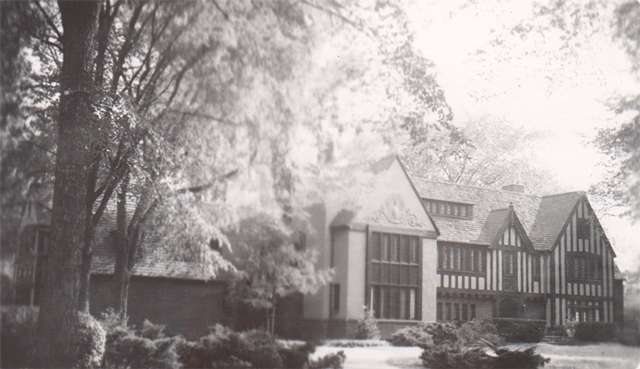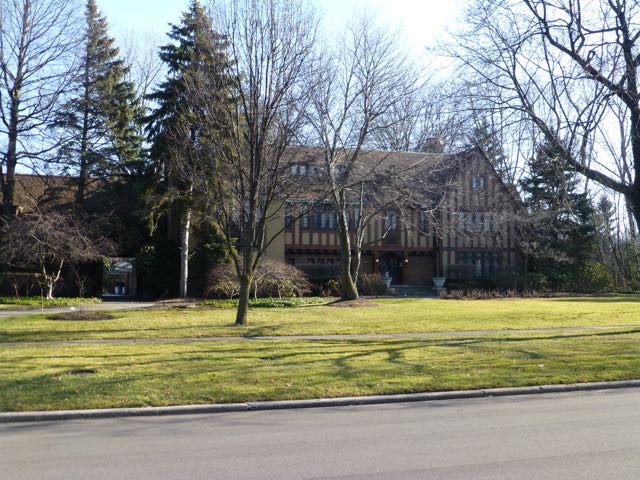 Inside, the floors are pegged oak. The main floor had a large 18' x 30' living room, a 14' x 20' sq ft dining room, a 14' x 20' sunroom, a front and rear terrace, along with a maid's dining room. The second floor had five large bedrooms; the huge master suite measured 15' x 23' sq ft; along with three smaller bedrooms for the maids. The spacious third floor had a ballroom, complete with stage, while the basement had a games room, a sitting room, and a wine cellar. Thomas Brunk shared in his book "the garden was created to further enhance the lines of the house, creating the illusion of a country estate."
William August Petzold was born on August 28, 1869, in Detroit. He was 11 years old when he was hired by J. L Hudson in 1881, as a $2-a-week errand boy. His employment with the firm "came four months after Mr. Hudson founded the business in a little store on Campus Martius. During his time with Hudson's, Petzold saw the small men's clothing shop become one of the nation's largest department stores." Source: findagrave.com. Mr. Petzold married Josephine Thompson (sister of William B. Thompson, the Mayor of Detroit in 1911 and 1912) in 1894, and together they had four children (Mrs. Petzold passed in November 1937). In 1899, after 18 years with J. L Hudson, William Petzold became secretary-treasurer. During his career Petzold was also president of the Detroit Board of Commerce and was widely known in business circles of Detroit. In 1948, he became vice president of J. L. Hudson Company. Upon his retirement William A. Petzold had been with the company for 81 years. Even after giving up work, he still reported daily to an executive office on the 11th floor of the store. He passed in April 1964, aged 94. Image courtesy of findagrave.com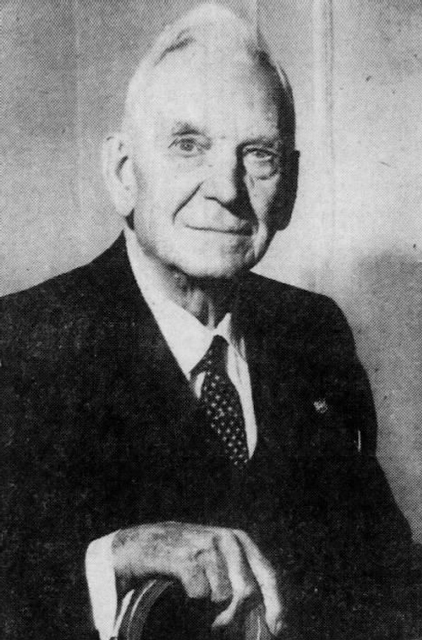 Mr. Petzold first listed 1010 Three Mile Drive for sale in 1950, it was on the market for $75,000 (around $931,000 today). Having taken the house off the market in 1951, Mr. Petzold remained in the property until he passed in April 1964, when it was listed for sale again. It was purchased by Frank Szymanski, a football star at Notre Dame University and a probate judge in Wayne County. During his career Mr. Szymanski played for three teams in the National Football League – The Detroit Lions (1945-1947) the Philadelphia Eagles in 1948 (winning an NFL Championship with the team, in 1948), and the Chicago Bears (1949). While playing for the Detroit Lions Frank Szymanski attended Detroit Law School at night. Upon conclusion of his NFL career he practiced law privately for a number of years before being appointed auditor general of Michigan by Governor G. Mennen Williams in 1956. In 1959 Szymanski was elected probate judge in Wayne County. He served in the post until his death in 1987. In 1995, Frank Szymanski was inducted into the National Polish-American Sports Hall of Fame for his stellar career in the NFL. Source: Wikipedia.
1010 Three Mile Drive is a stunning Tudor home, an architectural style Leonard Willeke was particularly fond of. It one of Willeke's last major commissions prior to the beginning of the great depression and a fitting home for a man of Petzold's standing.
*Photos courtesy of the Higbie Maxon Agney archives unless stated.
** Research, information, and data sources are deemed reliable, but accuracy cannot be fully guaranteed.
Written by Katie Doelle
Copyright © 2023 Katie Doelle
https://katiedoelle.com/wp-content/uploads/2023/03/1010ThreeMile_Sm.jpg
369
640
Katie Doelle
https://katiedoelle.com/wp-content/uploads/2022/04/KatieDoelle_Logo_NEW1-Sm.jpg
Katie Doelle
2023-03-17 17:59:48
2023-03-17 17:59:48
Historical Architecture of Grosse Pointe – 1010 Three Mile Dr.